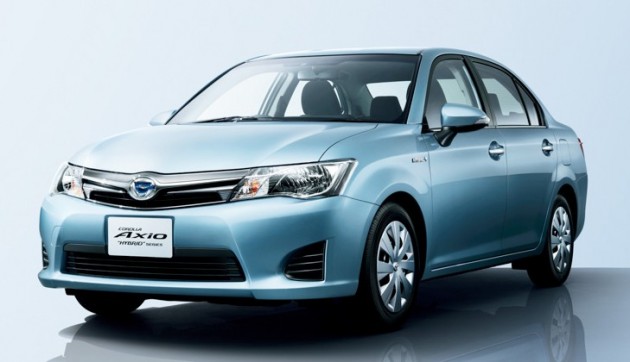 You Can Buy A 2013 Toyota Axio Hybrid For The Price Of The Toyota Corolla Altis Grande
Since the launch and success of Toyota Prius some 25 years ago, hybrid cars have become a way of life all over the world. Even prestigious German brands have been forced to launch hybrid models due to their popularity. The success of newly launched Mercedes S 400 Hybrid is a glaring example.

In Pakistan, due to inherent inertia in our thought process and scared technical advice, hybrid cars initially were seen with suspicion. But government's bold policy in 2012 to half the import duty on hybrid cars gave a boost to this technology in the country.

Recently however, the most popular model was Toyota Prius. Till 2010, 2nd generation Prius was being produced with 1500cc 1NZ engine but in 2009, Toyota launched the 3rd generation 1800cc Prius Hybrid with the famous 2ZR engine. Though popular world over, people in Pakistan are averse to hatchbacks and didn't like Prius due to its somewhat unassuming design. To fill in the 1500cc gap, Toyota launched 1500cc hatch back called Aqua in 2012 which is quite popular amongst the youth in Japan.

However in 2013, Toyota took a bold step by launching world's most popular sedan 'Corolla' in the hybrid format and naming it Toyota Corolla Axio Hybrid. Its a 11th generation new shape 1500cc Hybrid with the famous 1NZ-FXE engine which produces 74hp in addition to an electric motor. The power is transferred through a 5-Speed CVT and its claimed mileage is over 30km/l.
The Toyota Axio car comes in 3 trims i.e, Axio, Axio G Selection (with key ignition) and Axio G Selection with push start, heated seats and HD front lights. Body size is 4360*1695*14mm and compartment size is 1945*1430*12mm.
As compared to a plastic-y trim and dash board of Prius; the door work, dashboard and seats are solid and firm in Toyota Axio Hybrid with minimal outside noise. Safety is the overwhelming factor with 8 airbags, ABS and anti-skid device. Car has an in-dash computer with steering mounted controls and music systems with multimedia.
In comparison to newly launched Corolla by Indus motors — difference is marked– both in technology and quality of workmanship. Whereas newly launched Indus motors top line Grande comes with manual air conditioning system, all the Axio Hybrids come with climate control and nano air purifiers. The suspension is soft enough to absorb the mass of car on high speed braking bringing car to halt with efficient ABS and anti-skidding device. Whereas local Corolla, due to hard shocks cannot absorb mass of car on sudden breaking and mostly skid or overturn on hard breaking.

Over all an excellent addition to Toyota family and will be much popular in Pakistan masses being a sedan version of Hybrid cars. Approximate base price of imported 2013 Model is Rs2.48m which is what Grande would cost you.