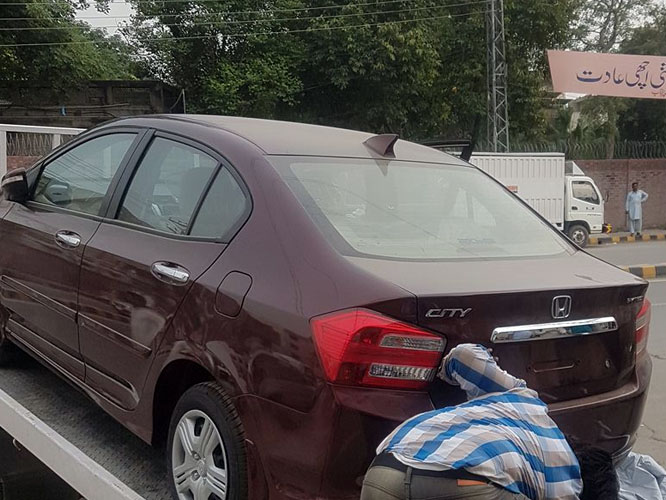 If you are somehow linked with the auto-industry of Pakistan than past few months have set a new precedent, good or bad? that is yet to be determined. Though some argue the launch of six vehicles in six months while others advocate the eradication of premium as a more pressing matter. Regardless of your argument, they (past few months) have been a source of unequivocal entertainment. From extravagant launches to extreme trends on social media, the local auto-manufacturers are making their entry on mainstream and social media. The scope of this article is pretty straightforward: highlight how people reacted to Honda Atlas' most recent attempt to introduce a new facelift of Honda City. But before we dive into this recent episode, it is important to highlight that on 17th April 2017, Honda Atlas introduced a facelifted Honda City in Pakistan. This launch was organized to celebrate the 20th anniversary of Honda City in Pakistan. This new model was introduced with a price increase of 10,000 rupees along with some minor cosmetic upgrades and a (new) standard audio unit. Extras included an (optional) immobilizer. Skip three months right into August of 2017, and out-of-the-blue Honda Atlas launches a new campaign with snippets of a 'shark-fin' antenna stating 'Are you Ready?' Obviously, this marked the start of various rumors indicating the launch of a 1,000 cc Type-R Honda Civic variant or Brio. All of them were later proved to be wrong when Honda Atlas announced another facelift to an already facelifted Honda City, with some extra frills. Think I am talking in riddles? You might want to have a look at an article on this very platform highlighting the subpar efforts of local industry to introduce innovation and face-lift and an article on the launch of Honda City facelift # 1 in April 217.
Moving back to the topic at hand; the public reception of the facelift of a facelifted Honda City has not been able to convince its critics. More importantly, a surprizing majority of consumers are reluctant to accept this car, even after 10 days of its launch. Social media is full of criticism and sarcasm aimed at Honda Atlas.
Honda City's current shape was introduced in 2009 and since then it has generated a major revenue for the company. Let' not forget this car has remained constant from the past eight years. So consider its longevity for a moment and I believe you will be able to understand the sarcastic remarks and angry jibes off the customers regarding this 2017 Honda City. Yes, Honda Atlas will continue its upward growth but at the expense of customer satisfaction and more worryingly customer retention. To any outsider, Honda Atlas' current predicament is two fold:
Their infatuation with this current Honda City, which can be argued by its ever increasing sales. The fact, however, still remains that Honda Atlas is selling a globally obsolete car which has received two major generation changes in the international market.
Their less than efficent marketing strategy. I am pretty sure the numbers (reach and engagement) registered by their most recent marketing strategy would have been pretty impressive but its ethical standpoint leaves much to be desired. In simple words, Honda's strategy is simply known as 'Click bait' in the digital world. With false pretenses of grandeur, the use of taglines "Are you Ready?", "Accelerating Performance", "Making a class of its own, the new 1.5L Honda City ASPIRE" failed to live up expectations and served as a catalyst to fuel harsh comments against the company on their official facebook page and various communities. It's not like this is their first time opting such strategies. A couple of months back they advertised 'Airbag Recall' as an upgrade, which clearly resulted in a severe backlash.
Following is a compilation of how people reacted to the teasers and announcement of the most recent facelift of Honda City in Pakistan.
Act#1: First Teaser!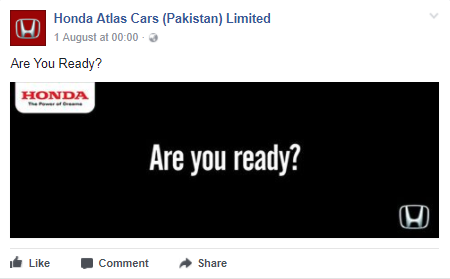 A host of mix reactions including encouragement, suggestions and even random speculations!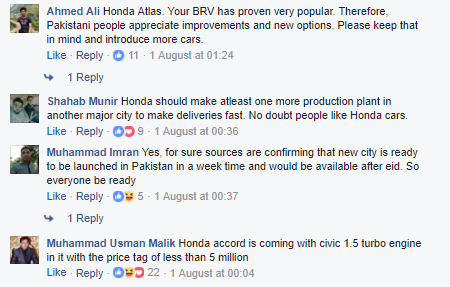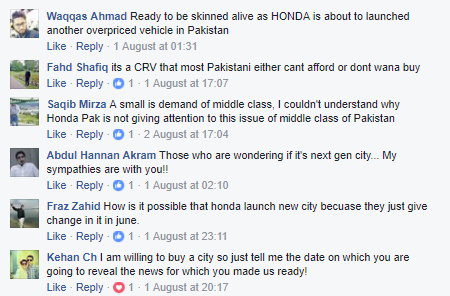 A valid point to consider – Listen to your customers!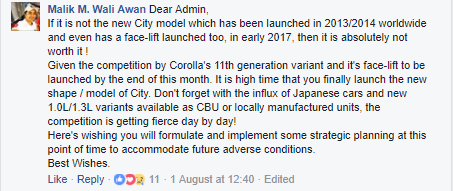 Act#2: Shark-fin antenna – Adding fuel to 'speculation-fire'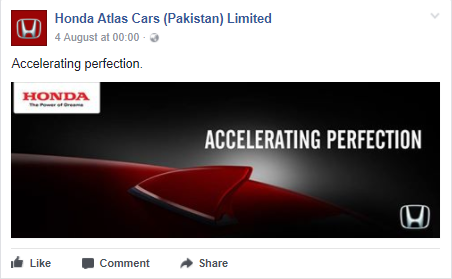 Giving birth to high expectations!


And the sarcasm! 



Sanity among the turmoil


Final Act: It's just a simple cosmetic update!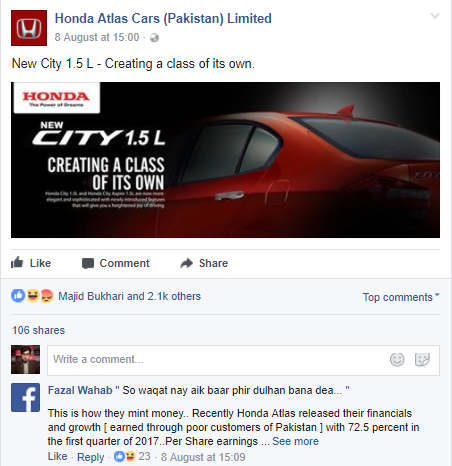 The Reaction!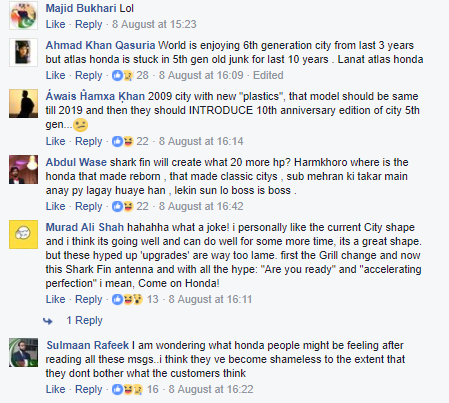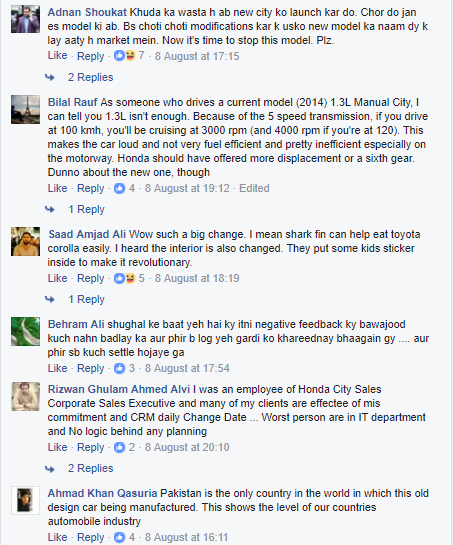 Shortcomings:
In this day & age, where corporates are investing huge amounts of money to retain their goodwill and customers; this sort of amateurish policies is very disheartening. I think Honda Atlas seriously need to revisit its marketing campaigns and look underneath the underneath when it comes to sales. Turning a blind eye to customer's requirements hasn't won anybody a medal before and it certainly won't in today's time of the high-speed internet.