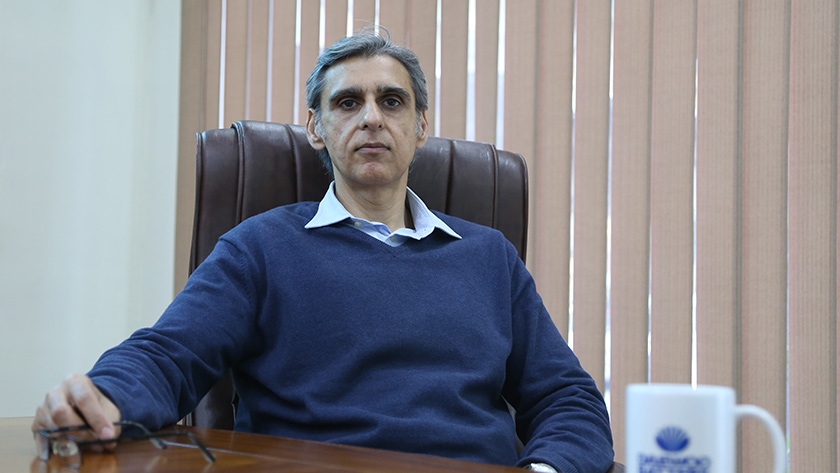 In conversation with Ali Aslam – COO, Daewoo Battery
This time we have with us the Chief Operation Officer of Daewoo Battery, Mr. Ali Aslam. Daewoo Battery is a next-generation battery, which was launched nationwide in the first week of May-2018. Have a look at what he has to say about the battery.
PW: Tell us about the journey of Daewoo Battery, what led to the company and brand's inception?
Ali Aslam: Pakistan lead-acid battery market is growing as the domestic production & import of cars have increased significantly over the past few years leading to an increase in the demand of automotive batteries in the country. This increase in demand is met with a paradigm shift with people now preferring convenience over maintenance hassles; hence the shift to 100% Maintenance Free (MF) batteries. Daewoo Battery has filled this technological gap that existed in the market. Also, the power shortages and demand of batteries for UPS systems have gone up over the years and with domestic users mostly using truck batteries to operate their UPS, we saw it as an opportunity to provide the consumers with a battery that was specifically designed for UPS system using Deep Cycle Technology for long back up time and longer battery life. Recently, we have achieved another commendable feat by obtaining two coveted ISO certifications within the first year of starting production. ISO 9001 & ISO 14001 certifications were awarded by SGS the world's leading inspection, verification, testing and Certification Company with presence around the globe.
ISO 9001 is a quality certification attesting that FTMM's battery products meet and satisfy the customer's requirements regarding product quality, features and services.
ISO14001 is an environmental management certification certifying that the company's environmental management system is in conformity with all applicable regulatory requirements and that the system is geared towards continuous improvement in our environmental management systems.
PW: How is Daewoo's 100% MF Automotive battery different from the other brands in the market?
Ali Aslam: Daewoo's 100% MF automotive battery is a sealed battery, which differs substantially from the conventional batteries available in the market. It requires no hassle of checking and filling electrolyte/water throughout its lifetime. This means that the user does not have to keep a tab on the water level of the battery.
Additionally, it is a Ready-to-Use battery which means it comes pre-charged to save time and make battery replacement way more convenient & efficient. Our customers do not have to wait for hours just so the battery can be charged before installation; it just needs to be unboxed and plugged directly in your car for you to drive away.
Last, however not the least, the battery offers highest Cold Cranking Amperage that ensures a quick engine start in the cold winters.
PW: Can you elaborate on "maintenance-free"?
Ali Aslam: It is safe to say that the 100% maintenance-free feature of Daewoo Battery exhibits a distinguishable advantage over other batteries available in the market. The user is not required to keep a thorough check on the water level since the Battery requires no water top up at all. The driver will never be abandoned on the road nor will he/she have to get late to work, since it's a sealed battery which doesn't require battery water top throughout its life.
Daewoo Battery is manufactured using advanced Korean technology under the direct supervision of Korean Experts. It is designed keeping in view the users' convenience and international quality standards.
PW: Speaking of Ready-to-use, how do you ensure that your batteries are ready for installation just after purchase?
Ali Aslam: We ensure that Daewoo Battery is Ready-to-use since it comes pre-charged which means that the user does not have to wait for charging the battery at the time of installation/battery replacement. Catering to the utmost ease of the user, the battery needs to be simply installed in the car to be driven away, minimizing all tedious steps.
Moreover, unlike conventional batteries where retailer fills non-standardized electrolyte on the spot, we ensure that the best quality electrolyte is filled at the time of production, which has a huge impact on battery life. Considering time is an essential commodity in today's era, we make sure it is not wasted by offering unmatched customer convenience & uncompromised quality at all times.
PW: Does the company offer warranty service?
Ali Aslam: Yes, we offer a 1-year free replacement warranty. We observed that customers were confused with complex warranty claims prevailing in the market and countered it with a simple and straight warranty policy. It is as simple as it's said "A 1-year free replacement warranty." You simply get a replacement battery free of any charge if your battery fails during the first year because of any manufacturing fault.
PW:  Are the batteries available nationwide?
Ali Aslam: Yes, Daewoo Battery is available nationwide, as our authorized dealers and retailers are present all across Pakistan. We have developed a vast distribution network to make sure that our product is available and accessible for our customers and potential user's right where they are.
PW: What has the response been like for the products in the market?
Ali Aslam: We have received very positive feedback on how our products are proven hassle-free; and have facilitated customers with unprecedented convenience at all times. Our 100% maintenance free automotive battery has been a favourable pick for all types of car owners.
PW:  What is your vision regarding the company's future?
Ali Aslam: We aim to become the market leader of the lead-acid battery industry in Pakistan by bringing technologically advanced products and introduce international quality standards. As inspired by the continuous improvement approach, we believe in raising the bar to set new highs in our quality standards as well as service levels.
For more details on battery features, please visit Daewoo Battery's Battery Guide Section on PakWheels.com or you can also visit Daewoobattery.com.