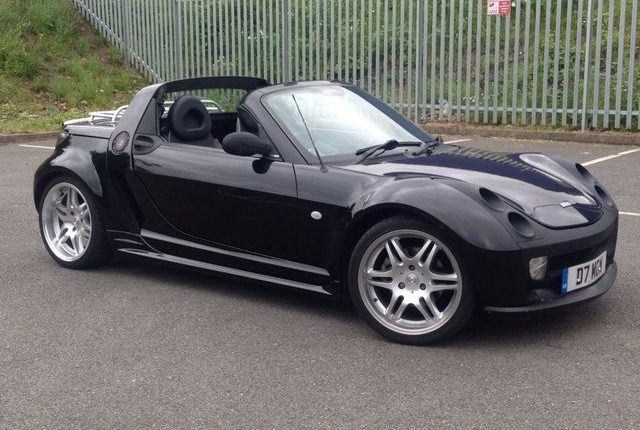 Detailed Owner's Review of Mercedes Smart Fortwo Roadster 
Today PakWheels is bringing you owner's review of Mercedes Smart Fortwo Roadster, which is also known as Mercedes Smart Car. The smart Fortwo of this company was imported in abundance in Pakistan, but this roadster was rare. This car was launched in the international market in 2003 and discontinued in 2005.
Talking about his car, the owner told us that this is a 2004 model, while he imported it in 2007 and got it registered in 2009. Discussing the history of this car, he said although this specific model is discontinued, but its new model Smart Fortwo 450 and Smart Forfour is currently in the market.
Discussing the reason behind buying this car, the owner said he liked its look, rear-wheel drive, and aspect that it is a convertible. Furthermore, he loves the traction and design of meters in the car. He said that if given a choice, he will repurchase this one because he liked it. The owner said he also liked the sound system of this car.
In 2003-04, when smart cars were launched, they became immensely popular in Europe. The reason behind their popularity was their compact size and it is excellent for city drive.
Engine and Handling: 
This car has 700cc turbocharged and rear mid-engine, with the power of 80bhp. The owner further said that the engine of Roadster and smart Fortwo car is different, but the gearbox is the same. The gearbox of this car is 6-speed automatic, with the option of Tiptronic. However, the gearbox does not have a parking option. Moreover, the vehicle does not have pedal shifters but comes with traction control.
Exterior and Convertible: 
The exterior of this car is unique and eye-catching. The vehicle is a soft-top convertible, while the top is auto, the pillars have to be adjusted manually. The owner told us that although his father imported this car in 2007, he started to drive it in January 2020, because he was underage at that time.
At this point, we at PakWheels want to tell the people, never drive when you are underage. It is against the law and can result in an accident. Always follow the law.
Maintenance and Parts Availability:
The owner told us that its regular maintenance and tuning could be done easily because its mechanics are available in Pakistan. "It is just the mechanic has to understand the car, because some of its parts are at the front while its engine is placed in rear," the owner stated, adding that PakWheels forum also helped him a lot in this regard.
While talking about the availability of parts, the owner said that common parts like oil and air filters are readily available in the local market, while other major components have to be imported from Dubai.
Price and Resale: 
The owner told us that he bought this car is Rs2.25million. Meanwhile, the current resale market value is around Rs1.8million, which he saw on PakWheels used cars section.
The car does not have a specific selling market in Pakistan, so it all depends on the demand of the seller. You can buy this vehicle within range of Rs1.5-2million.
Safety: 
The car has four airbags, two in front and two in its pillars, making it a very safe vehicle.
AC Performance: 
The owner praised the performance of car's AC, saying that he had driven it in the heat of Lahore for continuous 3-4 hours, and its cooling remained perfect. He further said that car's engine does not get heat up.
Fuel Average, Oil Change: 
The owner told us that roadster is giving him 11 kilometers per liter mileage within the city. He has not traveled on the highway on this car, hence, he could not comment on its intra-city mileage. He said that he gets its oil changed after 5,000 kilometers at the cost of Rs6500.
Negatives: 
Discussing the negatives and known faults of the car, the owner said the rooftop of this car gets stuck near pillars, so you have to push it manually. The other known error of this car is related to its key, which can unrecognize the vehicle at any point. The immobilizer loses its signals, and the car goes into a security mode. The owner told us that in 2004, the company recalled this model from across the world, due to the key issue. 
He said that he also faced the same issue, but he had to contact a local mechanic because its official dealership is not available in Pakistan. There are still many cars of this model are parked at workshops because of this issue. However, the owner clarified that this key issue happens only once.
Ground Clearance: 
The ground clearance of this car is very good for roads in Pakistan. The owner said that he has not faced any difficulty on roads, except one speed breaker in Model Town.
Wheel Size: 
The owner said its rim size is 15-inch, while there is a difference in front and rear tires. He explained that rear tires are wider than front ones.
Use of Convertible Rooftop: 
The owner told us that he has not used its convertible that much because of the long summer season in Pakistan. Furthermore, the open rooftop can cause security issues.
Final Verdict: 
The Fortwo roadster is an eye-catching vehicle, which can be used as a luxurious ride, especially in countries like Pakistan. You should buy this one if you are looking for a unique-styled vehicle with a moderate price range. Its major issue is the unavailability of body parts as they have to be imported. Furthermore, the car has a good fuel average, proper road clearance in Pakistan, and a comfortable ride.
If you are interested in Mercedes Fortwo Roadster car, you can find it on PakWheels Used Cars Section. Before buying any vehicle, do consult PakWheels Inspection Service to know every detail of the car.
Watch Mercedes Smart Fortwo Roadster Review: 
For more updates, news and articles about local and international auto industry, Keep visiting PakWheels.com.
Recommended For You: Mercedes C 350 E: An Owner's Review