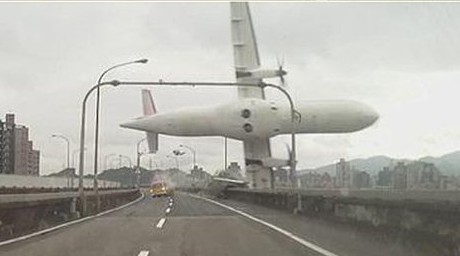 Dramatic Footage Shows TransAsia Plane Crash In Taiwan
The TransAsia flight named GE235, an ATR72 Turbo-prop, has reportedly crashed in a river on Wednesday in the country's capital, Taipei, at 10:55AM local time. The dramatic footage of this incident was captured by the dash cam of a vehicle on the express way above the river. The plane's left wing struck a Volkswagen taxi's front before clipping into the express way barriers and then landing into the Keelung River.
The airplane, carrying 58 people on board – 5 crew and 53 passengers – including 31 tourists from the South-Eastern Chinese city of Xiamen, had just taken off from Taipei Songshan Airport and was heading to the Kinmen islands. Rumors say that the plane crashed due to bad weather
According to the BBC News Asia, the reports on the number of dead is still unclear, with some saying at least 16 people lost their lives. Several people suffered injuries and some are still unaccounted for
TransAsia chief Chen Xinde expressed his "deep apology" in a news conference, but said his planes had been "under thorough scrutiny" since mid-2014.
"Both our planes and our flight safety system are following strict regulations, so we also want to know what caused the new plane model to crash, but I don't want to speculate," he said.
At least 12 dead & 16 injured in #TransAsia plane crash with 30 people still unaccounted for, officials say http://t.co/s6NgQK8NrC

— BBC Breaking News (@BBCBreaking) February 4, 2015
This shocking footage was captured by a vehicles' dash cam: