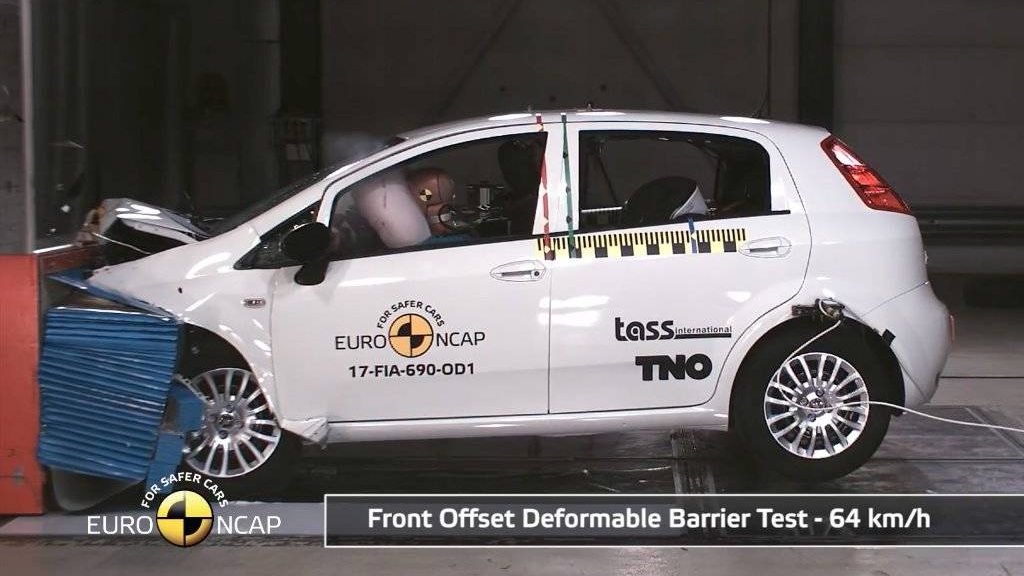 Poor Fiat Punto gets a zero, fails at NCAP testing
Fiat Punto is a supermini developed by Fiat in 1993 and now its manufactured by Fiat Chyrlser from 2014 and onwards. The current 3rd Generation model is being sold in few markets for over 12 years now which doesn't sound like much as we have Mehran for almost four decades now. Since NCAP hasn't tested the Suzuki Mehran yet but they did test the Punto which became the first car in the segment to secure 5-Star Saftey ratings 12 years ago from now. So what does a 12 years difference do to a car's safety ratings? See the video below to check out.
So basically you are looking at a car from 2005 which is now being tested for modern safety benchmark. New superminis like VW Golf and Toyota Vitz have proven to be far better than this Punto in terms of occupants and pedestrian safety. Even if the Punto looks like a modern car still underneath it's decade-old engineering, and in car years it's like a century. Sadly Punto is now the first ever car tested by NCAP to be awarded an unrespectful Zero-Star safety rating. This will soon start to hurt the sales and Fiat will have to replace the car altogether as a response. FIAT UK was also quick to respond by saying,
"Safety is of the utmost importance to the FCA group. When Punto was launched 12 years ago, it was the first 5 star Euro NCAP car in its class. The importance of safety to the FCA group is demonstrated by the number of new models achieving 5 stars, for example, Alfa Romeo Giulia, Alfa Romeo Stelvio and the Jeep Compass."
Although people call this 12 years old car ancient in modern countries, I wonder how will they refer the Suzuki Mehran? A fairly modern looking car with a pair of airbags can get a zero rating then imagine some of the cars being manufactured in Pakistan, and if NCAP ever decides to test them then I'll suggest they come up with a negative rating system. Because Zero will be a compliment.