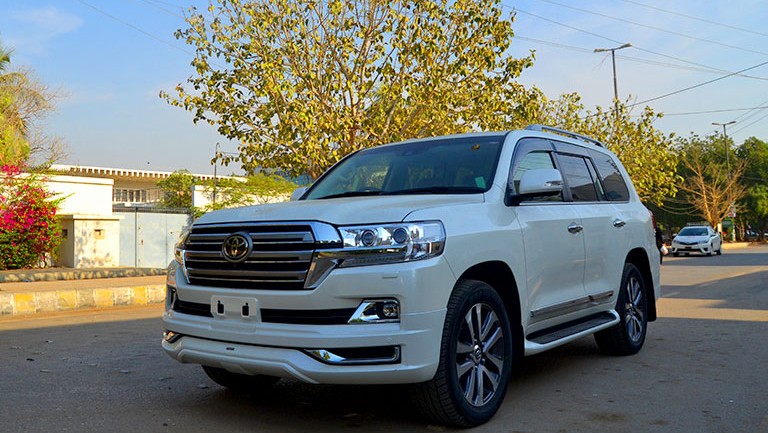 First Drive: 2015 Toyota Land Cruiser ZX Has Plush Carpets For Your Feet!
The imported car dealers will never let you in one of these 22.5 million rupees (starting from) worth of luxury cocoons, let alone drive one. But we turned out lucky as one allowed us to experience the car that Toyota is ambitious to pit against Range Rover, G-Class, Cayenne and the upcoming SUVs from Bentley, Maserati, and Lamborghini. Though none of them packs the same heritage or skill as the Land Cruiser. But how long can the Land Cruiser live on its heritage when the world celebrates even the most obnoxious occasions on Facebook?
The first drive was a sudden experience, AutoMall Dealership on Main Shara-e-Faisal had just received Land Cruiser ZX (the top of the range one) and asked if we'd like a drive and we couldn't be happier to oblige. On the day leading up to the test drive, I focused myself into reading about the vehicle since I already knew that somehow, Toyota had decided for the Land Cruiser to compete with those raised luxury mobiles we mentioned above, in addition to the premium Lexus LX570 (That is soon to come to Pakistan too!). And more importantly, I wouldn't be able to test a lot of the goodies that makes the Land Cruiser great. However, these facts must be remembered:
1. Land Cruiser has had no recall since 1993.
2. All its parts are made on the concept of a 25 years service life; thus, it is expensive but durable. For example; the windshield is 2MM thicker than all standard Toyotas.
The Land Cruiser 2015 requires no introduction, but the market is dominated by the trends, and the trends dictate that if someone is paying so much, why won't they buy Porsche Cayenne, the Range Rover or the Lexus LX570. The only thing that the Land Cruiser had against the new lot was the badge and thus, the Land Cruiser you see today has plush carpeting…..when I opened the door, the light colored plush carpet felt so nice that I wanted to sleep on it, I genuinely was afraid to step on the carpet in fear of putting dirt on it, and we all know how much pain it is to clean a carpet. What that meant was, either Toyota must've built a tank like off-roader so that it never gets stuck (so you don't have to get out and back in, to make the plush light colored carpet dirty) or Land Cruiser don't have the need to off road anymore.

When we talk about the market that dominates, it isn't the small Arabian or even smaller Pakistani market that continues to go for it, the markets that dominate are actually North America and China. That are also the largest automotive markets in the world, and Toyota keeps two different experiences for its customers there; the Land Cruiser and the Lexus LX570 which is said to be better both on and off the road.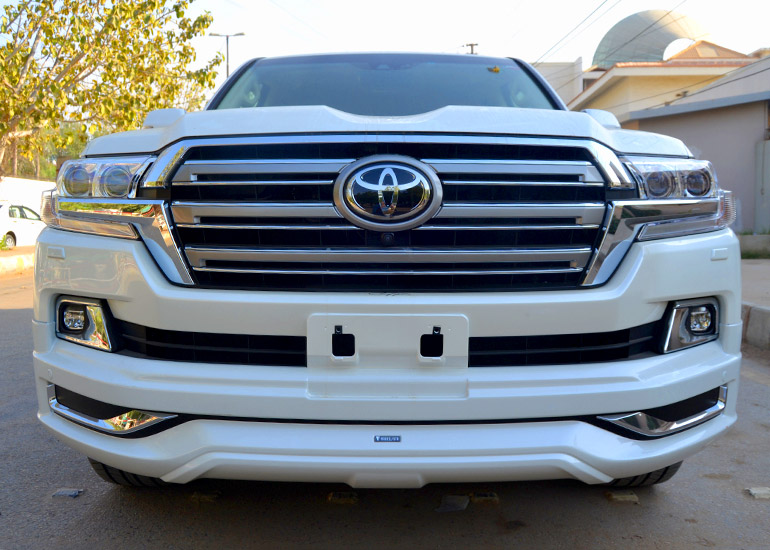 That is due to one thing; air suspension called the 'AHC' (Active Height Control) that even the Land Cruiser now has. And that's what the dealer was continuously saying to us that even the Land Cruiser has all the stuff that Range Rover had, there's no difference left. Unable to demonstrate to us most of the feature of the crawl control, so we got to check out the 360 Top View. We know how these Land Cruisers would be used, and the most important thing is the Top 360 View. Man, whoever ends up driving these vehicles, will thank the Lord Almighty for the View 360 Top.
For those wondering on the capabilities of the Land Cruiser, play the video:
Drive:
We didn't get to drive much, but I felt like the subject of envy for everyone on the road. Even though I felt a bit like taking too much space on a dining table when dining with everyone else, it felt easy to drive. In traffic, though, I could sense it would be confined to civilized driving inside a lane unless you're packing a Vigo with guards behind you. The 360 Top view would be very handy if you want to cut between lanes but I wouldn't, Land Cruiser is now a very good place to be.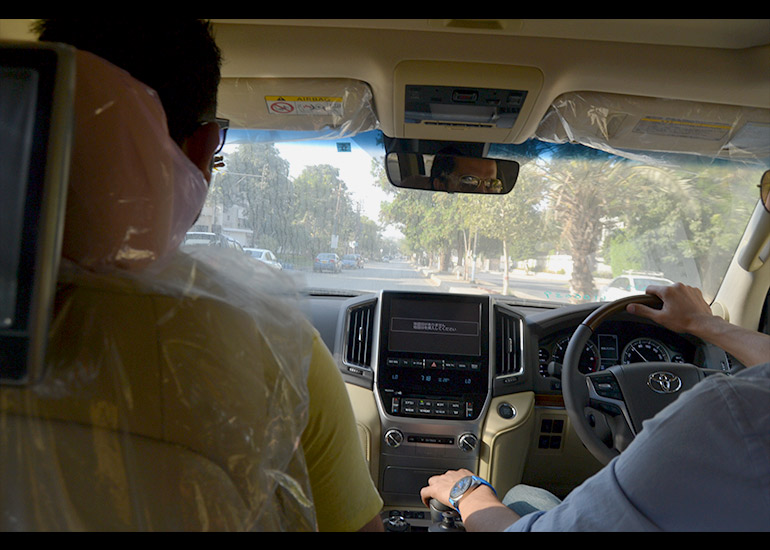 Comfort:
I had light colored plush carpet under my feet. Independent gigantic TV screens for the passengers in back, and yet, it felt like driving a massive Cadillac, there wasn't any body-roll though, even when we floored it, we just got pressed into the back of our seats hard.
Engine:
I have been in fast cars, but its been a while since my last fast car ride and I wasn't expecting that the newest experience of brute acceleration would come in a Land Cruiser even when the engine is the same petrol powered 4.6 Liter V8 that produces 304 HP.
This isn't a review; this is just a short first drive that was offered to us by AutoMall, since we make it clear to dealers and manufacturers that reporting on a vehicle requires to study it for long. If you're reading this to make a decision than frankly, we can't offer much support there but the kind of driving that people do with the Land Cruiser now, can easily be done by Porsche Cayenne, or even Range Rover and yet, the Land Cruiser is a far more common sight here than either of those two. Its the Land Cruiser 'badge' that works here.