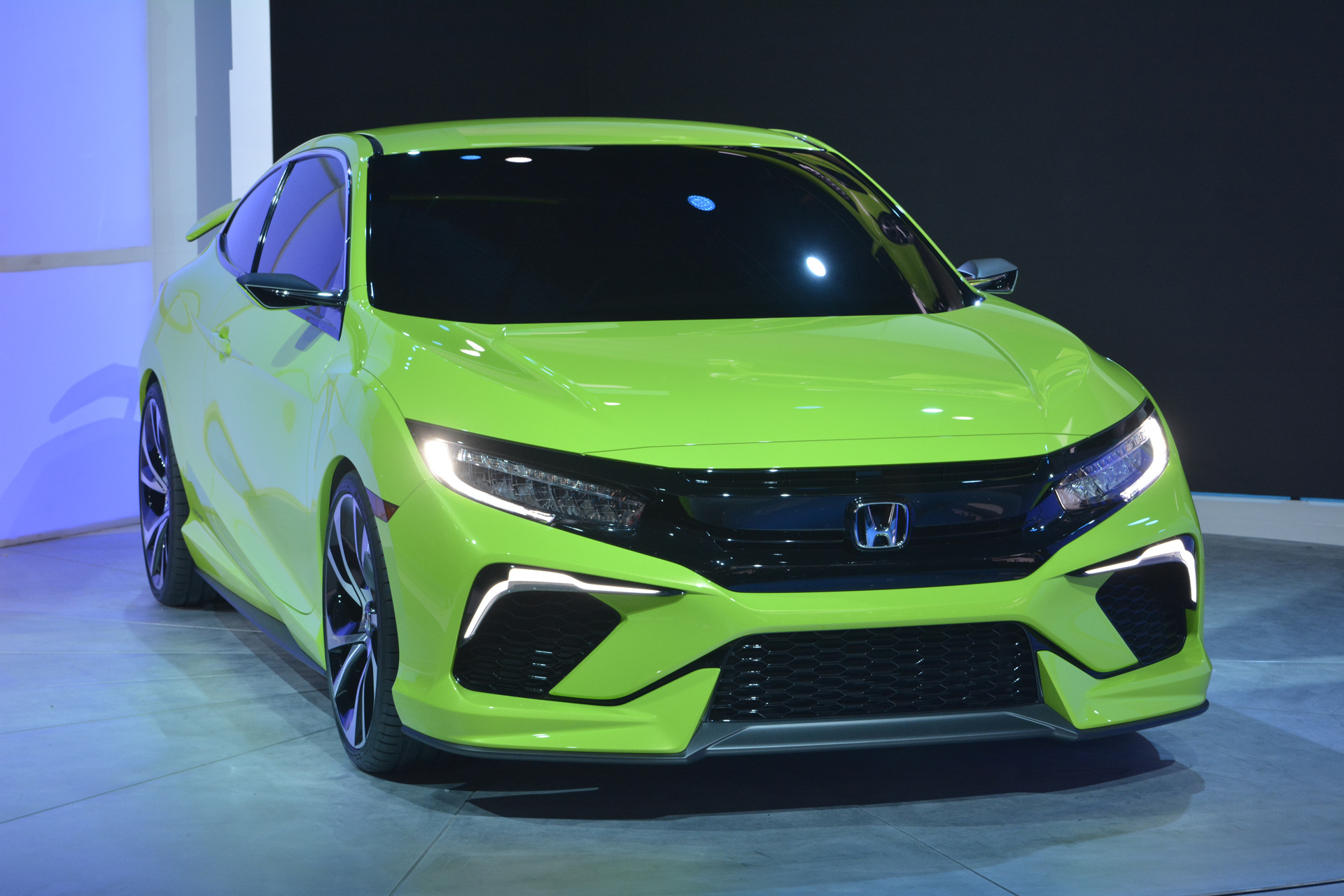 Honda Civic Turbo Charged Concept Revealed At The NY Auto Show In Neon Green
We have been extensively reporting in the recent past about the upcoming 10th Generation Honda Civic. Few weeks ago Honda's head of R&D Yoshiharu Yamamoto confirmed Turbocharging the next Civic. Now we will add some more spice to the news, especially for Honda fans.
Today, at the New York International Auto Show Honda surprised the automotive world by showing a neon green Honda Civic Concept. The concept is shown as a 2-door coupe. At first everyone thought it might be another April fools joke but it wasn't like that. Honda North America is preparing to launch the totally redesigned next (10th Generation) civic much earlier then excepted and it most probably will be around the fall of this year.
According to Honda, the next Civic model will have the new VTEC turbo engine in North America and will be available in wide variety of variants like sedan, Coupe, and 5-door Hatchback body types, as well as Si and Type-R versions as in Europe.
According John Mendel, executive vice president, Automobile Division, American Honda Motor Co., Inc "The new Civic will be, flat out, the most dynamic, the most technologically advanced and the most refined and stylish Civic we've ever made. In every way, this will be an epic Civic."
The new civic will have a wider and longer wheelbase/ platform but will be lower to make it more aggressive and athletic sedan. Powered by new  Earth Dreams Technology 1.5-liter VTEC Turbo engine with direct injection, the new Civic will have a short-shifting 6-speed manual transmission, and a new, more sporty and efficient continuously variable transmission (CVT).
The new Civic will be available with a lot of newer safety features like Lane Departure Warning, Forward Collision Warning, Multi-Angle Rear view Camera, Adaptive Cruise Control and Honda Lane Watch assist. There are no details on the interior but Honda confirms all new interior with better and upscale materials, one which will be quieter.
The new Civic is designed for global markets by Honda North America  at Honda Los Angles design studio and will be developed in Ohio while the Type R hatchback Civic will be manufactured at Honda's UK plant and will be imported to US market.
Civic and Accords are Honda's bread and butter in the US market. Honda sold 325,981 Civics last year in the US alone. Worldwide, more than 20 million Honda Civics have been sold since the car was introduced back in the early 1970s.
Honda said  they wanted the new car "aggressive," "emotional," and "sporty."  As mentioned above, the next generation Civic will be a 2016 model with sales starting end of this year in the United States. Below pictures are the concept and the production model may or may not take everything from it but obviously you can expect that major styling will be inherited from this concept. Also the concept is a 2-door Coupe but traditionally a sedan will be almost the same with two extra doors and slightly different "C" pillar.
Readers will agree that the wide rectangular exhaust under the rear diffuser will be first thing not visible on the next production sedan. I think the long tail lights on the rear trunk will also go away reason being same lights were seen on the concept Type R but the Production Model didn't get it. In Any case the new Civic will really be a major upgrade from current generation.
Being in NY it will be my pleasure to share some more pictures and information on the concept Civic when I will visit this Friday. I will keep readers up to date with more information as soon as its available.