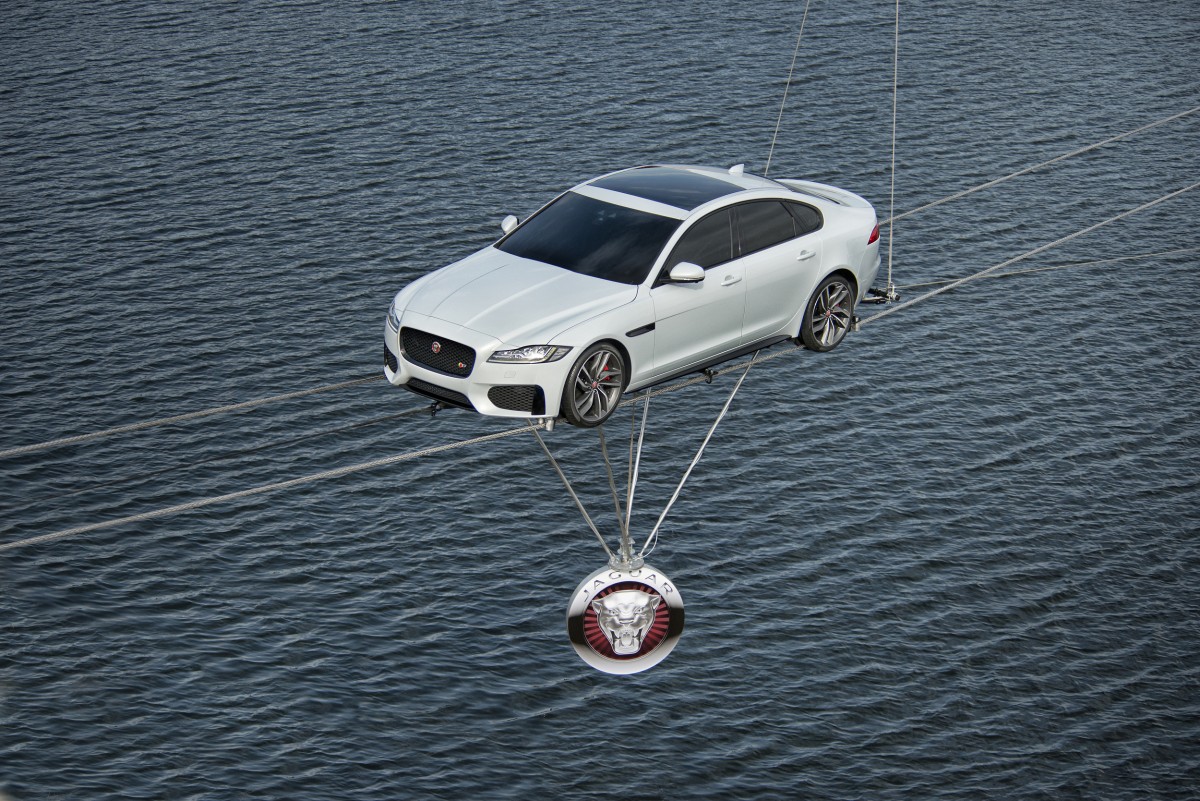 Jaguar XF Unveiled In A Tight Rope Stunt
Tightrope walking is not something new. There are many famous stuntmen who perform wire-walking daredevil stunt on a daily basis for a living. They cross gorges, buildings, rivers and what not bu using walking over cables from one end to another. Google "Nik Wallenda" and you will know what I am talking about. Single wheel bicycle riding on the top of wire is also very famous. But it looks like now we are in for a new terminology, Tightrope Driving. Yes, this is what Jaguar did today to unveil the next generation XF by driving above Royal Dock in Canary Wharf, London. The 787 feet long stunt was performed by a British stuntman Jim Dowdell, who is well known for his actions in movies like James Bond and Indiana Jones.
The new XF is based on a totally new platform known as the iQ[Al] developed by Jaguar-Land Rover after it was purchased by Tata Group. The old XF was based on a Ford platform as Jaguar was previously owned by Ford Motor Company. The new XF weighs almost 190 kg less than the older model. This will help XF to have much better performance and handling along with better fuel efficiency. According to Jaguar the new car is 75% aluminium.
---
ALSO READ: Here's What Tata Has In Common With Lamborghini
---
The 2016 Jaguar XF will be offered with two supercharged V6 engine options with output of 340 hp and 380 hp. Both variants will have an 8-speed automatic transmission. A 2.0L diesel engine variant  as well as a more powerful 5.0L V8 are also expected in the future. There are rumors of plug-in Hybrid as well but no confirmation as of yet. AWD version will also be available in some regions, specially North America. The all new XF's interior is as elegant as one can expect from the Jaguar brand. Inside, you will find a 10.2-inch touchscreen entertainment system and re-configurable 12.3-inch TFT instrument cluster; both of them will be standard. The new XF will offer a wide variety of driving assistant features like laser heads-up display and full-LED adaptive headlights. Jaguar will make world wide detailed reveal of the car at the New York Auto Show starting first week of April.
When Jaguar was asked why launch the Jaguar XF on a high-wire? "It's all to, ahem, highlight the agility of the new, lightweight XF"
Over the last few years composites, especially  aluminium have taken over automobile industry with high-end car and popular brands utilizing them more and more such as the Ford F-150 Truck.
Here's a 15-minute video of the breathtaking Jaguar car's stunt.