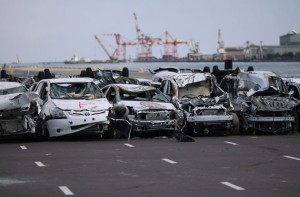 Japanese quake affected cars stolen and smuggled overseas by foreign and Pakistani companies
Investigations have begun into allegations that unscrupulous individuals have been exporting affected vehicles – some stolen even from the municipal parking lots where they were temporarily stored.
In quake-hit Higashi-Matsushima, Miyagi Prefecture, three men including two Afghanis were seeing loading small cars unto a truck and when they were asked, they stated that the cars had been bought to be sold abroad however they did not know which countries would these cars end up.
The whole world was quite astonished to see the absence of looters in the disaster-ravaged areas just after the March 11 quake however, four months later; people from neighborhoods are reporting that they see non-Japanese men stealing cars. About 100 stolen cars have been reported since yesterday in Japan which is double the number than previous year however, owners of the stolen car have been reluctant to report the incidents due to bigger quake-related problems.
But the police say that a crime is a crime and must be thoroughly investigated and culprits caught. The police have identified 1,400 chop shops where cars are broken down into parts and than exported only to be reassembled in the countries they are exported.
In disaster-hit areas, survivors have been startled to find notes attached to their cars saying, "We will help you with the car removal process free of charge" and "We buy average size cars for 2,000 yen (about $26)."
A Japanese  car dealer have said that he has sold as many as about 20 vehicles with owners' consent for between 100,000 yen to 500,000 yen per vehicle, to foreign companies from Pakistan, Russia and Bangladesh.
A trading company in Japan which was owned by a Pakistani man has exported about 20 vehicles claiming that since the cars had been flooded with seawater, he had to just wash them. But otherwise, the cars should still sell well after being repaired in the destination countries, where labor costs are much lower.
Tsunami-affected cars that cost 3 million yen new can be had for 50,000 yen to 100,000 yen. Although transportation and repairs add about 500,000 yen, the cars can be sold for more than 1 million yen, creating profit margins of 200,000 yen to 300,000 yen. It's a great business, a trader said.