Koenigsegg is a Swedish car company that has made its name producing insanely fast modern supercars. In fact, they make hypercars. And One:1 is their latest and fastest masterpiece. The One:1, which is also considered as the world's first production 'mega car,' has made and broken all sorts of records. And recently one driver broke his Koenigsegg One:1 in an effort to break yet another record. There are only 7 of these super-exclusive high-performance sports cars in the world and one of them ended up in a ditch at the Nurburgring trying to break a previously made lap record.
Also Watch: The Spectacular Crash of Fernando Alonso at The 2016 Australian F1 GP
The 1341 horsepower producing mega car was having a go around the infamous Nurburgring, but the driver lost control at the Adenauer Forst section of the track. The car hit the chicane and ended up in flames due to the impact of the crash. But fortunately, the fire marshals were able to control the blaze immediately. The car was doing rounds with different setups for future applications.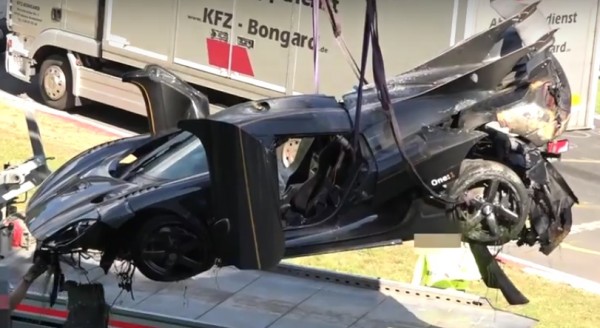 Koenigsegg issued following statement on its website after the crash:
Koenigsegg Automotive AB can confirm reports online that a Koenigsegg One:1 was involved in a crash during testing as part of Industry Pool at the Nurburgring on Monday, 18 July. The driver was taken to hospital as per standard procedures in such situations and was released the same afternoon.
The car in question belongs some very lucky yet unlucky German and its chassis number tells that it was the 2nd car out of the seven that rolled out of the assembly line. The car had a clear coated carbon fiber finish and had made several public appearances in the past.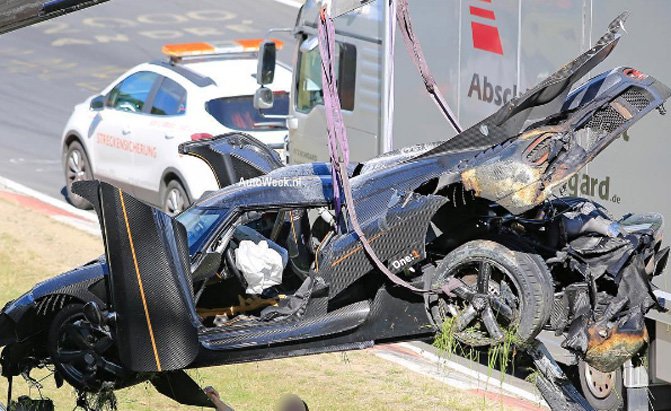 But the good news is, the Swedish automaker has announced that the car is salvageable and will be rebuilt to its former glory.