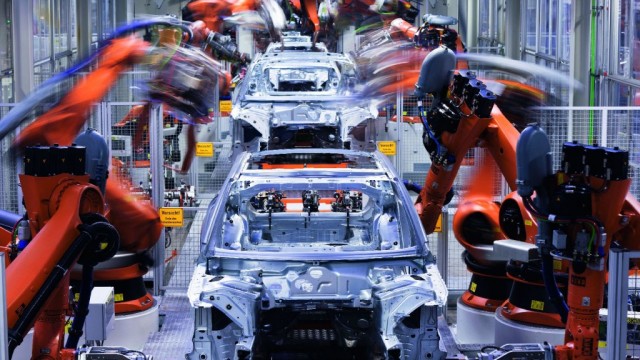 Local automakers to marginally increase their production capacity in 2019: CCP
The supply and demand of car in Pakistan is an issue for the buyers. Currently, one passenger car is produced for every 869 persons. According to the report forwarded by Competition Commission of Pakistan, the country can become a 500,000 vehicles market by 2023-2025, however, to achieve the target local automakers have to increase their existing production capacity exponentially.
There is a dire need for local automakers to increase and enhance their capacity, but it seems that they are not in any mood in this regard. As per the report, out of the four existing auto players, three Japanese and one Chinese, only Honda and Toyota have shown indication to moderately (by 10-20%) increase their production capacities in 2018/19.
While there have been efforts to marginally increase production in the past year, however, there is no indication that any of the existing manufacturers are considering a significant increase in production capacity in the next few years, the report added. Although, Toyota and Honda have asserted that investment and increasing of capacity is an extensive process and take one to two years to bear fruit.
The current production capacity of local automakers and the expected increase in 2019 is as below:
| | | |
| --- | --- | --- |
| Manufacturers | Capacity 2018 | Capacity 2019 |
| Pak Suzuki | 150,000 | 150,000 |
| Indus Motor | 54,800 | 65,000 |
| Honda Motors | 50,000 | 55,000 |
| Al-Haj FAW | 11,000 | 11,000 |
| Total | 2,65,800 | 2,81,000 |
Read Also: Auto companies invest millions in the local auto industry
It is worth mentioning here that the actual production capacity can exceed installed capacity with different techniques such as keep the production line open on holidays and extra shifts. IMC is using this method to increase its demand. They can achieve 75,000 unit production on an installed capacity of 65,000 cars. This phenomenon can also be when the company announced an investment of PKR 3.3 billion. And after the approval of investment, the production capacity of the plant can be enhanced to 75,000+ units, on a double shift basis.
According to industry experts, on one side, local automakers are reluctant to invest wholeheartedly in the local auto industry, every car maker is happy to monopolize its own segment and doesn't want competition and, on the other hand, newcomers have and are willing to invest millions of Dollars in the country. For example, Ghandhara Nissan, Dewan Farooq Motors, Hyundai Nishat Motors, Foton JW Auto Park and Sazgar Engineering Works Ltd. will be investing $41.3 million, $145 million, $163million, $11.45 million, and$31.01 million, respectively. Furthermore, Al-Futtaim with its partner Renault is investing $230 million in the domestic auto industry.
They are hoping that due to the influx of investment from new automakers and plans to produce thousands of vehicles, the supply and demand of vehicles in the country will no longer be an issue in the future. The menace of long delivery timed and ON money will be filtered out from the industry, as of now, due to a ban on non-filers the delivery of cars has been shortened and as if the policy continues and new automakers starts producing vehicles, the premium and long waits for cars will no longer be a problem, on the contrary, due to competition the quality of cars will increase.
Experts are anticipating great things for local auto industry after the arrival of new automakers, as of now, over 13 automakers have entered in Pakistan and has been given incentives by the government, but recently due to instability of rupee against the Dollar, few of the local automakers have raised their concerns and argued that after the passing of each day it is becoming difficult for them to bring investment in the country, so the government should take steps to avoid automakers from losing confidence in coming to Pakistan.
Stay tuned for the latest update.