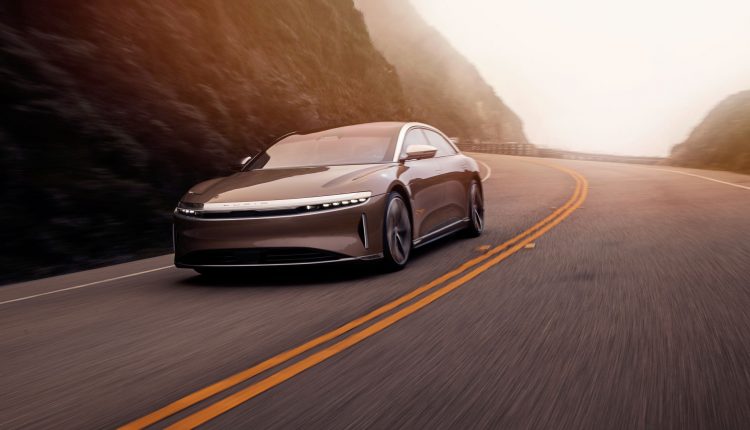 Lucid Air: A New Competitor For Tesla Motors
Lucid Motors has emerged as a new competitor for Tesla Motors with its new
Lucid Air
electric car. Currently, fully electric vehicles is the number one priority of almost all car brands around the globe. Starting with the mass market Tesla a decade ago, today you can find EV from Audi, VW, BMW, Mercedes, Hyundai, KIA and so on.
Beside that new companies are showing up with dedicated exclusive EV architecture and LUCID motors is one of them.
Lucid Motors: 
Lucid Motors is a US based EV makers and is led by Peter Rawlinson as CEO, who was principal engineer at Jaguar and Chief Engineer at Lotus. While he was at Lotus , he was asked by Elon Musk if he can join Tesla Motors and he did so as VP of Engineering.
Back then there none of current models were in production from Tesla and Model S was in a very initial stage of development. Peter is the guy who helped Tesla develop Model S. In 2013 Peter resigned from Tesla and joined a small EV startup which later became LUCID MOTORS.
Development of Lucid Air: 
After 7 years of hard-work and extensive research and development, Lucid motors finally reveals their first production electric car in form of a Sedan; The "Lucid Air". At start availability is limited to North America. Lucid displayed a Prototype back in late 2016 and production model is not very different as far as exterior design.
LUCID means clear, bright and luminous and this is what the Air is. As per Lucid, they have designed the vehicle keeping the maximum space on the interior. Lucid calls its platform "Space Concept" with all major components not only compact in size but also away from the cabin . Air has 9.9 cubic feet of frunk [front storage] while 16.2 cubic feet of trunk
storage.
Exterior of Lucid Air: 
Lucid air use Micro Lens Array LED headlamps on front , full LED light bar as taillight . Overall its has a very simple, clean and elegant design on the exterior which looks authentic and futuristic. Lucid air has a drag coefficient (Cd) of just 0.21, less than the Tesla model S or for that matter the lowest for any EV on the market.
Variants, Engines of Lucid Air: 
Air will be available in 4 variants. The base variant power and range is not yet known but other options are 620 and 800hp. Top of the line Lucid Air is available with total 1080 HP with the help of two electric motors, one each in front and rear.
Depending upon the battery size variants and wheels combination, the Lucid air can go up to 832 Kilometers on a single charge, this is like going from Lahore to Islamabad and back without charging. Even the one variant above the base model can go upto 653KM. The largest battery size is 110kWh. The top of the line performance model can reach 60 in 2.5 seconds while can hit quarter mile in 9.9 second @ speed of 237 km/h.
Lucid Air recently beat Model S performance by a huge margin on a track test.
Fastest Charging in Lucid Air: 
Lucid use a special charging unit which they call "Wunderbox " which makes the Lucid Air fastest charging EV on the planet with 480 kilometre range of charging within 20 minutes which is twice as fast as the Tesla. Lucid partners with VW/AUDI and will use their charging network which has over 2000 charging stations currently and expanding all across US. Like any other EV, home charging is also available.
Interior: 
Air is also very futuristic on the inside with neat lines and high end material . Full glass starting from front to rear. There is 34" OLED curved digital 5K display instrumental panel , There is also a high definition infotainment system as second screen in the middle and once not in use, it can fold and hide into a space under the dashboard. Lucid calls it a "Pilot Panel".
Key Features: 
Lucid Air also have a driver assistance technologies with capabilities built-in to it for fully autonomous level 4 and 5 driving in near future . The system use highly sophisticated 32 sensors / camera , and LIDAR with 3D mapping. Lucid Air will be a 5 passenger vehicle but there will be an option of 2 executive seats in rear in future which can recline upto 55 degrees.
Price: 
The base price after tax credit is $72,500 for US customers while top of the line Air Dream Edition with 1080HP can be yours for $161,500/ . Sales starts in US , summer of 2021. As reference, Porsche Taycan has a EPA range of 308km on full charge, while Tesla Model long range+ variant can go 647 kilometers on single charge. Lucid will also be revealing a SUV in near future.
Lucid Motors has a $700 Million manufacturing facility in Arizona which has capacity to built 380,000 units a year. In 2019, a Saudi Investment firm injected 1 Billion Dollar in the company.