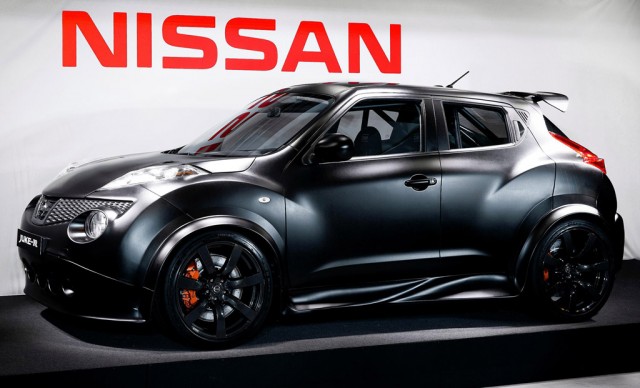 Mini-GTR revealed in Spain
As we reported previously about the transformation of a stupid looking crossover into a baby Godzilla, we weren't wrong and Nissan was serious and Godzilla's Baby has finally taken birth.
Nissan has taken the wraps off its outright nutty Juke-R concept, choosing a quiet media launch of the European Qashqai crossover in Malaga, Spain, to roll out this sinister monstrosity.
Only two Juke-Rs will be made, one in RHD and the other in LHD form for the concept's testing purposes followed with a slightly tamer version of the baby Godzilla.
Juke-R is built by Ray Mallock Limited (RML) in the UK on behalf of Nissan, RML shoehorned GT-R's engine and drive terrain into the Juke-R.
Followed by few modifications, include widened wheel arches, a full bodykit, a fixed rear roof wing, the GT-R's 20-inch wheels, Brembo brakes, and a custom roll cage. The concept also gets the GT-R's advanced traction control and dynamics logic, to help control all of that GT-R flavored power in the small Juke package.
The interior of the Juke was also given an extensive makeover, receiving a 4WD controller, the GT-R's touch-screen interface with all of the PS3-like goodies, and the engine control system.