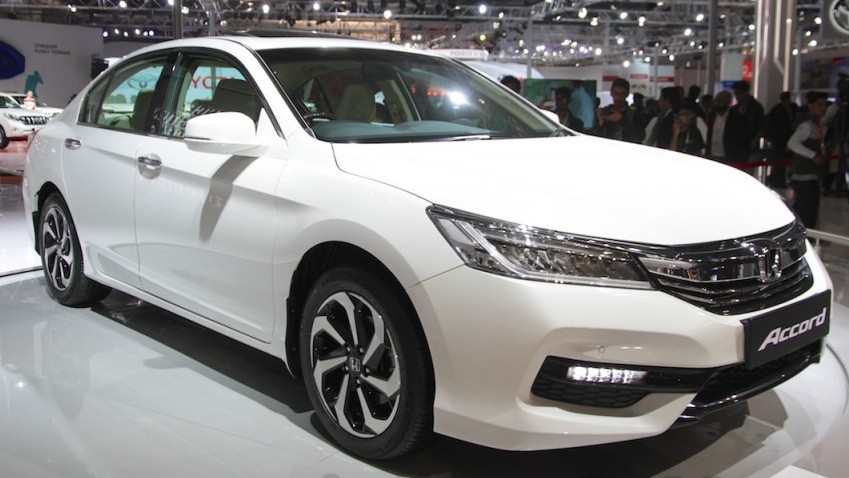 New Honda Accord Hybrid Revealed At The Auto Expo 2016
Today we are mostly focusing on the new cars and new models being showcased at the Auto Expo going on right now in New Delhi, India. Some of these cars and bikes are related in one way or another to the cars and bikes available in Pakistan as well. Also, the point is to raise awareness among the Pakistani auto consumers by showing them what could be made available to them if they keep questioning the existing Pakistani carmakers and the government about the state of our auto market.
Another exciting new car showcased at the Auto Expo was the new Honda Accord Hybrid. The car will go on sale in India later in 2016. The pre-facelift model was launched back in 2012 internationally.
Read about new Honda HR-V launch here.
This 9th generation Honda Accord features a handful of new technology features compared to the previous model and also has more compact and sleeker looking exterior than before.
The Hybrid Accord will be offered with a 2.0-liter four-cylinder engine that produces just over 140 BHP on its own, and provides combined power of 196 BHP with Honda's AC Synchronous Permanent Magnet hybrid electric motor. The ICE produces 165 Nm of torque. The car comes with Honda's E-CVT gearbox. The price of the new hybrid Accord is unknown yet.
Honda Atlas offers regular Honda Accord in Pakistan and is priced over 10 Million PKR. That is a lot of money for a front-wheel drive large family sedan. The taxes on these cars are insane hence such high rates. Considering the new Accord Hybrid is 2000 cc, it is possible to sell the new car for less than the current Accord. We can only hope to see more cars coming to Pakistan in next few years.
Courtesy: IAB