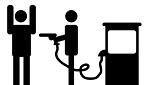 No CNG in winter and petroleum prices to be raised soon
It is better for everyone if the government increases petrol prices suddenly rather create panic amongst buyers as it has been observed and recognized that petrol pump owners stop the sale of petroleum products even at the slightest hint of price increase.
Even though that the government said exactly one day ago that the prices of petroleum products will not be raised but it was reported in the news late night that the prices of petroleum products shall be increased although, the date of the increase (issue of notification for the increase in prices) wasn't told however, According to the officials of the Petroleum Ministry, the price of petrol is being raised by Rs1.9 per liter after which its price will climb to Rs84.80.
The rate of Kerosene oil is being increased to Rs1.97 per liter to Rs86.62; High Octane price will see a rise of Rs5.34 per liter; light diesel price is being jacked up by Rs2.13 per liter and; the price of High Speed Diesel is being kept unchanged at Rs92.10 per liter.
No CNG supply in winter:
There will be no gas for CNG stations at all in the winter season, meaning that 3,180,000 CNG-run vehicles will be forced to use alternate fuels such as motor spirit (petrol) and diesel, particularly in December, January and February. About 40-50 million people, who daily travel on CNG-run vehicles, will be exposed to massive hike in transport fares when the vehicles will use petrol and diesel in the winter season.
"We have been clearly told by the Petroleum and Natural Resources Ministry that there will be zero gas supply to the CNG sector," Ghayas Paracha, Chairman of the All Pakistan CNG Association, said this during a briefing by the National Committee on Oil and Gas here on Friday.
So get ready to commute on bicycle daily as petrol and diesel are exorbitantly priced and far away from the reach of common Pakistanis.