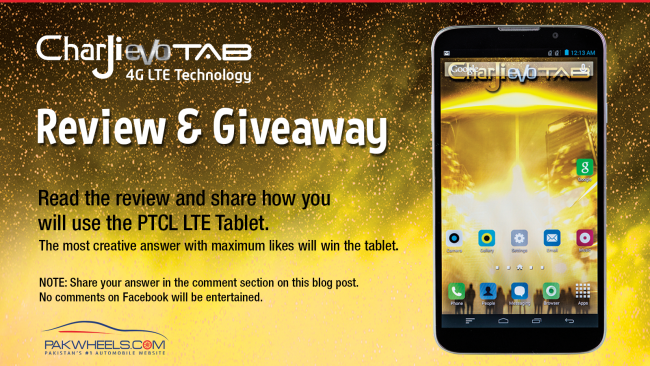 PTCL recently launched its CharJi EVO LTE TAB bundled with a car mount, car charger, and Sygic Navigation app to cater to the needs of motorists. We posted a hands-on experience of the tab with the launch but now we are posting a complete detailed review of this tablet. The review will cover different aspects of this tab which will help you decide whether you should buy it or not.
We took the device for a ride within Karachi as to use its advertised feature i.e. the Satellite Navigation. First expressions are that the SatNav works as it should. It is quick and precise. We'll discuss the nitty-gritty in a moment.
Key Specs
7" (6.98" to be precise) 720p display
1.2 Ghz quad-core processor
2GB RAM
16GB internal storage
microSD card slot
8-megapixel back and 2-megapixel front cameras
Dual SIM support (1 LTE and 1 GSM)
3300 mAh battery
Android KitKat
25,000 rupees price tag
General Experience
The device itself feels nice in hand. The interface is clean and easy to use. The tab runs Android (KitKat 4.4.2) which means everything is customizable. You can arrange icons to your liking. It is a dual SIM set and you can use your own GSM SIM in Slot 2. The call quality was fair and we didn't face any unnecessary distortion or bad reception.  There is one major limitation with that tab that it does not have a native landscape mode, which means the home screen remains in portrait mode more often than not while you mount the tablet in the car.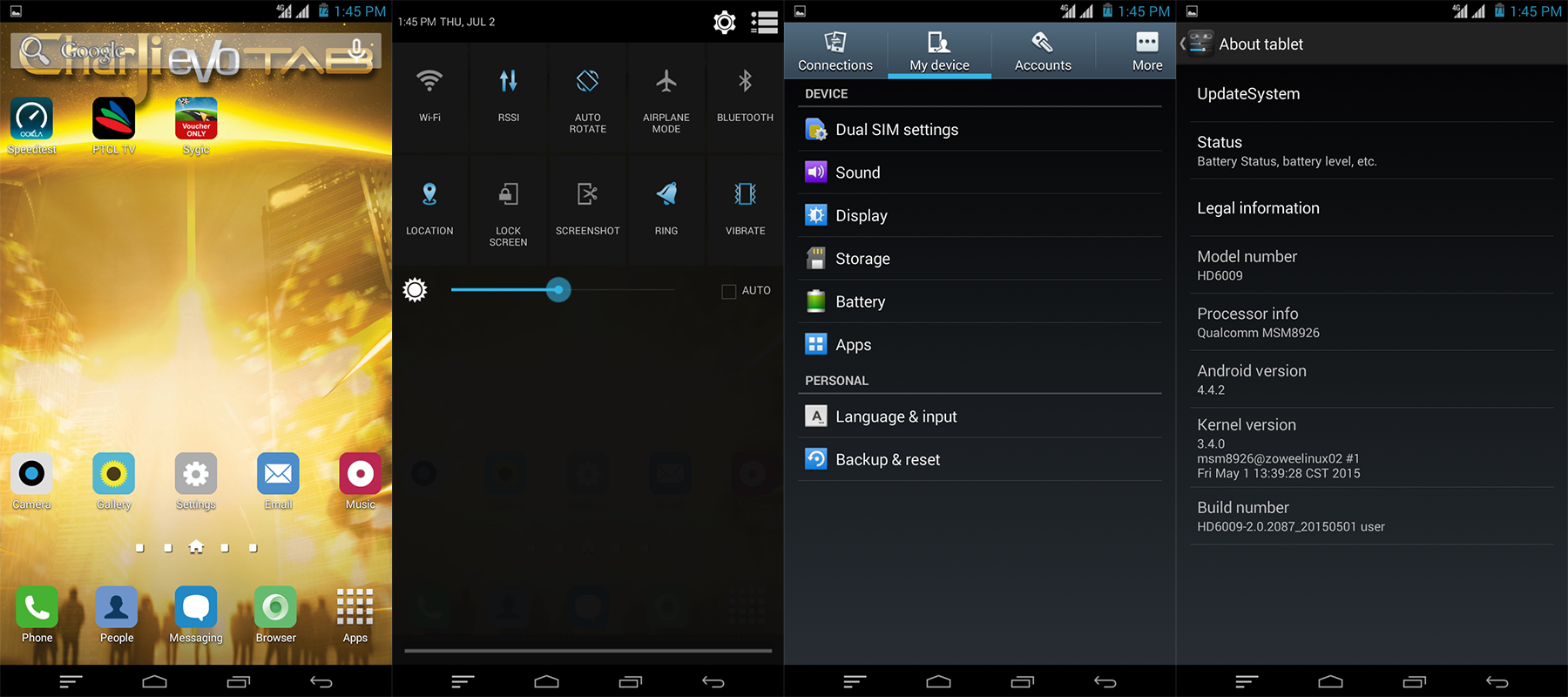 Build Quality
The build quality is just okay, and nothing special. The removable rear cover is flaky and feels cheap. It reminded us one of those extra thin Samsung Galaxy phone back covers. You feel like it will disintegrate in your hands, but it is sturdy and will not break that easily. Opening and putting back cover back on the tab made us feel like the hinges that hold the cover in will soon wear out. If you open the back and look at the body of the device itself, it also looks like it's made up of some cheap white plastic.
The tab has cheap chrome colored plastic as a bezel around the phone screen. At first look, you might think its brushed aluminum but it is not. There are high chances you will crack the plastic ring if you drop the tablet. Finishing of the ring is very crude and it looks like they forgot to finish it with some polishing.
The tablet itself feels sturdy. The device is rigid and doesn't rattle if that's the right word to use here. We twisted and turned it from both ends to see if we can hear some creaking or feel if there is any flex in the body. We were glad to know that the device didn't show any signs of inferior structural integrity.
Handling and Size
The size of the tablet is surprisingly good. Once you are done using it in your car, you can simply unmount it, put it in your pants or jacket pocket and start using it as a phablet. The tablet fits perfectly in the pocket of jeans with light reflection of the bezel peeking out from the top. It doesn't feel too uncomfortable in hands and you can easily use it while walking. One-handed operations are obviously not possible in the tablet; however, you can hold the tablet comfortably in one hand without putting a lot of strain on your wrist. Although, the size is very good for a phablet use, but we would strongly suggest using it as a phone without hands-free, otherwise you would come across as a smug to most people, unless you are 7'2".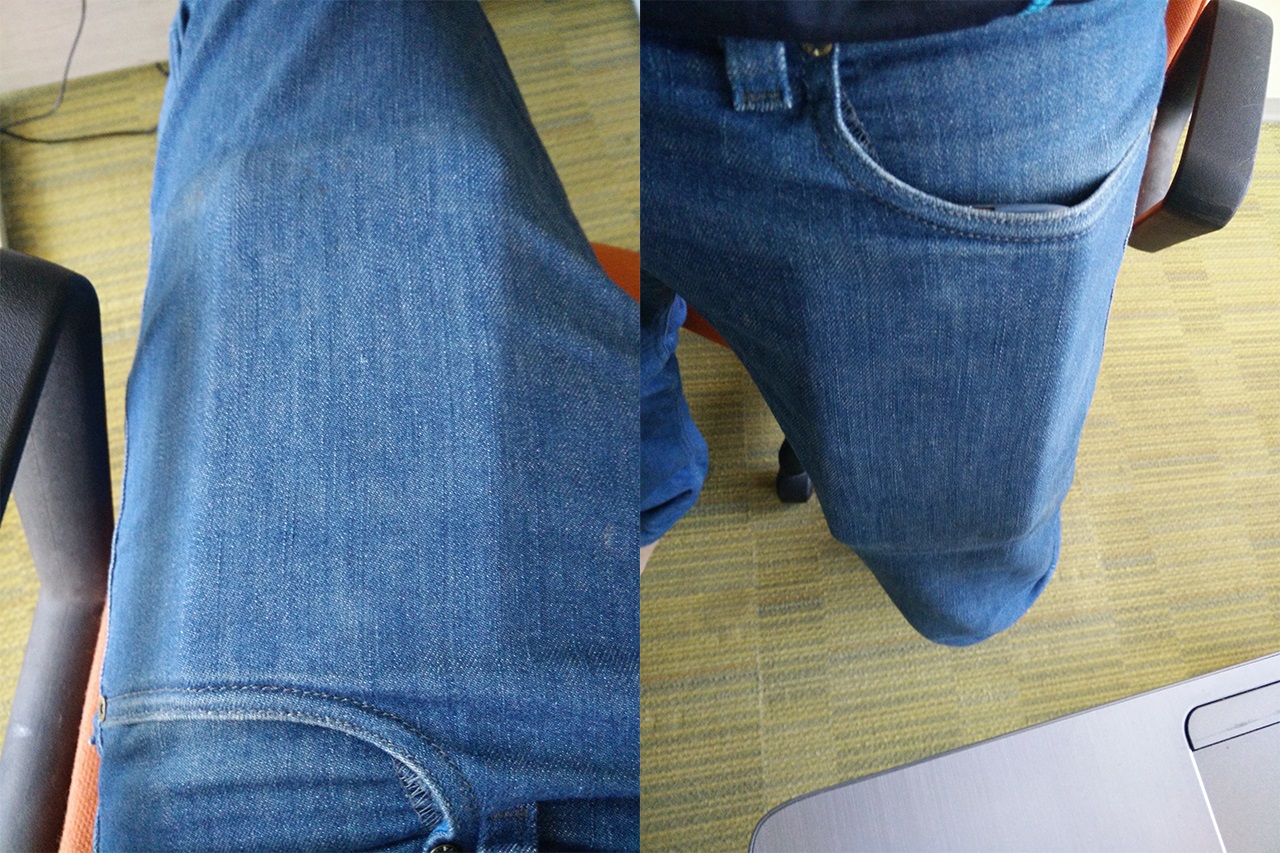 Display
The screen is a 720p 7-inch panel. 720p sounds primitive if you compare it with hi-res gadgets we can get in the market these days but keep in mind the purpose of this device i.e., in-car navigation. We are confident you will not notice distorted pixels when you are driving in the first place. The screen resolution of generic SatNav units is usually 480p, and in cheaper units, it's worse. So 720p is a huge jump from what you usually get. Navigation on a 7-inch screen will always be better than those smaller screens. Icons are big and easy to navigate around when driving. We found the screen bright enough to use in the car. You will need to find a sweet spot in your car while mounting the tab where not only viewing angle is comfortable enough but access to the screen is also easier. Keep in mind you get sunlight in the car from strange angles so looking at the screen and finding what you are looking for becomes increasingly harder if you don't set it at the right angle. The screen is very responsive to the touch and you don't end up tapping an icon again and again for the screen to register your touch, which is always very important when you are driving from safety point of view.
Camera
The tablet comes equipped with an 8-megapixel primary camera that works decently in good and natural lights but in artificial and low light conditions, it starts to show its true nature. The camera software/app is nascent to say the least. There are major bugs in the settings menu of the camera app. The settings icon is repeated three times, all of them do exactly the same thing i.e. you can use the settings icon to access different properties to select various actions. One little quirk is that you cannot turn off the flash. Yes, there is no option to turn the LED flash off. It is stuck at auto flash. It won't shoot flash if there is ample light, but in slightly dark conditions, the flash will turn on and fire automatically. You can put your finger in front of the flash if you are that desperate, but there is no way you can turn it off. Camera app does offer geotagging and HDR. Normal daylight photos are good enough for a normal user, but if you want your tablet to take really good photos in all sorts of lighting conditions, the camera on the tab will disappoint you.
The front camera is a 2-megapixel unit and in good lighting conditions it gives you pretty decent photos, however in low light conditions, using it is out of the question. Lucky for most people, Skype/Videocon needs on the go are always in daylight unless someone works graveyard shifts. Over Skype, the other party was pretty happy with the quality and results of the front camera in natural daylight and the Skype call was smooth and seamless.
Connectivity
The PTCL CharJi EVO LTE Tab is Pakistan's first tab that offers LTE connectivity at a reasonable price. The tablet comes with 2 SIM slots; one of them is 4G capable while the other is 2G only. The internet connectivity is smooth and you get consistent internet throughout the city even while driving. The speeds vary from 2mbps to 15mbps depending on the signals and reception in your area. In our experience, we got an average speed of 4mbps at all times both while driving and while at office, and it touched 12mbps mark only once or twice that too for a moment. That's because wireless speeds are relative to conditions and are dependent upon various uncontrollable factors.
If you are a Ufone customer or looking to switch your network to Ufone then you will be pleased to know this tablet comes with 15,000 free on-net Ufone minutes for you to use in any Ufone SIM. The minutes are disbursed over a period of 3-months so you get to use 5,000 minutes every month absolutely free.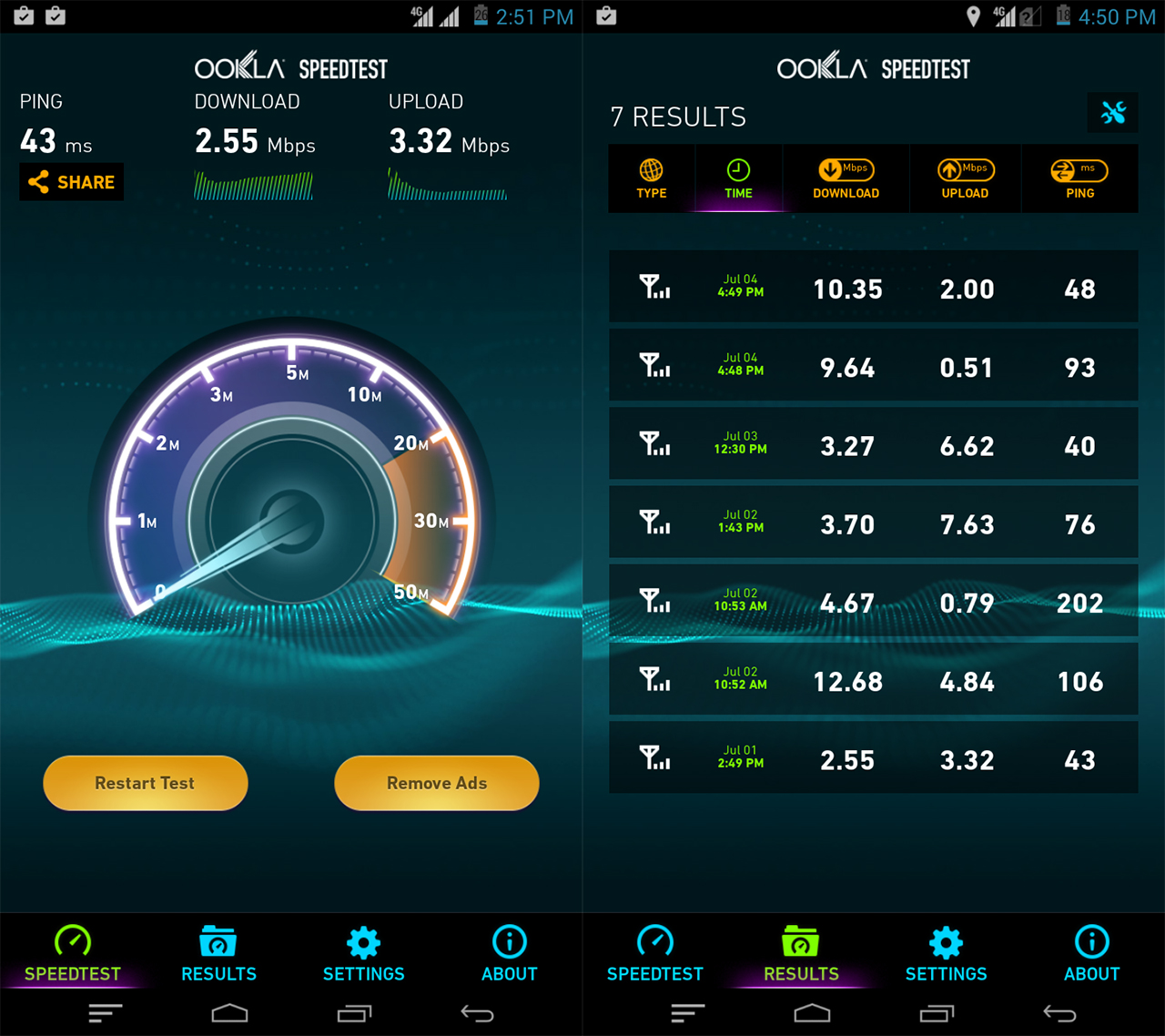 Battery
For the screen size, the tab has a relatively smaller 3300 mAh power source and it goes a long way only if you don't use LTE and GPS navigation. The power requirements of this tab are not so high due to its modest specifications and a 3300 mAh is ample if not more than enough. We used it on and off for four days; and by use we mean seldom Sygic app use, usual calls, a lot of 4G mobile internet, some video playback, Smart TV usage and it gave us a full day usage if not more with 4+ hours of screen on time. It would be interesting to see how long the fully charged battery would last you if you only use it for navigation on a long route. Sygic does not need an internet connection all the time and that's the good part about the app. Therefore, all battery juice would go to the screen and GPS antenna. We are pretty sure that would easily last you more than 7 hours of continuous navigation use without LTE. For those times when you want to use everything, there's a car charger bundled with the tablet so you don't have to worry about that either.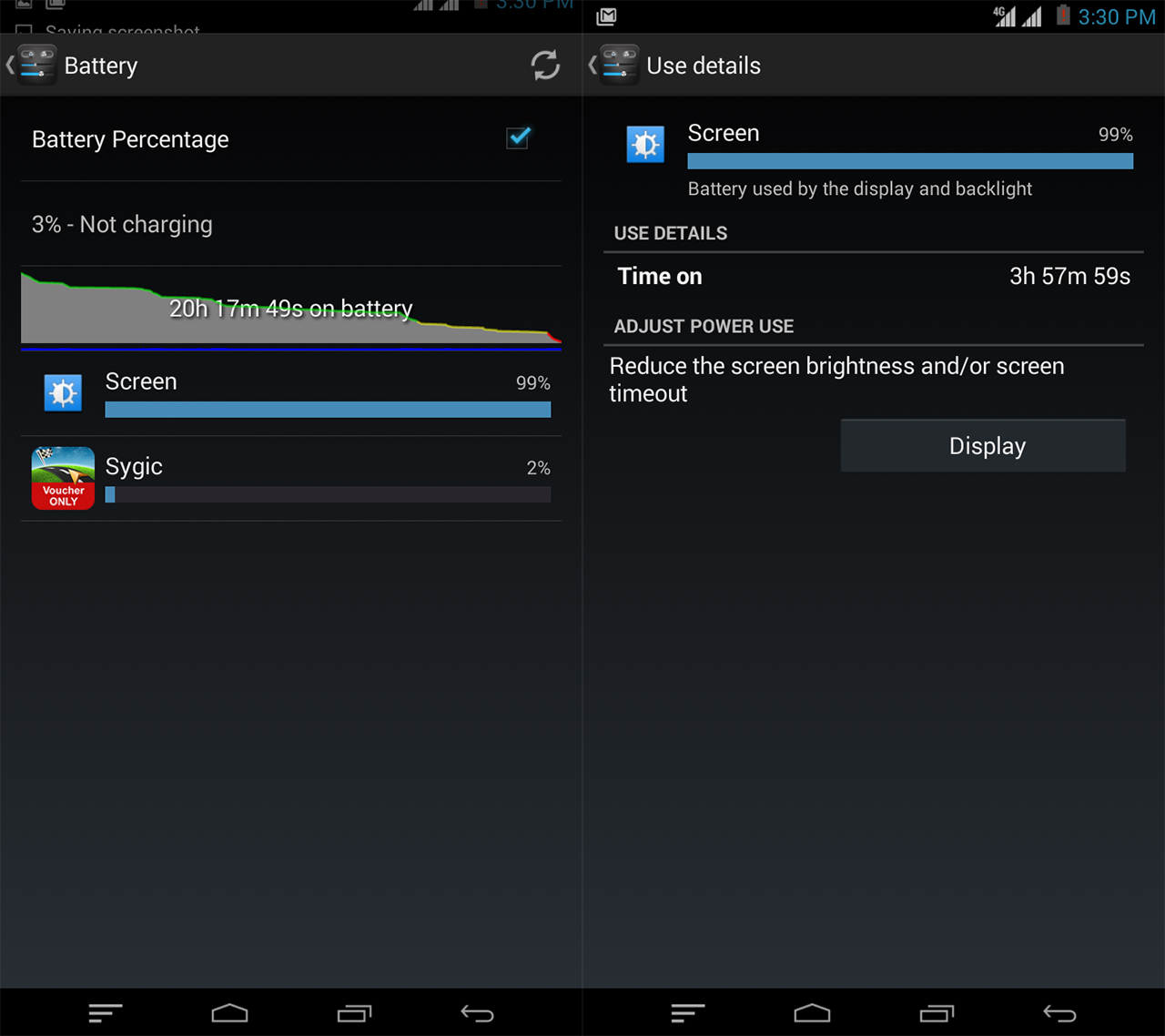 Navigation, Car Mount, and Charger
PTCL is providing the tab with a car mount and a portable charger that plugs into your car cigarette lighter switch. The holder itself is of good quality. It sticks to the screen securely and its jaws hold the tab tight in its place. Never for a moment had we thought the mount is not reliable or it would drop the tablet. There was least vibration even though our car was shaking a bit due to road conditions and faulty engine foundations. The charging cable is long enough for you to hook your tab up if the battery is getting low while navigating.
You will need a sweet spot for mounting the tab from where not only will it be possible to look and access the tab at your convenience but also from where you will get less reflection. The screen has ample backlight that helps you see the display in bright sunlight.
It was very hard to enter the destination in Sygic while driving as it is never recommended. You should always focus on the road while driving and not distract yourself with things like these. We were unable to tap in the address when the car was in motion, but the good thing is it has Google Voice Typing which helped us enter the address with voice command. The tab easily picked voice instructions and we didn't find the need to stop the vehicle for entering the destination. We deliberately took a route other than what Sygic was showing a few times. The aim was to see how quick the app was at rerouting and we were not disappointed. Sygic hardly took a couple of seconds to calculate the new route and laid it on the screen.
SmartTV
Until a few years ago, having a TV in the car was unheard of, but with introduction of 3G and 4G services in the country, it is now possible. PTCL is the first operator to introduce these services in Pakistan. These days, considering how bad traffic jams could be, having a TV in the car sounds very logical. One can stay updated about what areas are prone to troubles and what areas to avoid. One can even watch live cricket matches while in the traffic jams.
PTCL CharJi EVO LTE Tab comes with a free 1-year subscription of PTCL SmartTV that offers 150+ channels. We recommend against using the TV when you are driving the car and we test drove the SmartTV in the car for the purpose of this review only.
The SmartTV works flawlessly, 70% of the times, every time. When it works, the reception and quality remains pretty darn good, but when it doesn't, it starts jittering and buffering. And that's not limited to car use only. In our experience, the SmartTV lags and buffers 4-5 times every 3 minutes, sometimes even more. This behavior becomes a hindrance in normal use and can significantly affect your experience.
The SmartTV app controls stay in portrait mode and you will have to either tilt your head to read the text and icons right or use it as is. Yes, there is no landscape mode in the app interface for the tablet use. However, the TV stream automatically turns to landscape mode once you turn a channel on.
For TV usage in the car, the main speaker is not loud enough. You will either have to use AUX cable or pair it with the Bluetooth in your car stereo system (provided you have it).
Bottom Line
If your car didn't come equipped with SatNav and you are looking to get yourself one at an affordable price, then I would say this is the tab for you as it comes with the required car kit to go along and the required apps pre-installed.
Many people will argue that you can get generic Chinese tablets at a much cheaper price in the market than this tablet, but let me tell you where it excels. It has 2GB RAM. Most Chinese tabs in the market come with 1GB RAM for this price with mediocre specs. Additionally, this tablet comes with the required accessories for mounting it in the car. Good quality car mounts are very hard to find in the market. Plus you get the free navigation app preinstalled which works pretty well. Moreover, this is the only tablet in Pakistan that comes with 4G LTE capabilities.
It's a complete package for the people looking to get navigation for their cars easily from the ease of your home, which itself is priceless.
If you are looking to buy the PTCL CharJi EVo LTE Tab then click here and order now through PakWheels
Giveaway
Share how you will use the PTCL LTE Tablet in the comments section below. The most creative answer with maximum likes will win the tablet.
Terms & Conditions
Contestant must be a member from Pakistan.
Contestant must have completed his/her profile including a profile photo/avatar.
If the winner does not respond to PM/email within 3 days, PakWheels will give the gift to next in line.
The competition closes at 11:55 pm, Tuesday, July 14, 2015. Winner will be announced the following day.
Employees of PakWheels are not eligible to enter.
Gallery