Currently, the automotive scene in Pakistan is in full swing and the next big things will probably the release of Ciaz, a sedan from Pakistan Suzuki and the highly anticipated Honda BR-V. Both, Honda and Suzuki are seemingly following strict and composed schedules, as far as the vehicle launches are concerned. I will keep my today's topic pertinent only to Suzuki Ciaz. Pak Suzuki has always been criticized for being running / selling old age vehicle lineup but it seems like things are now changing. Ciaz will be the second big launch from Pak Suzuki within months after the successful release of Suzuki Vitara. Pak Suzuki has started releasing teaser images and videos, which cement the fact that the launch of Ciaz is just few days away.
Although we will know all facts, figures and features about the upcoming Ciaz when the car will be officially released, I thought about researching and seeing what we know from the leaked images till now.
Around 2 months ago PakWheels spotted Suzuki Ciaz at Port Qasim, later many PakWheels community members shared pictures of Ciaz on transport trucks, while more recently, the car was spotted in open public in Lahore . It's a little confusing that while Pak Suzuki is releasing teaser images and video clips, how one of the cars was found parked in middle of some overly crowded road and was easily accessible to public, which resulted in viral images. This could be a marketing stunt as well so that excitement can be generated about the upcoming car and seems as if the idea was successful as the pictures got attention all across the social media and made people truly excited to know more.
Suzuki Ciaz, which is also known as Alivio in China, is Suzuki's answer to conventional 4-door sedan segment after the departure of Baleno and Kizashi  Being categorized as a compact sedan, Ciaz can be placed right next to Honda City in Pakistani market. Ciaz is based on previous, now discontinued, SX4 platform, and to some extent we can say that Ciaz is more of SX4 replacement rather than Baleno sedan or Kizashi. For Pakistani market and with the currently available information, I believe that Pak Suzuki will be selling Ciaz as an imported CBU unit. Although this is a good news because we can expect a better assembled product but it also hints that Pak Suzuki might not bring a model with all bells and whistles, because in that case, the suggested retail price can cross the other local assembled available options and as Ciaz still have a Suzuki badge, price will be a key for successful launch and sales.
Lets go over what we know till now. Please keep in mind, these specs are based on what we have seen and the original specs may vary.
Dimensions:
Comparing Ciaz with the currently available sedans in the market, we can see that its fits in between the Honda City and Toyota Corolla/Civic, as far as the footprint with impressive cargo capacity is concerned.

Mechanical:
Depending on markets, Ciaz is available with multiple engine options like a 1.25L 91HP Petrol Eco version , a 1.4L Petrol as well as 1.6L 120HP petrol variant. While 1.6L and 1.3L diesel engines are also available, the 1.25L version is specific to Thailand while the 1.6L version is exclusive to China. In majority of the countries globally, Ciaz is sold with Suzuki's famous K14B, a 1.4L [1373CC to be precise ] 16V DOHC VVT [variable valve timing] petrol engine. I am not sure but it seems that Pak Suzuki will launch the car with 1.4L petrol version. This engine is a 92HP unit and produces around 130NM of torque at 4000 revs per minute.
Internationally, Ciaz is available in both, 5 speed manual as well as 4 speed automatic transmissions and as per current market trends, I believe Pak Suzuki will launch the car with an automatic transmission, as more buyers would be interested in this option. Ciaz is available with 43 liters fuel tank while the reported fuel economy is around 19km per liter on average. Cruise control is not available in any of the markets as of now so we should not expect one either.
Coming towards suspension, Ciaz will be available with McPherson front while Torsion beam in the rear with coil springs. Rack and Pinon electric power steering system is standard along with tilting feature. The telescopic feature is not available. Internationally, the car comes with 185/65 R15 (Steel & Alloy) as well as 195/55 R16 (Alloy). The 185/65 15″ inches steel wheels which will be available with wheel covers, are the ones available on base model Ciaz. The cars which were spotted on Port Qasim seem to have the steel wheels. Later all cars which were seen while being on transport trucks or later found on streets of Lahore, had same steel wheels. Should we believe that we are getting a base model Ciaz as available overseas?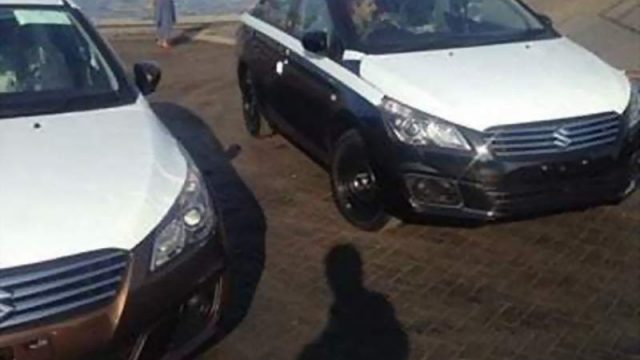 Safety:
As far as structure is concerned, Ciaz is based on "Total Effective Control Technology (TECT)" as said by Suzuki. The design uses high strength steel at strategic location resulting in increased occupant safety as well as  reducing the body weight for improved fuel economy. As per Suzuki, the TECT also reduces the road noise, harshness and vibration and improves the driving stability and agility. Internationally, Suzuki Ciaz comes standard with front air bags [drive and passenger] so we can predict that Pak Suzuki will bless its customers with the same. Apart from this, the Ciaz is equipped with ABS along with EBD [Electronic Brakeforce Distribution]. Side impact bars in doors, Immobilizer, security alarm, rear childproof door locks as well as seat belts in front and rear with pre-tensioners are standard items. As per ASEAN NCP crash testing, Ciaz holds 4 star safety rating.
As far as the safety is concerned, Ciaz has an edge over other locally available cars like Corolla and City, which are not having any crash testing, or for that matter not even equipped with air bags.
Exterior & Interior
This is the area which is always neglected when we compare a model sold in Pakistan vs the same model sold overseas and it applies to almost all local car assemblers. The pictures of Ciaz, which were spotted in Lahore, tell many things if this is the only variant that Pak Suzuki is about to launch. On exterior, it's clearly visible that there are no fog lights, while as I mentioned above, there were steel wheels instead of Alloys. Apart from that, it's good to see that at least there are projector headlights. There is no sign of Daytime Running Lamps [DRLs] and in fact it's not available internationally too.
The base models also don't come with electric folding (retractable) side view mirrors, although this feature is available on upper trim levels. Side view mirrors can be adjusted electronically and it's a standard feature. Additionally, the base model overseas gets body color door handles, while the upper trim levels get chrome handles. All cars spotted till now in Pakistan had body color door handles. We should expect conventional exterior colors in shades of grey, silver, white, red, beige as well as brown.
let's compare the below images.
Pakistan:
Overseas:
Now jump inside to explore the interior and there, it is quite easy for all of us to pin point the missing items. Pakistan version as seen above does not come with a LCD touch screen head-unit; also there are no steering wheel mounted controls. This means a Bluetooth connectivity also becomes a question mark. If even the phone connectivity is available, there are no controls for it on the steering wheel, which makes the utility incomplete and rather distracting for the driver. While on international model, there is complete cellphone integration and control as well as voice command features. Instead, the Ciaz as seen, comes with a cheap version of CD head unit/radio and we are not sure if there is any availability of USB connectivity. Will there be an option for navigation system? I am not sure at this point of time but as most of the CBUs are not available with navigation systems, its highly unlikely that we will see one on Pakistani variants.
The base version overseas comes with 4 speakers and I hope we will at least get 4 too. As there is no LCD version for head-unit, there is no backup camera either and I can confirm this by looking at the rear end picture. While rear view camera is getting standard, it's extremely disappointing that we don't find one. It's impressive to see a rear view mirror with rear view camera display option on international models. I hope on official launch, we see a different head unit, which will make the interior of this car a featured one. Information Display w/trip meter & fuel consumption is standard so we are safe on this front.
The other big turn down is unavailability of automatic climate control, instead manual air conditioning system has been seen. There is one picture of the rear seats of Ciaz as seen in Pakistan and although its not clear but if we zoom in, it creates some doubts about the availability of rear AC vents, which is standard overseas, I hope I am not wrong about it. Other features which are NOT available on base models are push button start, automatic day night rear view mirror, driver seat height adjustment, sun glasses holder, foot-well illumination as well as rear reading lights and rear sunshade. Although intelligent push button start is not on base model, you will get the keyless entry. Front and rear arm rest and intermittent wipers and rear defogger are the standard features. Base version comes with fabric upholstery while leather is available on upper trim levels internationally.
Price:
Well, this will be the most important factor and it can make or break it for Suzuki. If the car for Pakistani buyers is stripped down version as we have seen, it can become very difficult for Pak Suzuki to sell it even at the same price as Honda City or for that matter a base model Corolla. Reason being both of these models have established their name and have a brand identity as well a good resale values. Personally it's difficult for me to predict a price point but even if Pak Suzuki launches a fully featured Ciaz, anything beyond 2.0 – 2.2 Million will surely make things complicated for Pak Suzuki.
Pak Suzuki teaser clip says "Seek Excellence", "Thrive Ordinary", "Drive Extraordinary", I hope we don't see something ordinary, because looking at the above preposition, it does not sound interesting and is more of a disappointment. As I said earlier, I hope we get Ciaz with as many features as possible and I wish & hope that Pak Suzuki is hiding the real model with all wanted features behind the curtains at this time and the real deal will be something extraordinary. In our neighboring country, Ciaz has been marketed with a slogan as C-Comfort I-Intelligence A-Attitude Z-Zeal, let's see if it stands true for us.
Stay tuned with PakWheels for more updates!