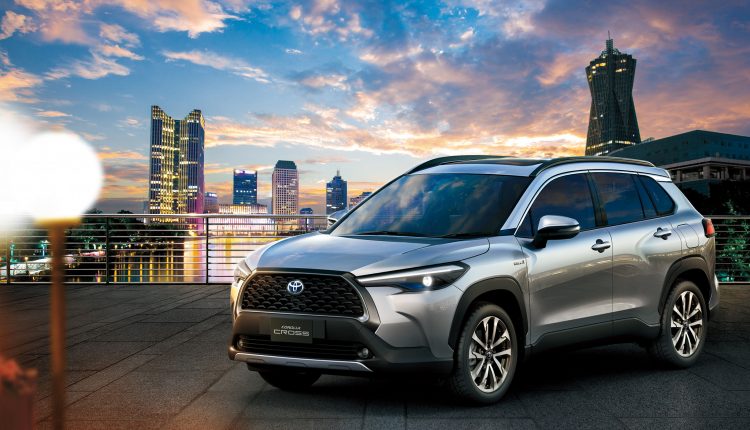 Toyota to Launch Corolla Cross in Pakistan Soon!
Toyota Indus Motors is all set to launch SUV crossover Corolla Cross in Pakistan very soon. As Globally conventional sedans sales are hit in negative, Corolla Cross launch will be another positive for this SUVs.  Sportage has shown the same trend in our market and Tucson will further solidify the fact that consumer in Pakistan market also moving towards this segment although the price is still a major deciding factor.
There were rumor for quite some time that Toyota Indus will offer something in local market. Many people thought RAV4 would be an option and some predicted something new.  Around two months ago, Toyota revealed Corolla Cross in Thailand . Toyota is planning to offer the Corolla Cross in number of Asian and European markets.
Corolla Cross in Pakistan: 
Meanwhile, We here in Pakistan have been hearing rumors about a possible entry of a Crossover from Toyota Indus and it seems like Corolla Cross is strong contender especially after its exclusive global launch in Thailand.
In a recent analyst briefing, Indus confirmed that they will be bringing the Corolla Cross in the local market but in the shape of CBU/ Completely built unit/ possibly Imported from Thailand.
Corolla Cross Features: 
Let's go over Corolla cross, which sits on top of TNGA-C [Toyota New Global Architecture ] platform which is dedicated for compact vehicle class both front and AWD versions. This is the same platform it shares with the 12th generation Corolla as well the C-HR.
Dimensions: 
On measuring tape, Corolla Cross is 4460mm long, 1825 wide while 1620mm tall. The wheel base measures 2640mm long. For reference sake , this make the Corolla Cross, 170mm short, 45mm wide , 165mm taller than 12th generation Corolla sedan while the wheel base of Corolla Cross is also shorter by 60mm comparing the 12th gen Corolla.
As another reference point, the Corolla Cross is 25mm shorter, 30 mm less wider and 15mm less taller than the Kia Sportage and the wheels base is also 30mm less than Sportage.
Overall the Corolla cross has a smaller footprint comparing the Corolla sedan or the Kia Sportage BUT it is larger than the Toyota C-HR.
Exterior of Corolla Cross: 
On exterior of Corolla Cross , it follows typical current Toyota model lineup styling of SUV'S and although the name carry word "Corolla", it does not look like the Corolla sedan or Corolla hatchback as far as exterior. The wider front grill mimics the current generation of Rav4 while rear end also looks influenced from the Rav4. Projector headlights with built-in slim DRL [ daytime running lights ] on front , black plastic cladding on wheel arches, slopping roof-line and black roof rails give overall a very sporty looking rugged vehicle .
Both 17" and 18" alloy wheels are an option depending upon variant. Like its Corolla sibling, depending upon trim level, convenience features and options will be available.
Interior of Corolla Cross: 
As of interior as soon as you jump into the interior, the things look similar to new 12th generation Corolla. The floating infotainment system, the digital cluster as well as digital HVAC controls and the dashboard itself is all taken from the Corolla. The vehicle is a 5 seater and that the only option . Although there is an option of sunroof, there is no Panoramic roof.
Electric power steering comes standard while MacPherson strut is found at front suspension, torsion-beam is fitted rear suspension. Again for reference, the Corolla sedan comes with an all-new multi-link rear setup which is not found in Corolla Cross.
Power Train: 
As of power plant, the Cross is offered in two engine options in Thailand and its soul is similar to what is found in the 12th generation Corolla. A standard familiar FWD, 1.8L 2ZR-FBE with 140HPand 175 NM of torque. The standard transmission is the CVT.
Toyota also offers a hybrid variant for Cross and its again familiar 1.8-liter 2ZR-FXE engine which makes 98hp and 142nm of torque. There is an electric motor with a 72HP with 163NM of torque which works in conjunction with the gasoline engine and while total system power to be around 121Hp and this is the same setup as found in Corolla Hybrid or Prius .
The Hybrid version sends power to front wheels via Electronically controlled Continuously Variable Transmission (ECVT). Although the Corolla Cross is a cross over utility vehicle and one can expect availability of an AWD/ All-wheel Drive , unfortunately that's not an option.
What's Up Pakistan? 
Personally I think with current ongoing scale of economy and unpredictable exchange rate, Indus would not develop any next project and would wait before investing on a new model line. That's the reason they are bringing it as CBU and customers interest in Corolla cross would help them establish if this is the right product for the local assembly.
Additionally as Corolla cross is just recently released, development of PKDM Corolla Cross can easily take more than a year and by then it would be too late to catch the competition.
Indus has yet to release the 12th generation Corolla sedan in the local market for which they are also already late. Technically, the 12th generation Corolla sedan and this Corolla Cross share many identical parts under their skin which includes the platform, engine while the interior is also almost copy paste.
Corolla Cross: Decision to Make For Toyota Motors: 
So, for Indus it is easier to develop two products at the same time and both can be launched from the same assembly line but still it takes time to develop a brand new supply chain for Cross. It now all depends on Toyota Indus priorities, A Corolla Sedan or Corolla Cross.
We think the Indus will bring Hybrid version CBU of Cross so, that Indus can cut on duties and bring the price down for the customers. There are three variant for Hybrid in Thailand [ Smart, Premium and Premium-Safety ] and although have same 1.8-liter 2ZR-FXE engine, they differ in options and features.
All versions comes with front, side and curtain airbags. While as of active safety features like dynamic radar cruise control, automatic high beam, lane departure . pre Collison system, rear cross traffic alert and lane tracing assistant comes on the top variant. The full 7" digital cluster comes on the top two version of Hybrid.
It depends what variants Indus might offer to compete and bring some flare into their product over competition to attract customers who are currently looking into Sportage / Tucson. Obviously comparing Tucson and Sportage , Cross is less in power and there is no AWD, but with fuel economical Hybrid engine, extra safety equipment , features as well as CBU which we can expect with better built quality and on top of that the Toyota badge which is known for its reliability.
Corolla Cross and The Price Issue: 
The biggest issue I see would be the price. It will not cost cheaper than Tucson or Sportage even after Hybrid subsidy on duty . As a reference point, Indus is selling the Toyota Rush [1.5L 103hp engine and falls in 1300cc to 1500cc duty structure ] as CBU for 5.6 Million base manual while 5.8 million for AT and in both cases it cost more than the Tucson and for that matter Sportage .
Sales of CBU Rush are extremely low, while Prius as CBU also cost over Rs9 million even after duty subsidy.
Still, we will wait and see how Indus price the Corolla Cross. But expect it to be above the competition easily. Or maybe Indus brings a very basic version with not all bells and whistles as we see in Thailand versions. Again nothing is official yet, so we have to wait.
Beware of Fraudsters: 
YES, we might be seeing Corolla Cross soon But Don't fall victim to fraud. Some people are asking for 1.5 Million as prebooking and declaring a 6.8 Million price for this vehicle.
We have come across number of posts and reached out by few individuals asking , if this is true. Please don't handover your hard earned money in hands of anyone asking for "Pre Booking" even if that someone is
representative/employee of a dealer.
Don't book a vehicle which is not officially revealed or released by the Car Company [Toyota Indus in this case ]. Even if a vehicle is released, Don't book a vehicle until you see it at authorized dealership.
Please hold on to your excitement and WAIT.