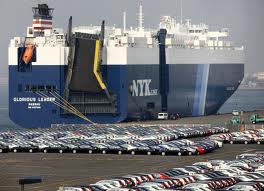 User cars worth 22 billion rupees imported in July-March 2011-2012
Pakistan Bureau of Statistics just released information regarding the total value of vehicles imported in the period of July-March 2011-2012 which has is a whopping 249 million US $ (22.585034 billion PKR). Compared to a rather very small worth of vehicles imported during the same period in the last fiscal year which totaled to 89.3 million US $ (8.102713 billion).
However, Pakistan Bureau of Statistics have not shared the number of vehicles imported although the worth of cars imported in this period is pretty staggering given the predicament situation of economy and security and more importantly, rise in ransoms which ultimately lead people to avoid buying new or expensive cars to stay below the radar but the rising imports speak of a different story.
Honda Atlas however said that they hardly imported 50 vehicles which only includes CR-V and Accord while GM marketing and sales of Balochistan Wheels said, "if the government continues an adverse policy against the auto sector, the country would soon become a junk-yard of old and used cars."
Moreover, he said what we've already reported that since Pakistan government does not have any check on the imports, the importers are bringing the cars which have been affected by the Japanese Tsunami and were declared unfit or scrap.
You can read the full report here.