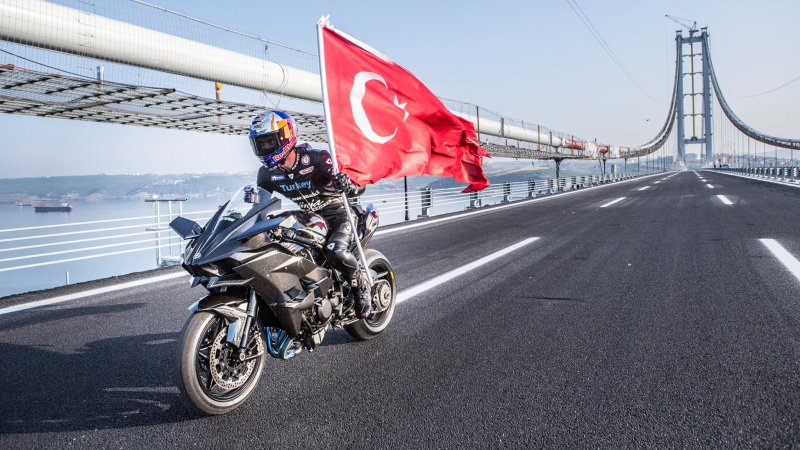 Video: Kawasaki H2R Hits 400 kmph on a Suspension Bridge in Turkey
The Kawasaki name is synonymous with insanity. They are famous for making bikes that can only be described as bonkers. And the new Kawasaki H2 and Kawasaki H2R are the shining examples of such insanity. The H2 is the only production supercharged bike in the world. The H2R is the extreme version of H2, which is already one hell of a bike. Both H2 and H2R share the same 998cc engine. But where H2, the street-legal bike, makes "measly" 200 HP, the H2R makes more than 300 HP. H2R is a hardcore track bike. The H2 nameplate is not new for Kawasaki. Back in the 70's, the Japanese motorcycle maker launched a 750cc two-stroke three-cylinder bike which was also named H2.That bike took the world by storm just like the new bike has done today.
Also Watch: Take A Ride Through Karachi On A Kawasaki H2 Superbike
Kawasaki H2R is rumored to be able to do 400 km/h, but no one was brave enough to test the top speed of the bike. But then came a brave Turk, who decided to take upon the challenge. Kenan Sofuoglu is a Turkish professional motorcycle racer. And he is no ordinary racer. Kenan has won four Supersport World Championship titles; the highest number of wins. Kenan took his H2R to the 2.68 km long Osman Gazi Bridge in Turkey which was obviously closed for the stunt. Osman Gazi Bridge is the fourth longest suspension bridge in the world. The fact that he was able to hit the magic number of 400 km/h on a bike is already quite insane. But then there is the time in which he was able to do it. Kenan hit the incredible top speed in just 26 seconds. It surely takes more than just bravery to do something like it.
Enjoy the video:
KAWASAKİ H2R TOP SPEED RECORD 0-400km/h 26 second..

Posted by Kenan Sofuoğlu on Thursday, 30 June 2016