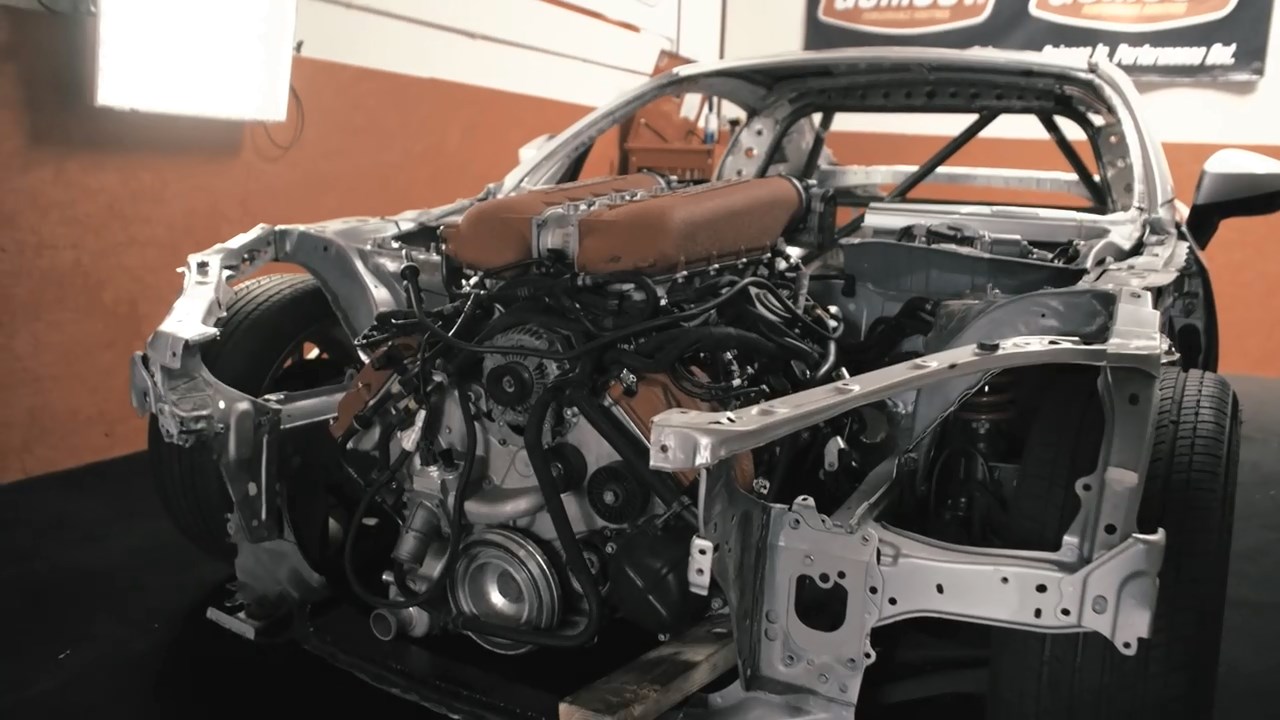 When a Ferrari Powers a Toyota GT86 Drift Machine
Japanese automakers always manufacture amazing motors. They are small, compact and fuel efficient. But when it comes to massive power plants, they are far behind in this regard, at least for now. There are some nice V6 engines, like the ones in old and new Honda NSX. But there are very a few V8s; but none of them are a worth a mention in my opinion. Most of them are typical workhorse type engines used in big sedans or light commercial vehicles (for example the one in Toyota Tundra). They do make an insane V10 though. I am talking about the Lexus LFA here. But let's be honest, the LFA V10 is not within everyone's reach. So what if you want a Toyota with a brutal V8? Well, the answer is quite simple. You swap a Ferrari V8 in a Toyota GT86!
Also Read: Toyota UK Unveils Initial D Inspired Toyota GT86
Let's be honest, Ferrari makes the best sounding and performing engines in the world. Whether it's a V8 motor or a V12, Ferrari undoubtedly ranks right up there. Yes, American V8 engines have that certain burble and growl. But when you are after the performance, a Ferrari V8 is always going to take the cake. So much so, even Ford tried to emulate Ferrari and other European V8 engines when they launched a flat-plane crankshaft version of their normal Mustang V8 engine.
Talking about a Ferrari-powered Toyota, Ryan Tuerck is a professional drifter and is building a one-off Toyota GT86, which will be powered by F136 4.5-litre V8 from the Ferrari 458. Toyota made the rear-wheel drive GT86 (aka Scion FR-S) as a homage to the original 1986 Sprinter AE86. Like its predecessor, the new GT86 is perfect for drifting due to its agile chassis and rear-wheel drive platform. Engine swaps are not a new thing for GT86 chassis. People have attempted several swaps from inline 6-cylinder to a V6 engine to even a V8 motor from a Toyota NASCAR race car. But this particular car is going to be one of a kind with a Ferrari V8.
This is going to be one hell of a swap. Considering the Ferrari V8 comes from a mid-engine layout, swapping it in a front-engined car is going to be a tough job. But considering the Ferrari V8 redlines at 9000 rpm and makes 562 BHP and 540 Nm of torque, all the hard work is definitely going to be worth it.