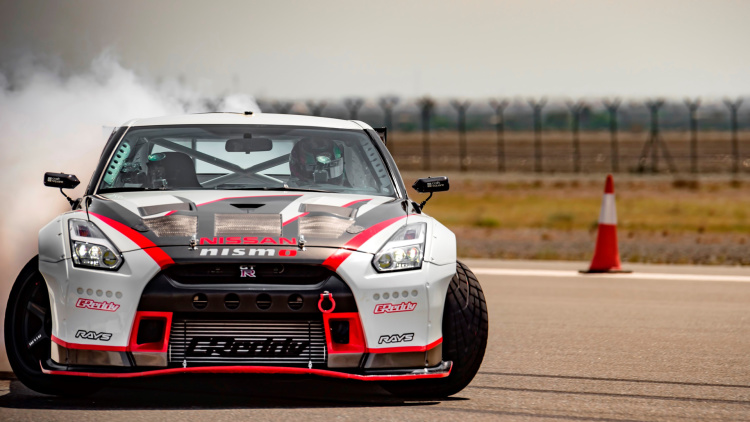 Video: Watch The Incredible Nissan GT-R Drift At Insane 304 KM/H
Nissan GT-R is arguably one of the most famous and liked vehicle nationally and internationally. There are a few Nissan GT-R in Pakistan as well. And now, the new model is also in the pipeline making more power than the current Nismo-tuned GT-R. It is one of those cars that has enormous tuning potential and can challenge supercars that are double or triple its price. The internet is filled with videos of GT-Rs that make 800 and even 1000 horsepower. Breaking records is nothing new for Nissan or its cars. And new the Japanese carmaker has smashed yet another record.
Also Read: 2017 Nissan GT-R Gets A Whole Range Of Updates Including More Power!
A Nismo and GReddy Trust tuned GT-R has broken the world record of fast drift ever. The highly tuned 1380 hp GT-R was driven by legendary Japanese drift champion Kawabata Masato and he managed to power slide the car at mind-boggling 304.96 km/h.
Polish driver Jakub Przygoński made the previous Guinness World Record of 217 km/h drift. The Guinness officials allowed Nissan to break the previous record in three attempts. The new record was set while maintaining a 30 degrees angle and reached as high as 304.96 km/h.
The car was heavily tested and tuned in Japan (Fuji Speedway) and then was brought to UAE and was driven on the 3-kilometer long runway of Fujairah International Airport. Samir Cherfan, managing director of Nissan Middle East, said,
"Fujairah International Airport was a perfect fit for this world record attempt and the enormous levels of support we received from every level was invaluable,"
This is yet another amazing feat by the Japanese carmaker.