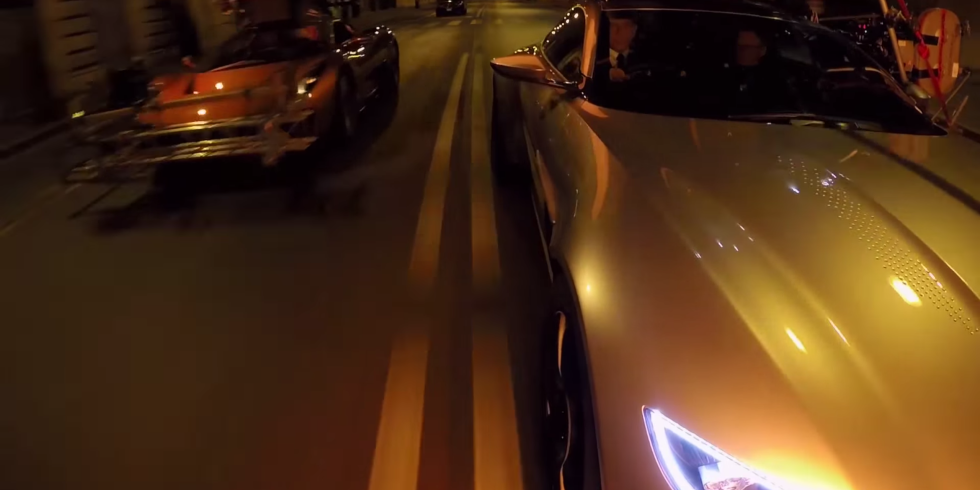 Watch Behind-The-Scene Video From James Bond's Chase Scene From Spectre
For the past few months, hype related to Furious 7 had been all over the internet until the release of the movie, which turned out to be a major success for the producers. The film features a one-off Lycan Hypersport – Middle East's first Supercar. There are only 7 Lykan Hypersport cars made, each costing close to USD 3.4 million. But Furious 7 is not the only movie that is using one-off cars.
The upcoming James Bond flick, 'Spectre', is also accumulating a lot of hype these days for its use of one-off cars in the movie. Spectre will be the 24th movie featuring James Bond. Bond films are famous for their use of cars and car stunt scenes, and Spectre is no different. The movie will feature many cars which include a Range Rover Sport SVR and some modified Defenders. However, the true stars of the movie are a rare, ultra-limited Aston Martin DB10 and the Jaguar C-X75 Supercar Concept. The DB10 will be as usual Bond's preferred mode of transport and Jaguar C-X75 will be driven by ex-WWE pro wrestler Dave Bautista as sharply dressed Mr. Hinx. The DB10 is a one-off car, limited to a production run of 10 units, all for the movie with no plans of mass production, yet.
Recently, the filmmakers have released a short BTS (behind-the-scenes) video of a car chase scene from Spectre featuring both of these cars. The villain in Jaguar is seen chasing Agent 007 driving the Db10 in the car chase scene. Watch the video below and let us know what you think about it.