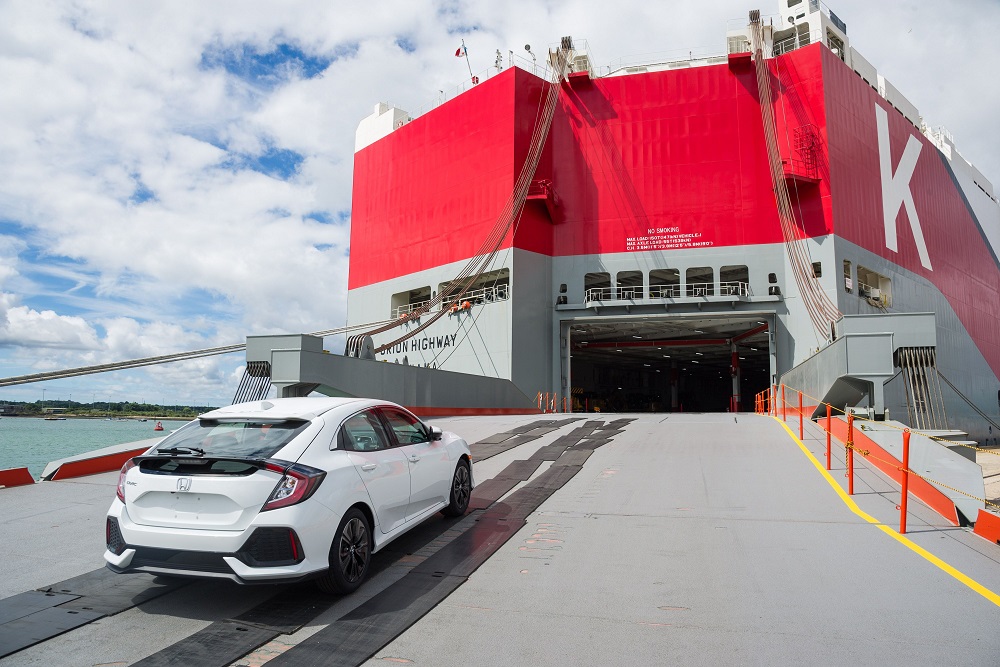 2017 Civic X Hatchback is Almost Here!
While we here in Pakistan are struggling to taste the real 10th Generation Civic, in other markets the Civic X will soon also be selling the hatchback version, most probably in the start of 2017. I think so much is said about Civic X that now all of my readers know what it is. Civic X  has been up for sale in the North American Market since November 2015 in sedan as well 2 door coupe form. The total number of sales in USA since start of this year [ first 7 months of 2016]  is around  222, 795 units which is a new record for Honda in the US;  almost 10,000 units ahead for all-time rival Corolla. This clearly shows that Honda really did well as far as the Civic X is concerned. There is no second thought about the fact that the new Civic is a major improvement over its predecessor. One can easily say that Civic has posted a new benchmark in the compact car segment. From exterior to interior, performance, technology, features and driving pleasure, the 10th generation is highly improved.
Read: 2016 Honda Civic Coupe Revealed At the LA Auto Show
Honda planned to introduce Civic X  in multiple flavors; means in regular 4 door sedan, a 5 door hatchback and a 2 door coupe. Further to add to the performance, variants in form of "Si" as well as "Type R" will be launched. For the US market the Civic hatchback was discontinued after 2005 due to low sales. In fact hatchback were never loved in the US market until late 2008/9 when fuel prices went high and people started looking for small cars. Now almost every car brand in the US is with a hatchback model and they sell well. Honda is capitalizing on the well praised Civic X and thought this will be best time to bring and re-introduce the hatchback. Honda also wants to compete against hatchbacks like Hyundai Elantra GT, Mazda 3  and now Toyota's re-badged Scion IM as Corolla hatchback. The civic hatchback will be head to head in this segment as well and will make competition little tough for the buyers.
Back in April 2016, I made a trip to New York International Auto show and saw the concept Civic hatchback. Honda chose very nice color on exterior for the concept with 100 percent black tinted glass and the car was looking really beautiful.
Now recently the production version of Civic X hatchback has been spotted multiple times in United Kingdom. In fact the undisguised production version has been spotted on a cargo ship on way to United States. Interesting! Why a Hatchback is going to US from Europe, as US already have Civic plants in operation ? The main reason is that it is Euro Civic X for US with left hand drive. Civic hatchback will exclusively be produced at Honda's factory in Swindon, UK and will be exported to any country where it will be introduced. Honda invested around £200m for the production of the new hatchback.
The 2017 model year production version of 5-door hatchback looks similar to its sedan counterpart. It sort of looks the same/ identical at front with minor changes.  The 10th generation sedan and production model looks almost identical till B pillar. From B pillar onward, the hatchback has different lines with increased sloping roof at the C pillar which then converges into the rear hatch that has a full-size rear glass. At the rear, the hatchback receives identical C-shaped tail lights as on sedan. The hatchback looks somewhat more closer to the 2 door coupe version. On the rear the twin centrally placed exhaust are gone from production model. The  huge"fake vents" on either side of the rear bumper with vertical reflector are still there. There are no lime green brake calipers or green fog lights as on prototype.  Briefly the production model is almost exactly same as the prototype I saw. As far as the interior is concerned, it is expected to follow the same lines as the sedan and why not Honda Civic X interior has already been awarded as one of the best.
Read: 2016 Honda Civic Bags Wards Auto Award For Best Interior.
There are no details whats under the hood but its understood for US market. It will be offered with two engine options for US market, same as sedan. The 174 HP 1.5L turbocharged engine as well as the 2.0L 158 HP naturally aspirated engine. The exciting news is that for 2017 Honda for US market will also offer manual transmission for the 1.5T equipped cars. So buyers will have the option to choose from the CVT or the manual transmission.
Keep in mind that the 1.5T Civic is already offered in Chinese market at this time with manual transmission option. The hatchback will be offered for European market as well, where still there is no sign of sedan version. For Europe a 1-liter turbo and the 1.5-liter turbo as sedan is planned. Honda might also introduce the famous 1.6-liter i-DTEC diesel engine, but it will not make it to United States. Thanks to VW for messing the diesel market.
Read: China Gets Manual 1.5L Turbo 2016 Honda Civic – 1.0L Turbo Civic On Its Way
Honda later in the production cycle of Civic X hatchback will offer the potent performance variant of it in form of a "Type R" which will be powered by a 2.0L Turbocharged engine with powers rumored nearing 350HP. Who thought till few years ago that hatchbacks will have these high horse powers, well now its normal. For US market the "Si" version is also planned but there are no details about it at this time. It might be using a de-tuned 2.0L turbo engine from "Type R" or may be tuned version of 1.5T engine as in sedan. Expect figures around 220/230HP. The hatchback for now, will be offered in a long number of trims as can be seen in unofficial slide below.
Overall the hatchback looks beautiful and will be nice addition to the Honda line up. The car will be for sale by fall 2016 in US and Canada with prices expected to be bouncing around the sedan version.
I am not too much optimistic but just for a sake of a question ; What you think, a hatchback version of Civic for Pakistani market will be a right move?
Concept at NYIAS.