Let's just face it, owning a great car is not cheap. People often work all of their lives just to afford a nice car they always dreamt of. But then there are those who can literally burn your hard earned dreams to ashes in a matter of seconds for no reason. This is the same situation two Tesla owners from Amsterdam found themselves in a recent act of Anti-EV vandalism case.
Also Read: Tesla out of control, spending $8,000 every minute
One of the two owners witnessed this horrific scenes and caught it on camera. He told that the car alarms went off and when he looked outside there was fire and smoke. Soon he realized two arsonists set his car on fire and ran away. The owner claims that the arsonists were not the fans of progress [the Tesla]. Both cars were parked about 100 meters apart.
Another witness mentioned seeing both cars burning with fire from his balcony as they were parked only a few meters apart. According to him they simply did it because they couldn't swallow someone having a too expensive car. He said,
"One was here, I saw it from my balcony. The other around the corner at the Vondel Church. Another car was damaged, but that was because it was so close. It is clearly focused on the Teslas. Maybe they think they have too expensive cars?"
The aftermath pictures of the whole incident reveal what appears to a Model S and Model X both costing at around 200,000 British pounds in total. Yikes! The cars were damaged beyond repair, and sadly no suspects have been arrested yet making it very unresting situation for the unlucky owners. While there have been similar to Anti-Tesla cases but setting a car on fire is something you wouldn't expect in a country like the Netherlands. The oil companies aren't exactly happy about EV cars taking over and claim that their business is being affected so it wouldn't be surprising if… let's just leave it there, shall we?.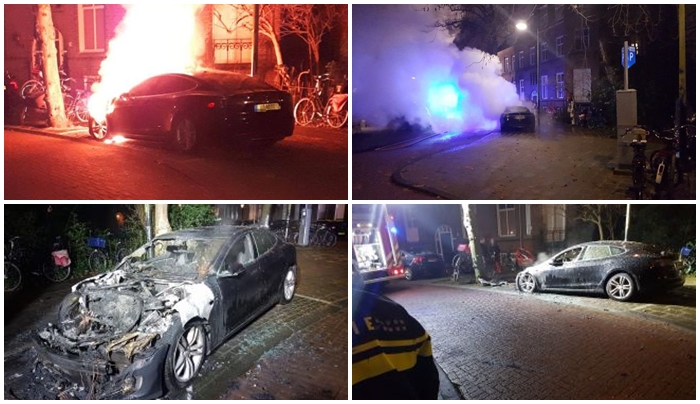 Bear in mind all-electric cars like Tesla will eventually take over as we are running out of fossil-fuel. It's better to embrace the change and accept the situation rather resisting it and doing harm to others. Sooner or later we all will have to rely on electric cars as a mean of transportation.