Dressing up your expensive cars isn't something new. Eccentric people around the world have been doing it for ages. Sometimes it is to show-off, and sometimes it is about making a statement. You might remember the famous Canadian DJ deadmau5 wrapping up his Ferrari in Nyan Cat covered paper. Although Ferrari issued a cease and desist notice after the incidence. Also, if you follow Gumball 3000 rally, you will find a bunch of fancy cars painted in bizarre motif and styles.
Also Read: Rolls-Royce Pays Tribute To King Tipu Sultan – The Tiger Of Mysore
And now someone has done the same to the most-fancy car of them all, the Rolls-Royce Ghost. Only recently, a dealership in Michigan USA decided to make their Rolls-Royce Ghost look like the taxi from Sega's classic arcade racer Crazy Taxi. Platinum Motorcars is premium used car dealer and are the 'culprits' behind this wrapping job. The rusty looking yellow cab is worth around $250,000 brand new.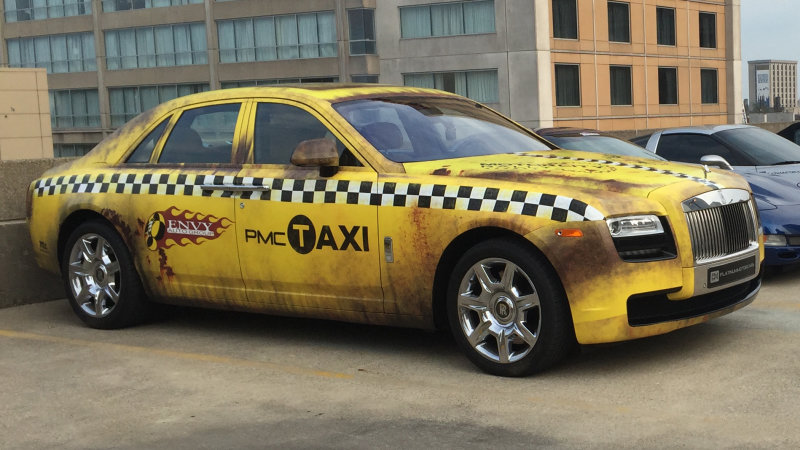 About the car, the owner of the dealership told AB that they needed a car that they can use for cross-country commutes to visit various motor shows across the US. This particular car was displayed at the Motor City Rally a couple of weeks before. The inspiration for the rusty cab design came from the childhood Sega games, the owner used to play when he was young.
The dealership and the owner of the Ghost have previously designed and displayed other similarly wrapped cars as well. They had a Love Bug-themed Audi RS7 and a Family Truckster-styled Mercedes-Benz E63 wagon as well.