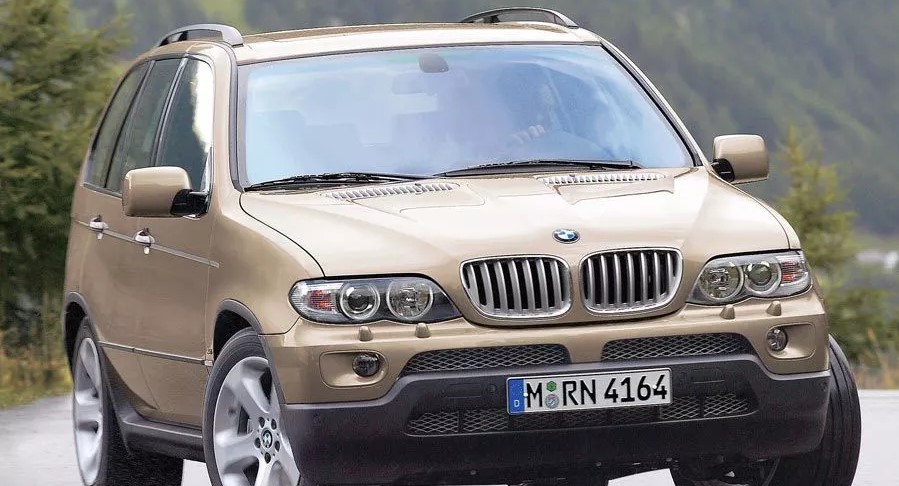 Customs car auction to include Mercedes-Benz, BMW X5 models
Model Customs Collectorate Islamabad said in a public notice that it is auctioning premium cars and four-wheel drive vehicles. These vehicles were either confiscated by the authorities or surrendered under austerity measures by Prime Minister's House and National Agricultural Research Centre (NARC). The car auction aims to attract bidders in Islamabad and elsewhere.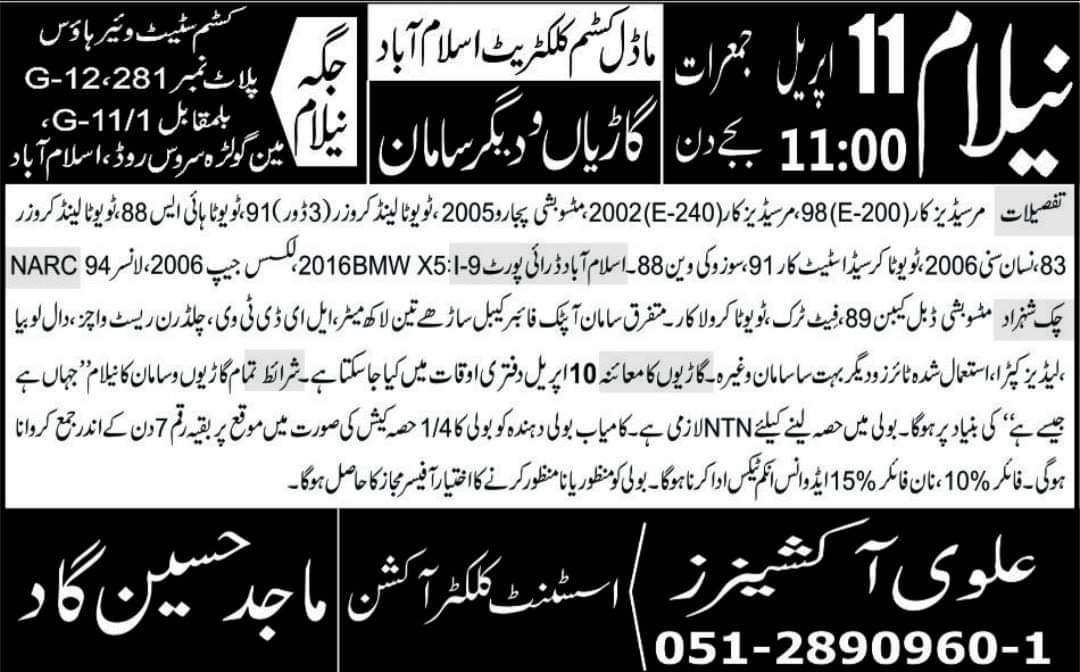 The vehicles in the government-backed car auction include old and new models of Mercedes-Benz, Nissan Sunny, Toyota Land Cruisers, BMW X5 and Lexus Jeeps, and Mitsubishi. The bidders will obviously have to check the condition of these cars before buying as most of the car models are old.
LIST OF CARS UP FOR AUCTION:
Mercedes Benz Car E200, Model 1998, Chassis No. WDB210035-2A-648986
Mitsubishi Pajero, Model 2005, Chassis No. JMYLNV76W5J002599
Mercedes Benz Car E240, Model 2002, Chassis No. WDB210062-2B-483258
Mitsubishi Pajero, Chassis No. JMYLNV76W5J000309
Nissan Sunny, Model 2006, Chassis No. JN1CEAN16Z0501267
Nissan Sunny, Model 2006, Chassis No. JN1CEAN16Z0501315
Toyota Cressida Sedan, Station Wagon, Model 1991, Chassis No. RX72-6009732
Toyota Cressida Sedan, Station Wagon, Model 1991, Chassis No. RZ72-6009700
Suzuki Van, Model 1998, Chassis No. DA21V-106767
Toyota Land Cruiser, Model 1983, Chassis No. BJ60-011734
Toyota Hiace, Model 1980, Chassis No. RH20B-038785
Toyota Land Cruiser, Model 1991, Chassis No. PZJ70-0003729
Toyota Hiace, Model 1988, Chassis No. LH1B0008465
Toyota Land Cruiser, Model 1991, Chassis No. PZJ70-0003701
Surrendered by PM's Office and placed at I-9, Islamabad Dry Port
BMW X5 Jeep, Model 2016, Chassis No. WBAKR6206GOM99845
BMW X5 Jeep, Model 2016, Chassis No. WBAKR6204GOM99830
Mitsubishi Lancer S/Saloon, Model 1994, Chassis No. CSNBIRU00812
LEXUS Jeep, Model 2006, Chassis No. JTJHT00W564013596
Surrendered by NARC and placed at Chak Shehzad
Mitsubishi Double Cabin, Model 1989, Chassis No. CJNK-440LP00693
FIAT Truck, Chassis No. 682N3-099185
Toyota Corolla Car, Chassis No. TT133-601345
Toyota Corolla Car, Model 1982, Chassis No. KE70-5070315
The auction will take place on April 11 (Thursday) at 11 am. The venue is Customs State Warehouse Plot number 281 of Islamabad's G-12.
In September 2018, the federal government had organized the auction of ultra-luxury vehicles belonging to the Prime Minister's House.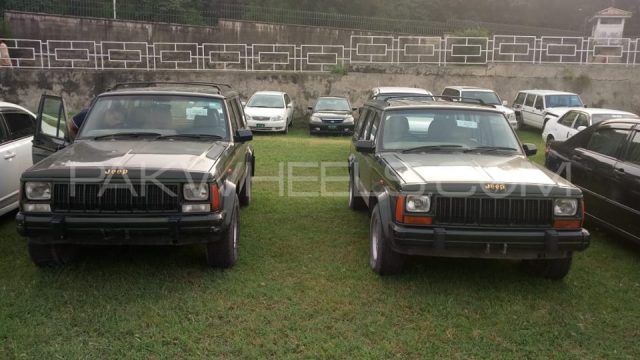 The auction had started in the PM House, Islamabad, with 102 vehicles, which included 8 BMWs, 28 Mercedes Benz, 9 Honda cars, 8 Suzuki, 40 Toyota cars, 5 Mitsubishi, 2 Cherokee, 1 Nissan, and 1 Hino Bus.
Information Minister Fawad Chaudhry, while speaking to the media, said the first batch of 70 vehicles had been sold above their market price.
The auction was divided into two batches. 70 cars were sold in the first batch. The second batch comprised of high-end luxury cars, which included the Mercedes Benz S-300, Maybach S-600, BMW 7-Series, BMW X-Series and etc.
As per our sources, due to the high price demand compared to the market, the auction of 10 – 12 cars got canceled and they will be up for auction in the next session, however, the date is yet to be decided.
The auction was held as part of Prime Minister Imran Khan's austerity drive, and the money generated from this auction will be used for the well-being of the nation.
For the latest updates in the automotive world, stay tuned to PakWheels.com