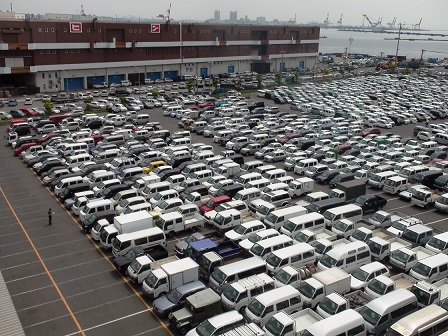 Government Tightens Procedures On Import Of Used Cars!
To curb the misuse by commercial importers of Commerce Ministry's schemes and to boost new investment in our auto industry, the government has decided to harden the procedures of importing used cars. Every year, around 30,000 used cars are imported to the country mostly from Japan. In addition to this, according to a report published in BR, more than three-year-old used cars are imported to the country using unofficial means and since Federal Board of Revenue (FBR) generates revenue on cars imported illegally, they continue to encourage the import of used cars commercially.
Moreover, the government has approved the Auto Development Policy (2016-21) without the consent of domestic players, and it will be valid from 1st of July this year. According to the new policy, Ministry of Commerce would be required to make Standard Operating Procedures (SOPs) for used cars to reduce the misuse of the system. According to policies of the State of Bank of Pakistan, the Overseas Pakistanis are allowed to import used cars as per the Appendix-E of the Import Policy Order 2013 which states that Pakistani nationals are entitled to import a vehicle either as personal baggage or gift or by using the transfer of residence scheme.
Also Read: Used Imported Car Sales Picking Up Pace – Local Carmakers Need To Bring New Models
The system mentioned above was introduced to ease out Pakistani nationals living overseas. This policy was aimed to make vehicles available to Pakistanis without the need of using Pakistan's foreign exchange resources. However, this scheme was misemployed by commercial car importers in the country by misusing the passports of Pakistanis living abroad. Furthermore, State Bank of Pakistan stated, that the merchants transfer funds through illegal channels for vehicle payment which leaves an adverse impact on our economy.
To prevent the misuse of the policy, Ministry of Industries and Production has suggested a significant rise in fixed duty of used imported cars in their budget proposals.