Pakistan's Honda Civic VTEC Turbo comes with a controversial feature which since launch day has generated a great deal of heated debate! The feature I am talking about is VTEC Turbo's standard rear entertainment unit (again). At the beginning of this week, I wrote an article which outlined whether Honda Atlas made a mistake by offering the rear entertainment unit as a standard feature on VTEC Turbo or was it done in a bid to let it stand out from Oriel, also to justify the PKR 100,000 price hike from its tentative pricing.
Also Read: Civic VTEC Turbo's 'Rear Entertainment Unit' – A Useless Feature?
The reason why I divided my coverage on Civic's rear entertainment unit was to prevent opinion contradiction and information distortion which could lead readers to a condition I call as 'content indigestion'. So in this piece, I will stay focused on my hands on experience with Civic VTEC Turbo's rear entertainment unit since I have already expressed my views on the imposing and exploitative decision of Honda Atlas by making this feature a forceful inclusion in Civic's top of the line model!
The Good:
1) Efficient Storage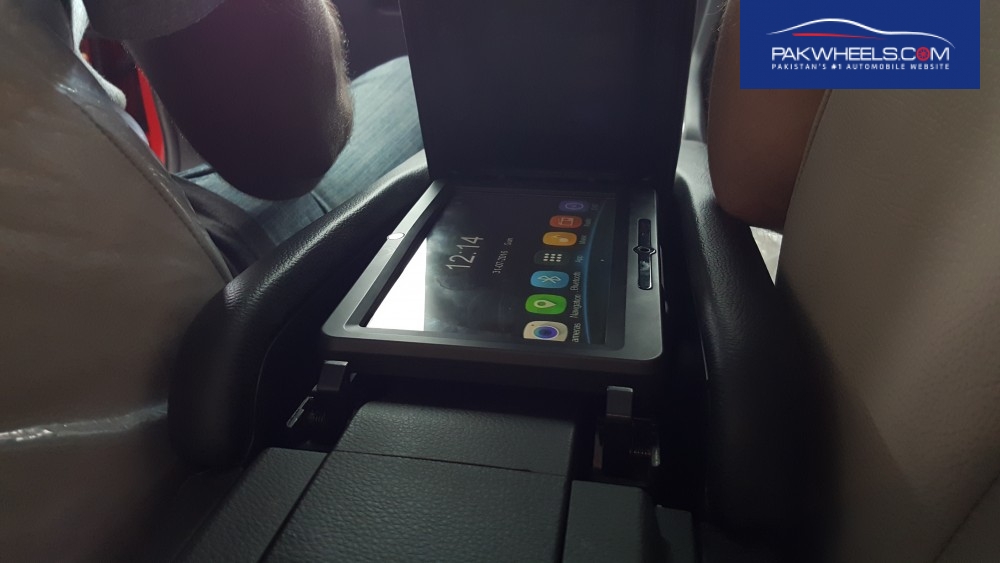 The center console of the new Civic houses the rear entertainment unit hiding it from the hands of naughty children sitting in your car's rear seats. In addition to this the best part is that the whole unit folds in a compact profile taking only one tier of your console's storage an added benefit of having a purpose-built system.
2) Easy of Access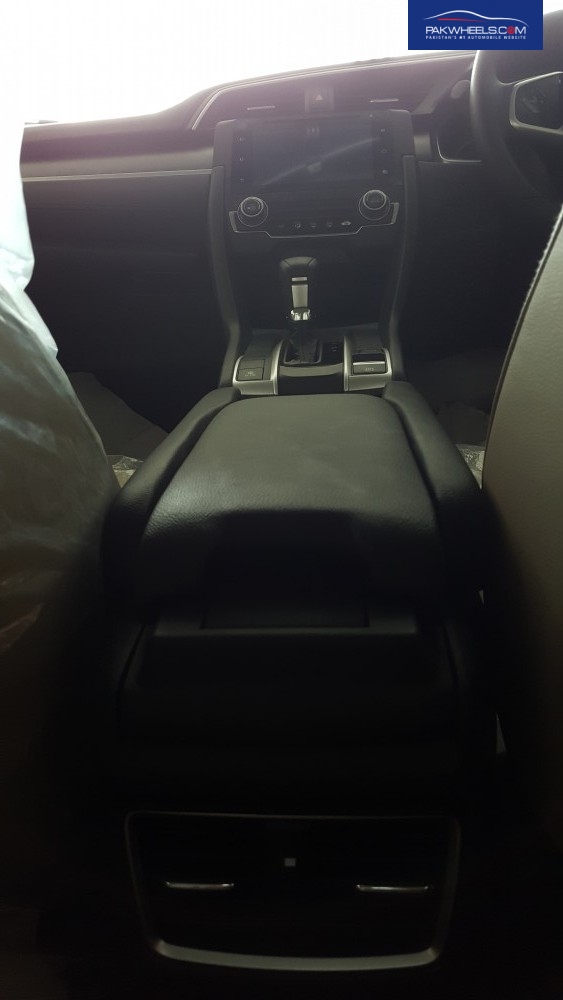 Since the whole unit is stashed in the top tier of your center console, there is no need for talking about how it installs as it's that simple. Here the only two steps involved:
Step 1: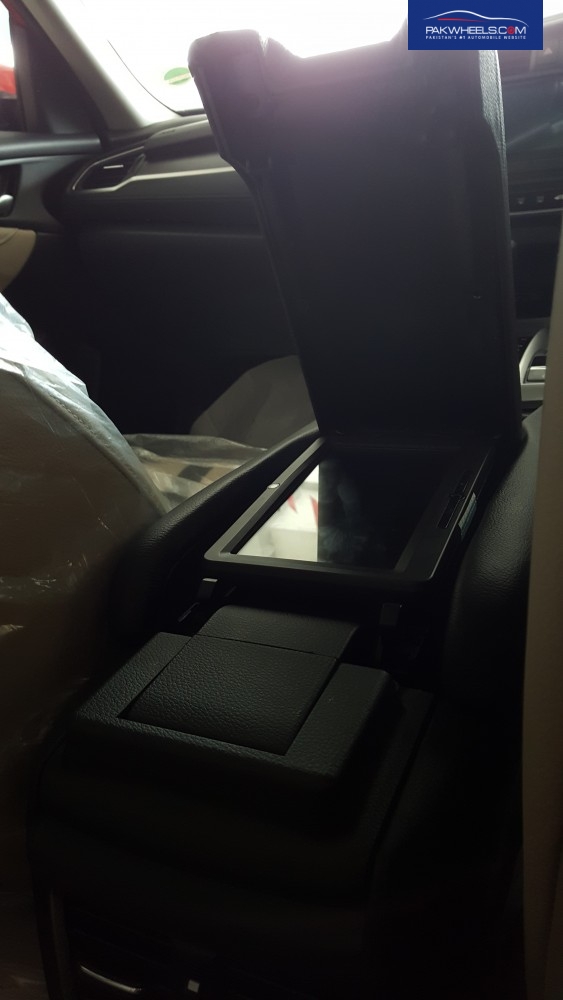 Open center console's lid from the rear seats and pull the screen out towards yourself.
Step 2: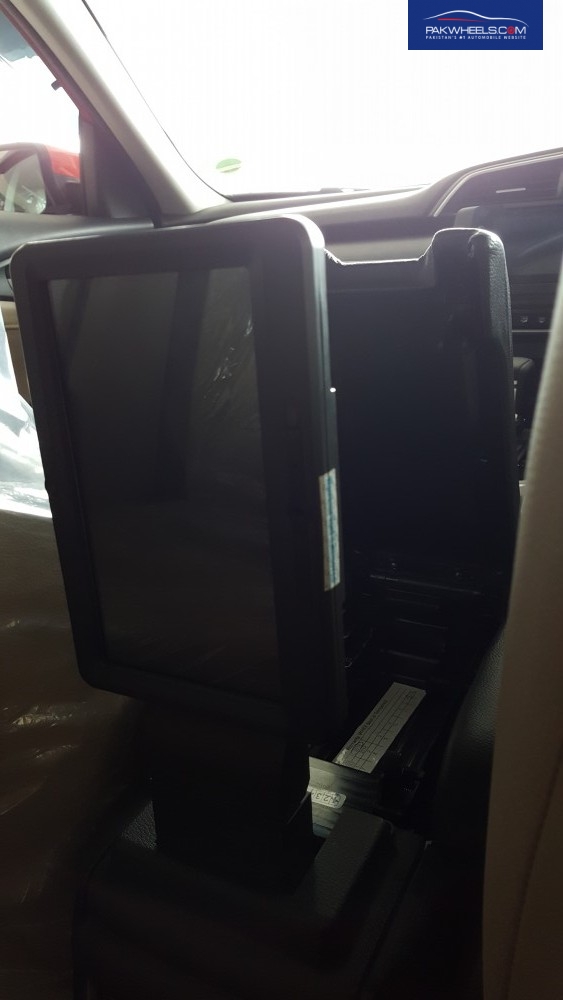 To keep the storage size in check, screen is stored in portrait layout so to change the orientation rotate the screen in the clockwise direction until it clicks in place. That's all, just two steps to get you going now just close your console's lid and you are all done.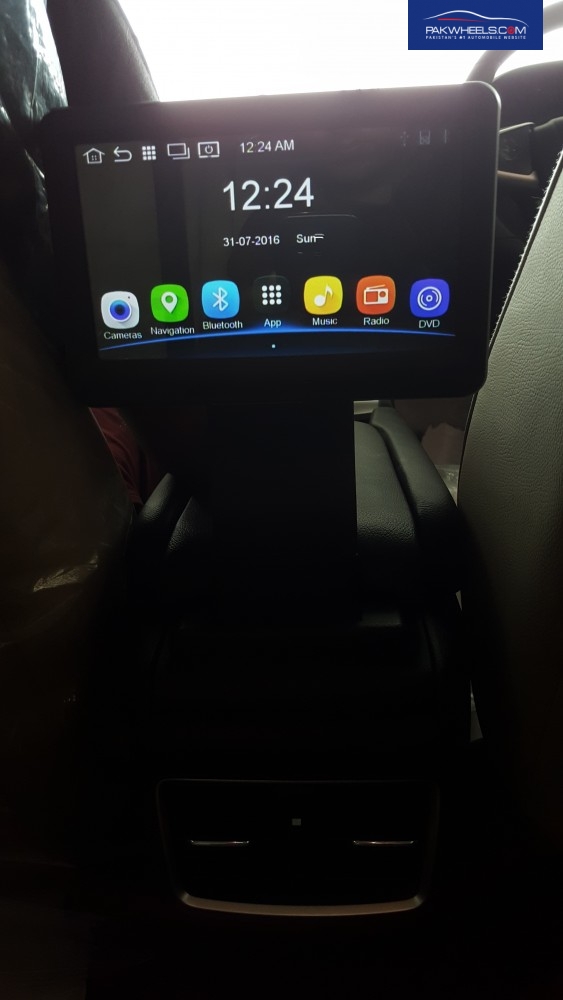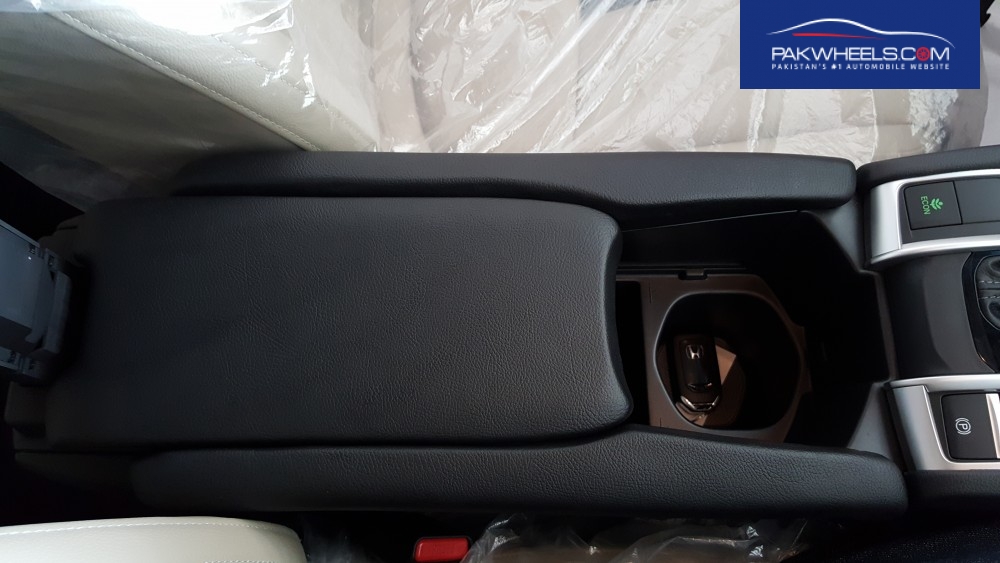 3) Sturdy Build Quality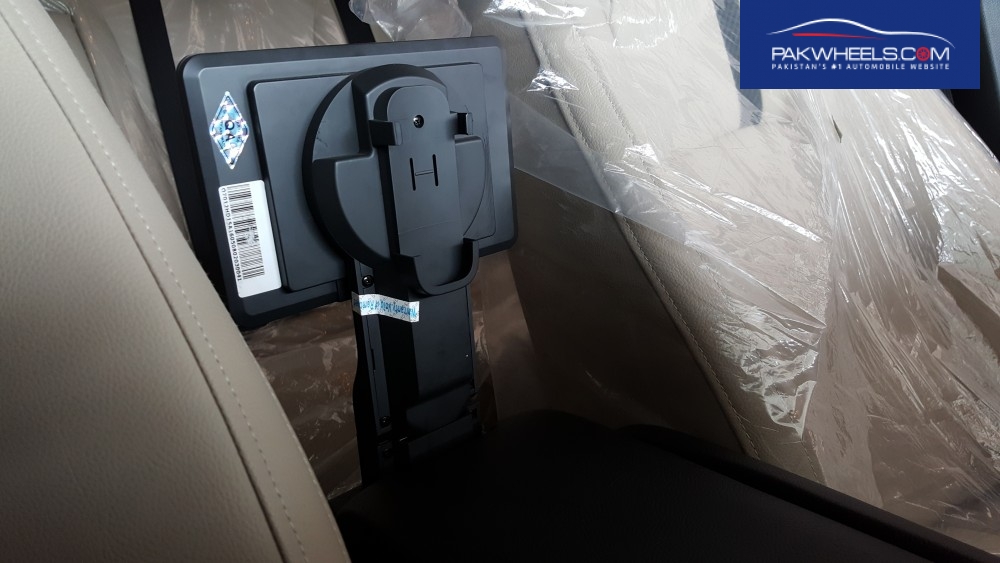 While initial reports regarding new Civic's build quality have suggested a poor quality, VTEC Turbo's rear entertainment unit looks to stand out as an exception, the loose wiring and U-shaped cut-out (more on that later) aside, the unit feels much better than its competing Chinese aftermarket systems available. The fold-able joints have a soft feeling during its deployment and vice versa while the system itself is sturdier than it looks to be in the photos.
Read: 2016 Honda Civic in Pakistan and its Questionable Exterior Build Quality
The Bad:
1) Reduced storage space in the center console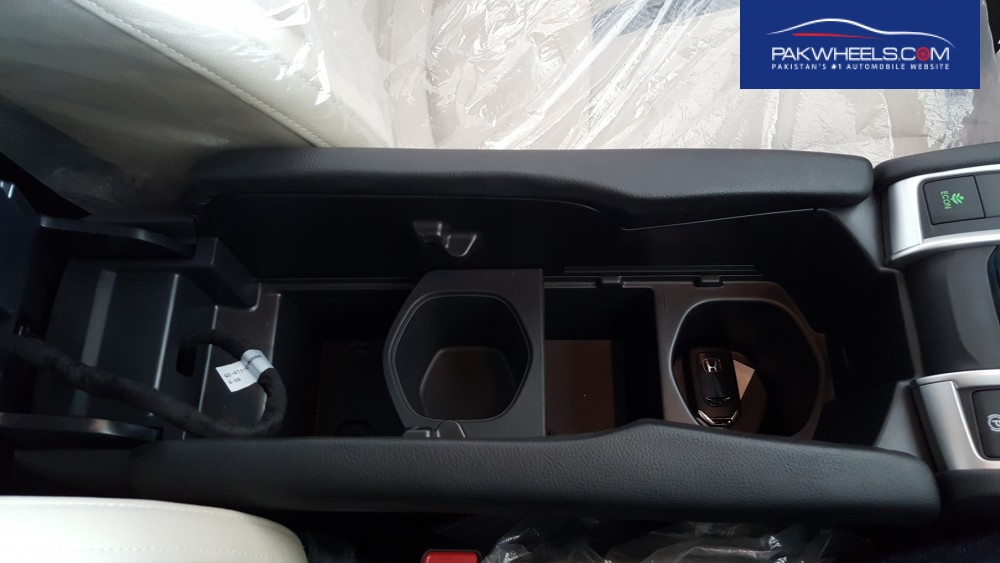 If you love to stash loads of stuff in your car's center console, then you might be a little bummed out by Civic VTEC Turbo. However, despite occupying a whole tier of the car's center console, it still looks roomier than the center consoles available on its competing vehicles. So I guess for a regular user it shouldn't be much of a problem.
2) Ugly U-Shape Cut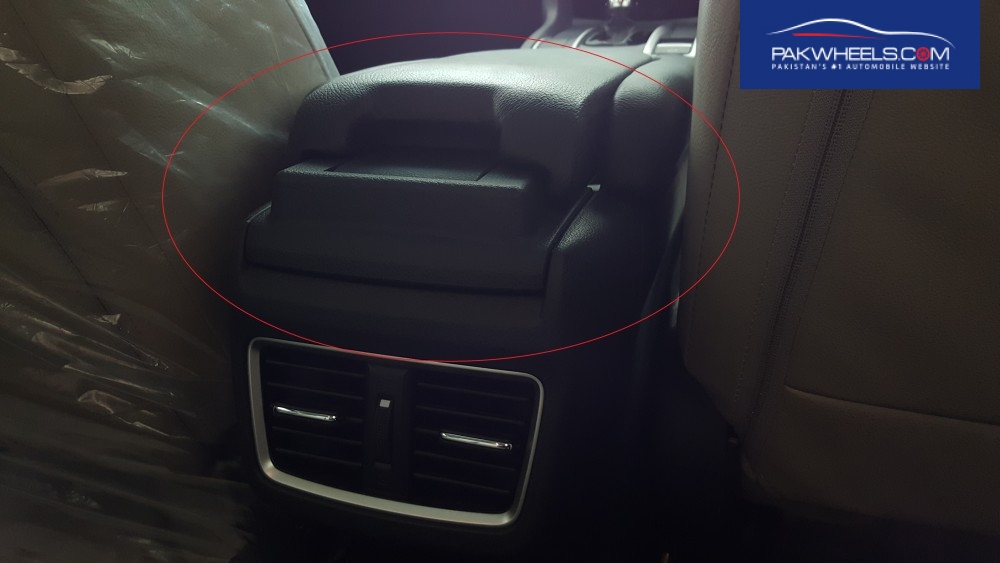 Now, we get to the real bad stuff, since Civic's rear entertainment unit is a purpose-built system, there are easily noticeable hardware remodellings. The most annoying alteration is a U-shaped cut-out which is there to make room for the rear screen to attach in place. This modification is my biggest point of contention as it ruins an otherwise proportionally designed center console. To the relief of i-VTEC/Oriel users, this cut-out is not present on their center consoles which sort of explains the excuse for the rear entertainment unit's absence as an optional feature for the other two variants.
3) Visible loose wiring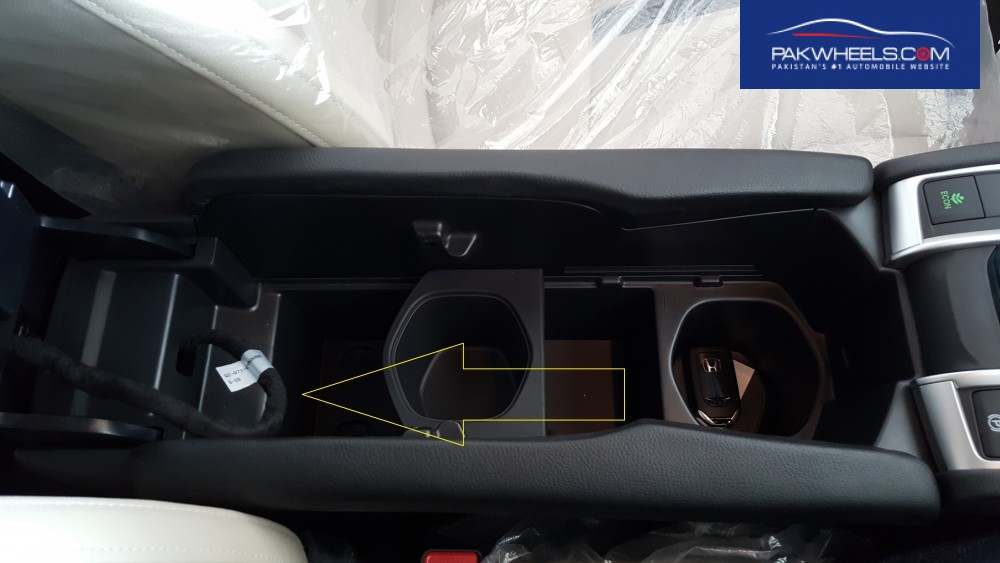 Since the rear entertainment unit occupies the top tier of Civic's center console, the wiring to the system are clearly visible when you open the lower level of your console. The cable is thick, which should have been taken care of by Honda Atlas while modifying the center console to accommodate the rear entertainment system, provided it comes with a purpose built design, such loose wires and design compromises, give you the feeling of a cheap after market fitting.
Have a Look: 2016 Honda Civic Disappointing Interior Finish and Quality
4) Screen is not standalone
This is a big let down as there are various aftermarket fittings which work as standalone tablets with ports to connect the media of your choice. In Civic, however, all you get is a touchscreen which acts as an interactive remote to the in-dash infotainment system by mirroring the content playing on the front it gives the rear passengers no choice of watching the content of their choice!
As with everything else, Civic VTEC Turbo's rear entertainment unit comes with its own merits and demerits. It's a great feature for people who need a nicely built factory installed rear display. But as I said in my previous post, it is useless for those who do not have a use for it; this is exactly why such systems should be available as optional add-ons instead of being a part of the standard equipment which affects your invoice!
Read More: Honda Civic i-VTEC Oriel VS Toyota Corolla Grande – So They Meet Again!