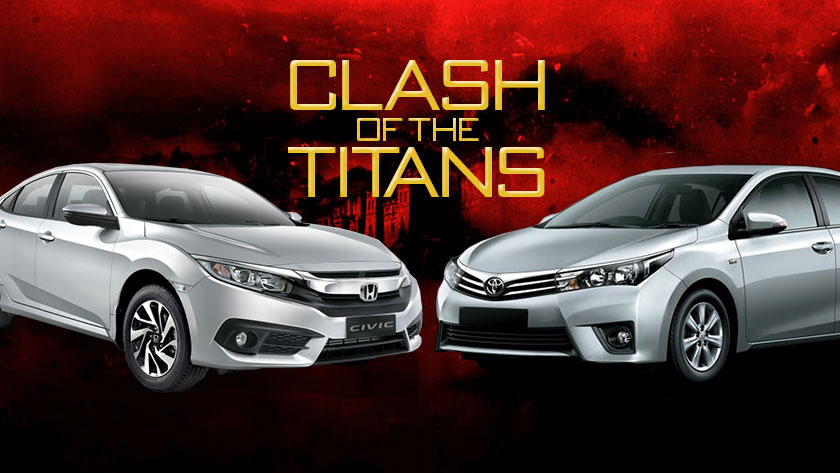 Honda Civic i-VTEC Oriel VS Toyota Corolla Grande – So They Meet Again!
Here we are back again to kick-off Corolla vs. Civic debate as they 'meet again!' With every iteration, the hot favorite comparison in Pakistan's auto arena remains between the two sedan stakeholders of our market, Corolla and Civic. Before the year 2006, almost each and every trim of Corolla competed with Civic. However as time has passed by and especially after the launch of the eighth generation Civic and fifth generation City, things have shifted. As Civic moved up a notch in the pricing department i.e. PKR 2 million plus to make room for City in the sub-PKR 1.5 million price point.
Have a Look: Pakistan's 2016 Honda Civic Officially Launched in a One of a Kind Way!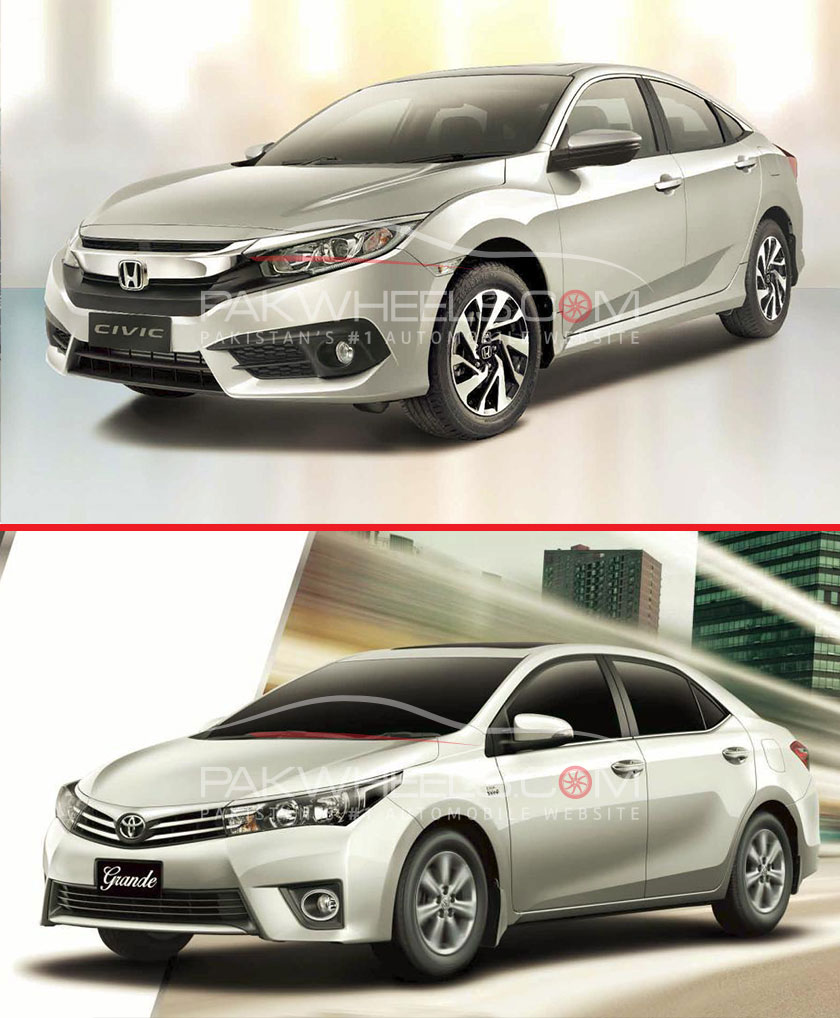 These price changes unlocked two different price points for Honda to exploit as City capitalized in the PKR 1.5 million plus region and competed with Corolla's XLI and GLI variants. While Civic took control of the pricier segment and to give Civic some competition, Toyota released more feature packed trims of Corolla i.e. first 'Altis' and now even 'Grande.' With tenth generation Civic, Honda seems to be moving a price point further to take hold of PKR 2.5 million to PKR 3.0 million price range while Corolla maintains the price bracket from PKR 1.6 million to PKR 2.4 million.
Also Read: Indus Motors Brings Toyota Corolla Updates – Immobilizer Offered In All Cars Except XLi
Why Civic i-VTEC Oriel VS Corolla Altis Grande?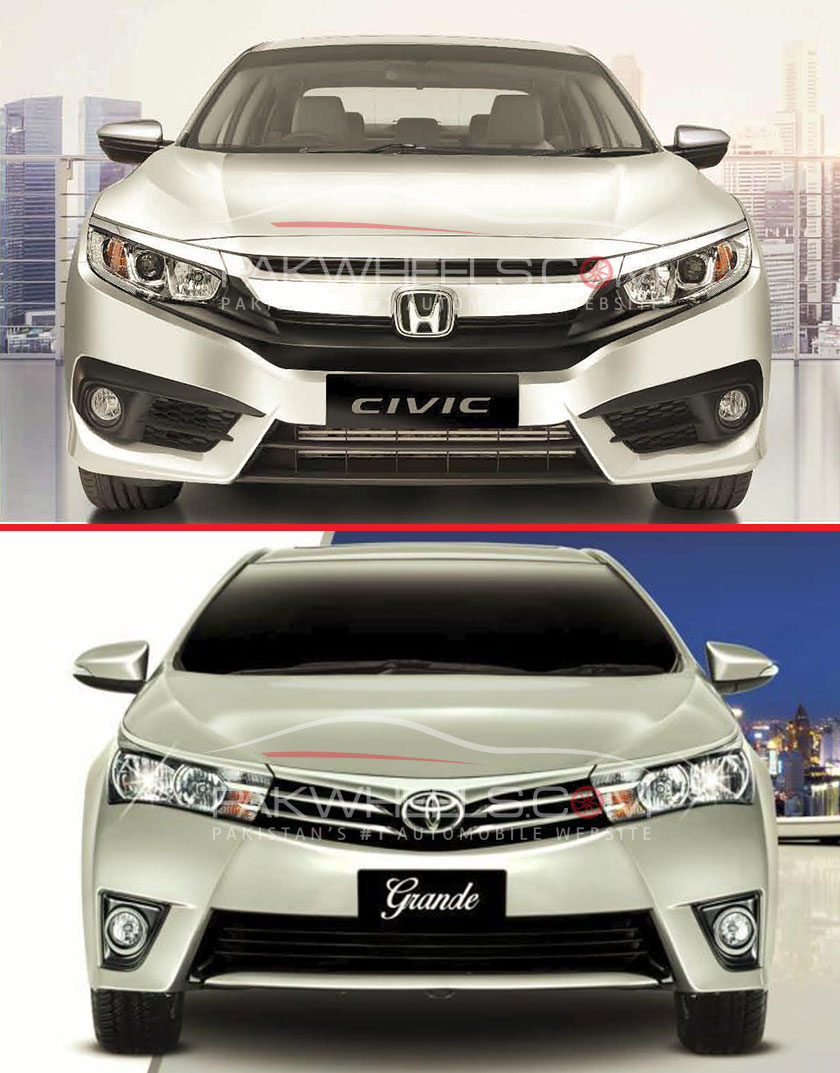 Since Corolla's top of the line model which is Toyota Corolla Altis Grande CV-T has a price tag of PKR 2,379,000, comparing it with Civic's top of the line VTEC Turbo priced at PKR 2,999,000 would not be fair. Same is the case with comparing Grande with base Civic i-VTEC since i-VTEC serves as a trimmed down version of Civic so the most appropriate comparison would be between Toyota Corolla Altis Grande CV-T and Honda Civic i-VTEC Oriel.
What comes under the hood?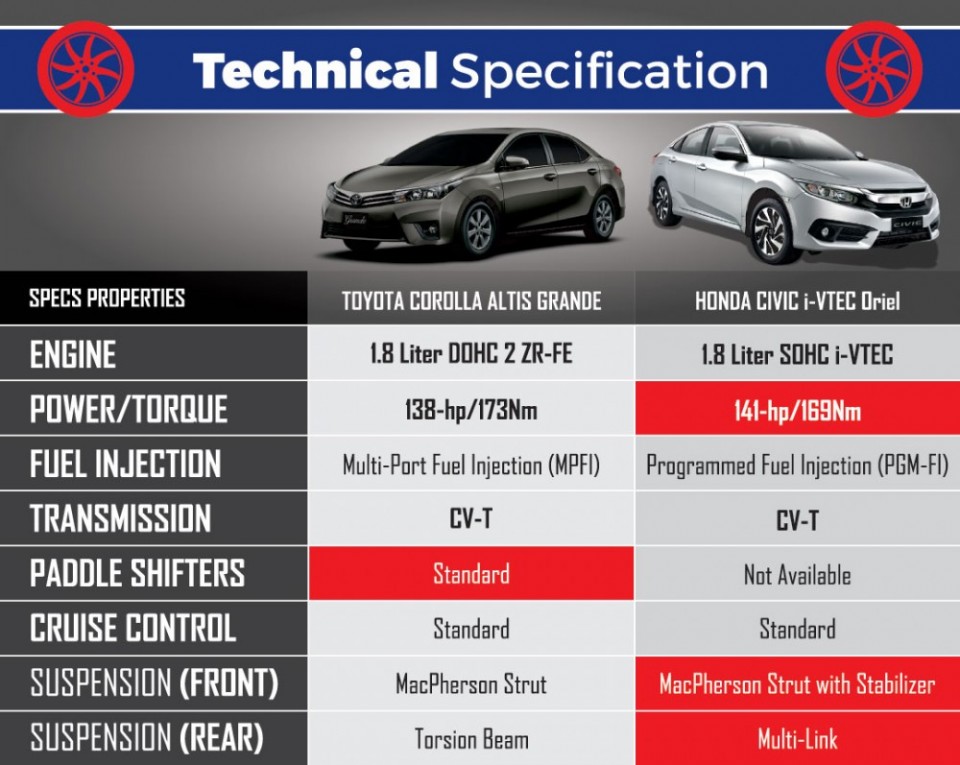 Altis Grande comes with a 1.8-liter engine which produces around 138-hp and 173Nm of torque while the engine block of 2016 Honda Civic is home to the same 1.8-liter engine which came inside its predecessor. Despite having an older engine, Civic generates around three more horsepower than Corolla while producing four less Nm of torque. Both cars come with the same form of transmission while Grande also comes equipped with 'Paddle Shifters' which in the case of Civic is only available on the PKR 3 million VTEC Turbo. Cruise Control also comes standard on both. Regarding suspension, Civic takes an apparent lead as it comes with stabilised MacPherson Strut on the front and a Multi-Link Suspension system on its rear end. While Corolla keeps the traditional MacPherson Strut on the front and Torsion Beam on the back!
Exterior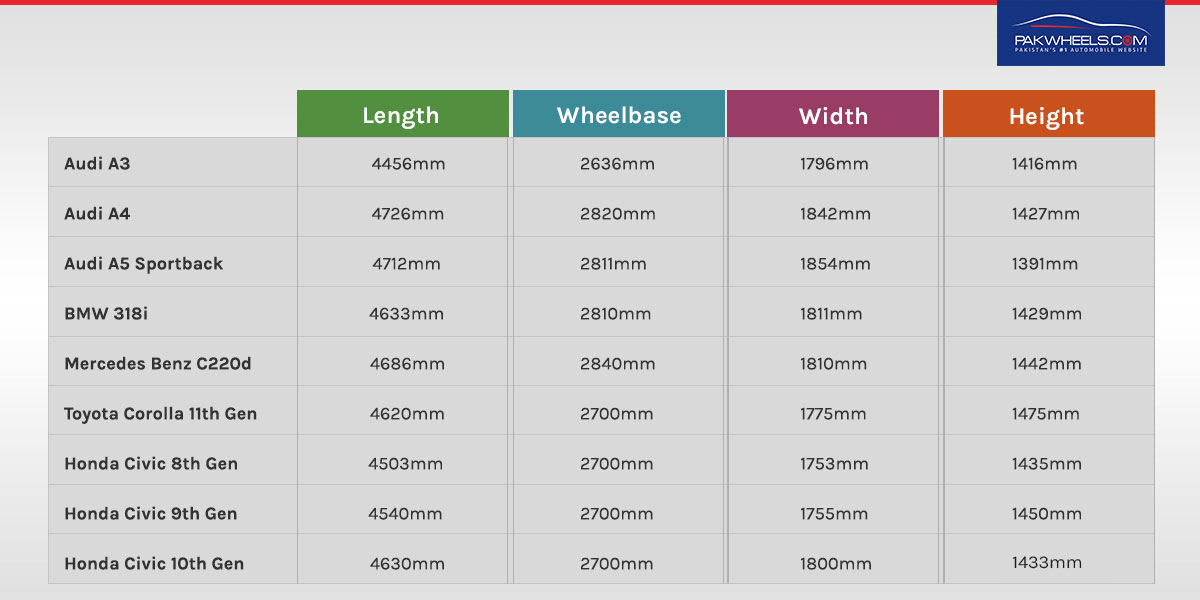 In the exterior department, the new Honda Civic takes a clear lead over its competitor, which is a given since it comes with an under-one-year-old design. To start off, Civic beats Corolla on all corners when it comes to the car's dimensions. The tenth generation Civic is ten millimeters longer, twenty millimeters wider and forty-two millimeters lower as compared to eleventh generation Corolla.
Also Read: The Fragmented Lineup Of Toyota Corolla In Pakistan – Explained!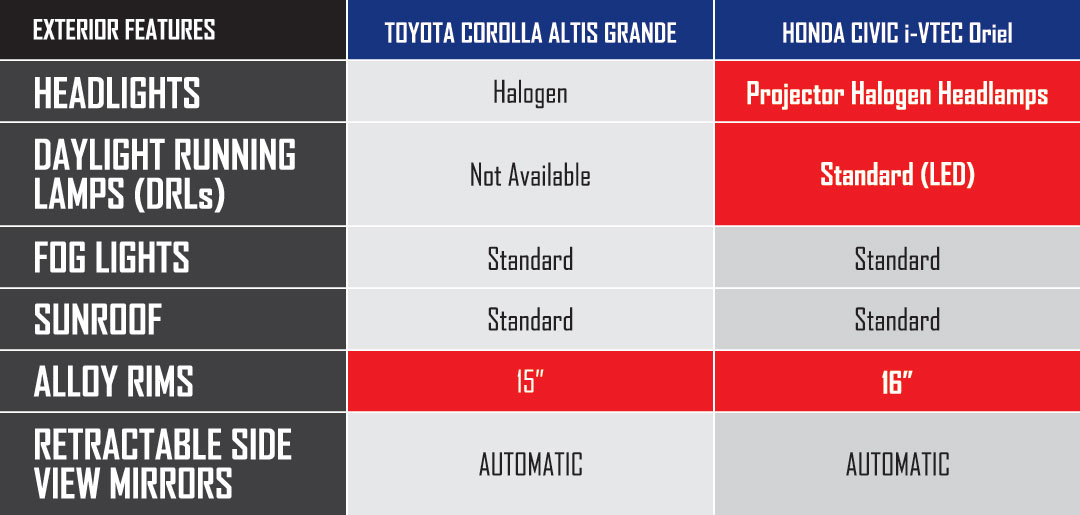 Talking about exterior features, Civic comes standard with halogen projector headlamps and LED daylight running lamps (DRLs) while Corolla can once again be seen stuck with age-old reflector aided non-projector Halogen headlights without any sign of daylight running lights (DRLs). Both cars come standard with automatically retractable door mirrors, sunroof and foglights. Regarding alloy rim size and design, Civic again takes a lead over its competitor which still comes with over a decade old rim design and a 15′ rim size.
Interior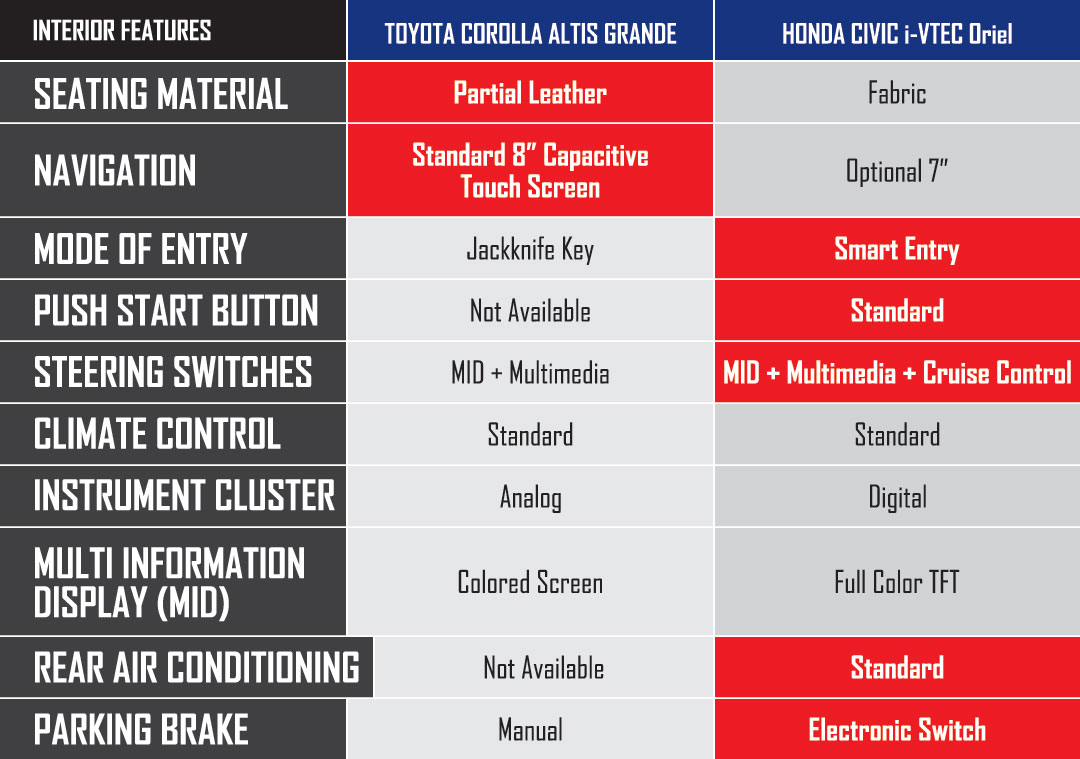 Step inside and it's a mixed affair as both Civic and Corolla capitalize on the features missed out by one another. While Toyota Corolla Altis Grande comes standard with navigation and partial leather interior both of which are optional for the new Civic i-VTEC Oriel, it misses out on almost all of the other standard interior features of i-VTEC Oriel. Which comes standard with things like smart entry (which in my opinion is the actual form of the key-less entry), push start button, on steering cruise control switches (Grande has cruise control settings in a lesser intuitive knob adjacent to its steering wheel). In addition to this, Civic comes equipped with rear air conditioning vents and electronic parking brake all of which are absent in the PKR 2.4 million Altis Grande.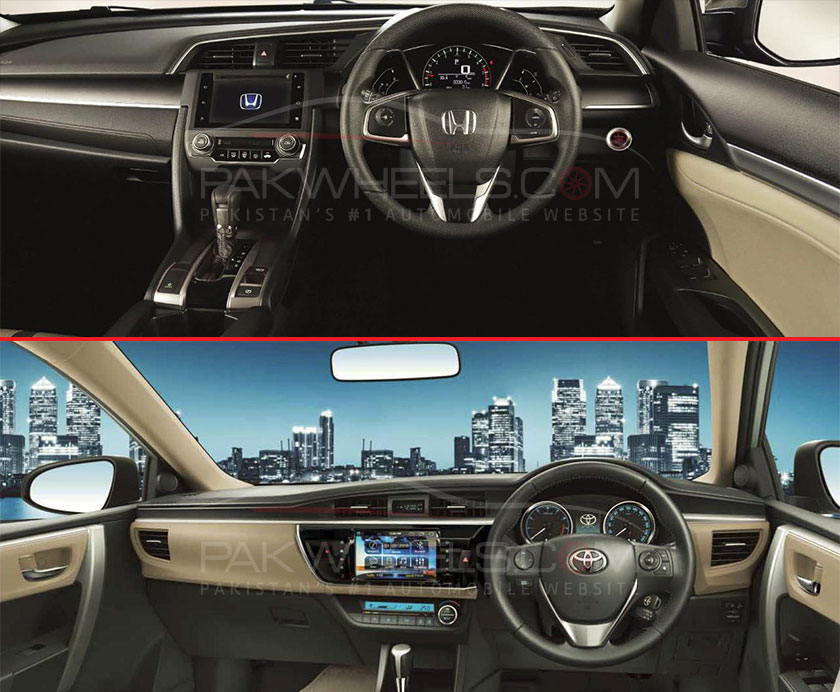 The most significant factor to consider when comparing interior feature offerings of the two is that the features missed out by Civic can be installed at an additional price as they are available as official add-ons without a need for aftermarket customization. While the features absent on Altis Grande are neither optional nor can they be installed easily by third-party technicians.
Read More: The Fragmented Lineup Of 2016 Honda Civic In Pakistan – Explained!
Safety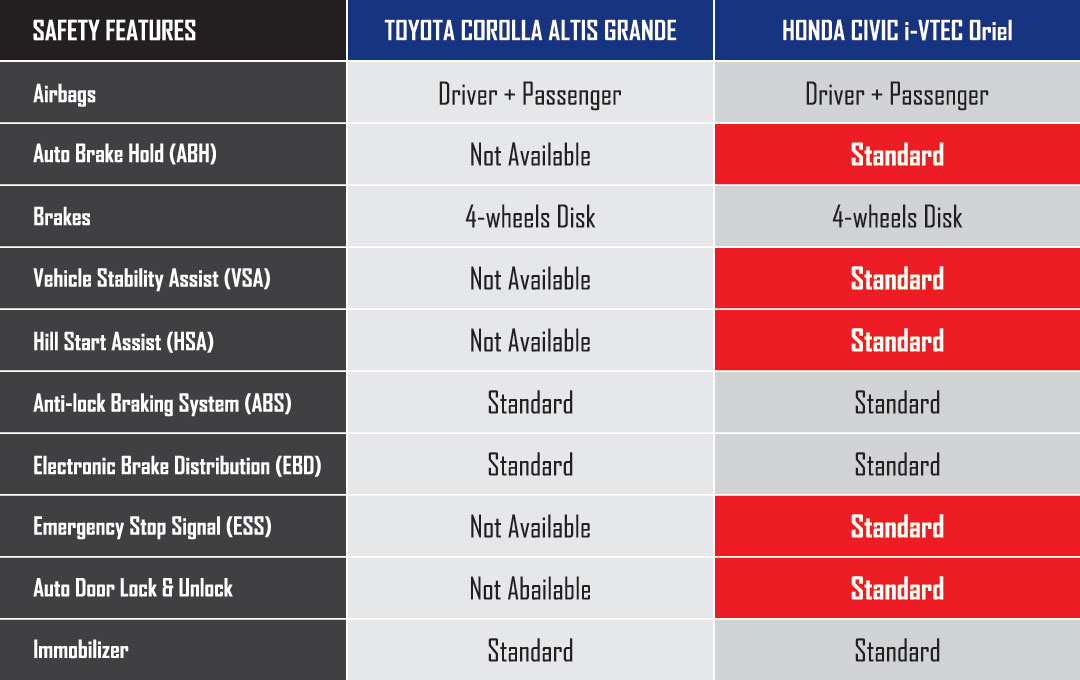 Due to the lack of market awareness, safety features are the easiest to compromise on PKDM cars. While many have continuously been arguing that Honda Atlas' Civic is a stripped down version compared to the ones available abroad, but in Pakistan, it comfortably blows away its competitor, Corolla Altis Grande. In addition to having driver and passenger airbags, Immobiliser, 4-wheels disc brakes with ABS and EBD all of which are also standard on Altis Grande, Civic comes with things like, Auto Brake Hold (ABH), Vehicle Stability Assist (VSA), Hill Start Assist (HSA), Emergency Stop Signal (ESS) and Auto Door Lock and Unlock by Speed, these safety features are by far a first for a Pakistani assembled car.
Finally: Verdict and Price!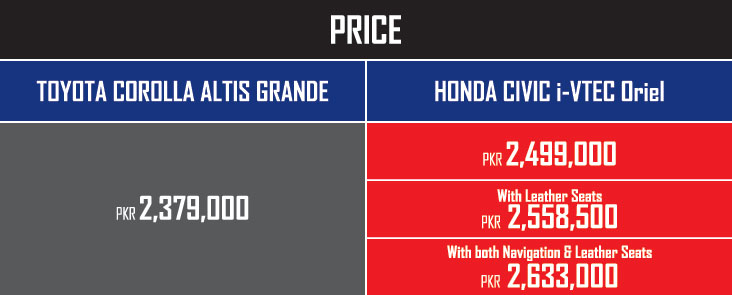 In my point of view, if you have around PKR 2.5 million to spend on a car which has complete after sales back-up and warranty, initial build quality concerns aside, 2016 Honda Civic i-VTEC Oriel is your safest bet since to me spending PKR 120,000 more to get Civic instead of Corolla is a better choice to make. I have given my verdict! What is your opinion? Let us know in the comments below!
Take a Look: 2017 Toyota Corolla Facelift Officially Unveiled in Russia!
Save