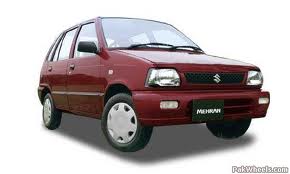 How Suzuki dealers steal your money in the name of registration and freight charges
While we're more or less aware of the fact that Pak Suzuki and the rest are monopolistic companies that have been going on to loot the country by providing obsolete cars on exuberant and unjustified prices, it is however much less known how they actually do it.
NewsPakistan.pk ran this story of how Pak Suzuki dealers take on a rude attitude and begin dictating the terms and everything else once you've booked and paid for your order.
According to this story, a customer booked a Suzuki Mehran through Mandi Bahauddin Suzuki Dealer and insisted that he wants to register the car himself with the Mandi Bahauddin Excise Department and therefore, he must be handed the documents of his new car.
The dealership refused his request and took over a harsh tone citing company policies of registering the car themselves in Jehlum against the customer's wishes of registering the car with Mandi Bahauddin Excise Department.
Pak Suzuki charges Rs 21,000 for registration and Rs 15,000 for freight on delivery of vehicle and while no bill citing the cost of freight was handed over to the customer who further, also contacted the Excise Department to know the actual cost of registration for Mehran which they said was only Rs 15,000.
Apart from this obvious looting, many customers on Pakwheels Forums have reflected their displeasure over the poor build quality of their cars as many things arrive either non-functional or poorly fitted. Same was the case here as he said that several parts were not fitted properly. Rear and front bumpers were tilting downward. Leaf springs of rear suspension were not in proper alignment. Vinyl and lining of doors were not properly fixed. Wheels balancing and vehicle alignment were not satisfactory and A/C which costs Rs 52000 gives poor cooling and runs heavy.
Customers which have been mistreated must come forward and report such malevolent business practices to make sure no one else becomes a victim of these fraudulent auto assemblers.
If you have your own experience/story of encountering such fraudulent car dealers, email us the story at [email protected]