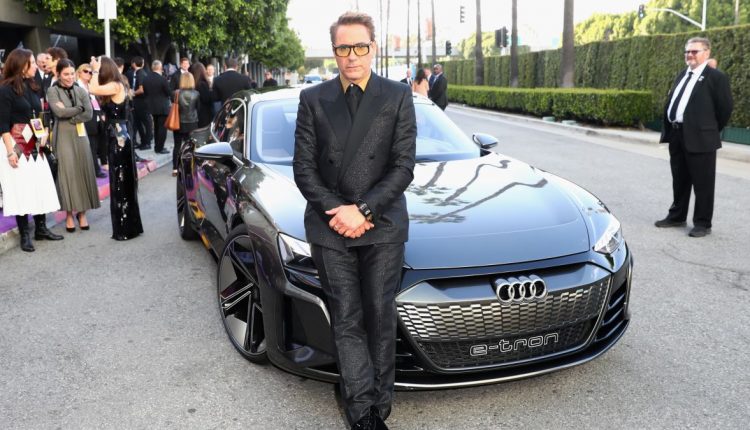 Iron Man's Audi E-Tron GT to be Launched Soon!
According to international media reports, Audi E-Tron GT, driven by Robert Downy Jr's character Iron Man in Avengers Endgame, will soon hit the global market. However, the price would be quite high, starting from $110,244 to $183, 656 for hottest RS version of the car. So, it means you also have to be Iron Man rich to own this car.
But the price seems justified for this electric car because it would reportedly reach from 0-100 in 3.3 seconds.
Robert Downy Jr. drove the early prototype of this new battery-powered GT in Marvel's movie, where he played the role of billionaire industrialist Tony Stark aka Iron Man. The Hollywood star also drove the same car to the premiere of the film and posed alongside it.
Potential Launch: 
The reports stated that German car-giant is all set to launch this beast in upcoming Spring. Furthermore, the car will come in two variants.
Audi's motto has always been 'Vorsprung Durch Technik' which broadly translates in Leap Forward Through Technology. The new GT is surely a work of modern tech, which is why it was part of the Marvel Universe. According to the company, new GT is inspired from the grand trousers and muscle cars of the 1950s, 60s and 70s.
The electric car has a low profile and aerodynamic shape mixed with muscular back haunches and immense engine power. The machine combines the potency with elegance.
Audi E-Tron in Pakistan: 
Audi Pakistan launched the e-Tron Quattro SUV in March 2020 at Audi Pakistan's Karachi showroom. In same month, the company brought the vehicle to Lahore.
The all-electric production SUV, the E-Tron is motivated purely by battery power, foregoing combustion entirely. It is powered by two electric motors, one at each axle: the two combine to deliver a maximum of 308HP and 561Nm of torque; thus, the E-Tron completes the 0-100km/h sprint in a sprightly 6.6seconds.
These motors is juiced by a 95.3 kWh lithium-ion battery pack that gives the E-Tron a WLTP rated range of 417km. Though Audi claims a real-world range of 276-300 km. As for charging, it can make use of 150.0-kW DC fast-chargers that allow it to regain roughly 80km in 10 minutes and about 260km in 30 minutes. Those using a more conventional 240-volt outlet will be able to charge the E-Tron in about nine hours fully.
Audi E-Tron Price: 
The current price of Audi E-Tron is Rs16,750,000.
Watch E-Tron Owner's Review by PakWheels: