In my previous article that was published some 5 weeks back, there were no signs of 10th Generation Civic on roads of Pakistan. Fast forward today and every other city has more than one roaming across the streets.  The Civic X storm came with full force, although the main event is gone and excitement is fading away but social media is buzzed with the ripple effect in form of quality issues as well as praise. We at PakWheels.com kept our readers updated on this matter on daily basis.
Also Check out: HCivic 2018 model
By now many things are open-&-shut and everyone or car enthusiasts know about it. I think we all will agree that PakWheels.com played a significant role in enlightening people through its blog articles and discussion forums, time to time about the 10th Generation Civic. A few things were expected while a few came from nowhere. I also wrote a very detailed article before the release of Civic in Pakistan about the possibilities and expectations. Some speculations stand true while others completely vanished from the actual release of Honda Civic 2016 in Pakistan. I will keep the quality related issues away from this article for today because they have been discussed in-depth in our various articles and to be honest, I myself now feel bored seeing the pathetic quality control of the displayed and showcased cars on each and every dealer's showroom. Also I am sure these problems will be fixed over time and Honda Atlas Cars Pakistan Limited must be working hard to make things right. The question remains that, why the car that has buzzed every other market with its release couldn't do the same for Pakistani market, Why Honda failed to prepare well, why the launch was so dull with no marketing campaign at all. Even after banking billions in pre-order, couldn't Honda Atlas pull a great show, that too for its flagship model? I will appreciate the awareness and viral social media posts which actually made people aware of these quality, fit and finish issues and which forced Honda Atlas to look into this matter seriously.
Back in November 2015, I had a chance to review the 10th Generation Civic in form of United States Domestic Model [USDM]. I spent a decent amount of time in and out of the car and posted a detailed review, and ever since then I have been following all the releases of Civic across the globe, like in Australia, Thailand, Indonesia, Malaysia, Philippines and China.
Read: 10th Generation 2016 Honda Civic Review By A PakWheeler: An Epic Civic
Today I would like to go over few of the main features which Pakistani domestic model has or lacks in comparison to the international models. I will compare Pakistani Domestic Model [PKDM] Civic X with the international Turbo Civic X. I have taken the PKDM 2016 Civic 1.5T for comparison as it is the full option and fully loaded model available for Pakistani market with all bells and whistles.
Engine ,Transmission & Associated Components:
Fortunately, Honda Atlas has blessed us with everything what an Asian Market Civic is to offer as far as this department. PKDM Civic gets the same  1.5L Turbocharged engine like anywhere else. This new engine is the limelight of this new generation and the most wanted and awaited item. The 1.5-litre VTEC Turbo produces 173 HP @ 5,500 RPM with torque figures of 220 NM from 1,700 to 5,500 RPM. On transmission front, the Civic gets the sports tune CVT [continuously variable transmission].

Read: 2016 Honda Civic – What We know, What to Expect!
1.5T is available with  HSA [Hill Start Assist]. It's an active safety feature and will assist when you are parked on a slope and start driving uphill. It will also help the drivers when they are backing up/reversing uphill. It helps the driver while switching from brake to accelerator paddle so that the car doesn't descent, and you get some extra couple of seconds to react. 1.5T also gets Electronic Parking Brake with Auto Brake Hold [ABH] Gone are days of manual handbrakes. Now you will press a button, and the Civic rear wheel will get locked for parking. Automatic Brake Hold (ABH) maintains rear brake hold even after the brake pedal is released. This is a very nice feature in a start-stop traffic as you can remove the foot from the brake paddle and the car will remain in gear until you press the accelerator again. Fortunately the PKDM Civic gets Vehicle Stability Assist [VSA] as well, which is a system that helps to stabilize the vehicle during cornering, if the car turns more or less than desired.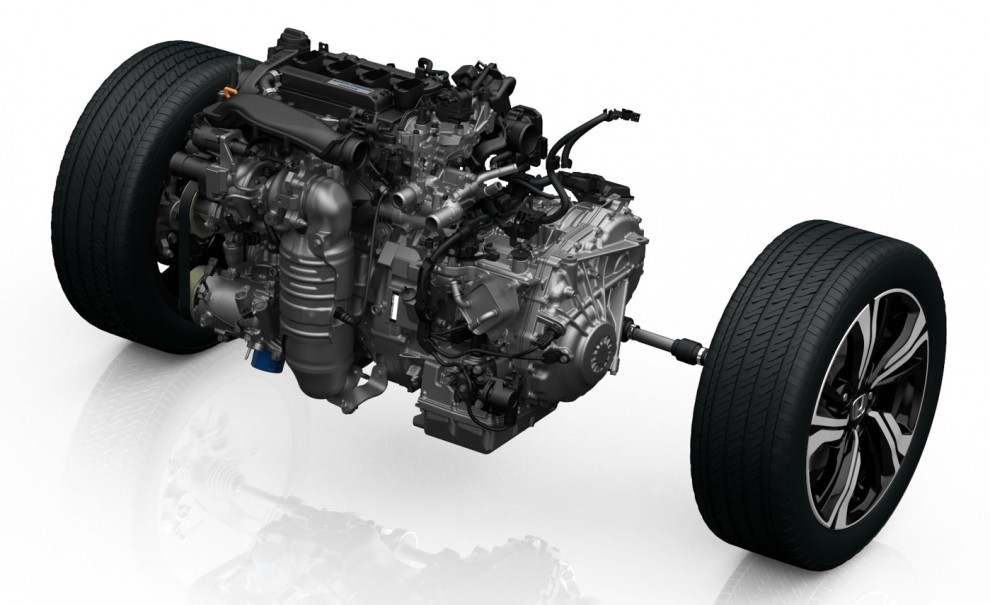 Safety:
The Civic X has new advancement with its frame. As far as the number of air bags, and active safety features are concerned, PKDM might be low in numbers but the main frame is same which contributes to the passive safety, which is more important than the active safety features. The new Civic is based on an advanced compatibility engineering (ACE) body structure that has a new crash stroke design. The frame rails are created and fixed in a manner that they plunge downwards in a front head-on collision. In high-speed collisions, this technique will decrease the risk of engine thrusting into the passenger cabin. The new frame is about 30Kgs less than the prior generation but has 25% more torsional rigidity. High-strength steel is used in major crash zones while there will be a single piece sub-frame in the rear as well as delicate frame areas to absorb the collision force. PKDM civic is equipped with only two front airbags like base turbo models in Thailand. A Thai spec fully loaded Civic comes with 6 air bags, while an Indonesian spec Civic has standard 6 air bags on all variants.
Video: Watch 2016 Honda Civic "Honda Sensing" Active Safety Features Demonstration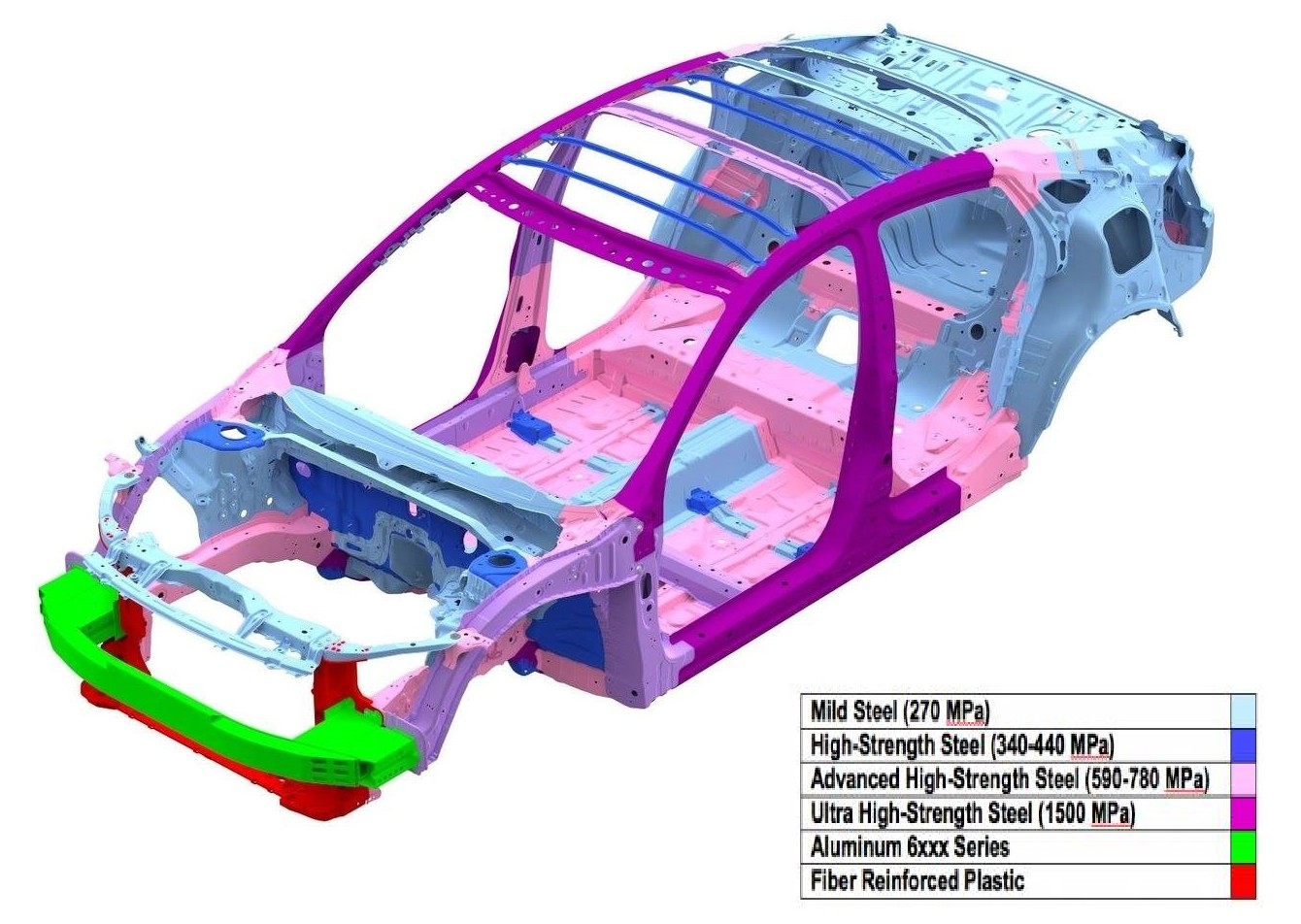 Wheels & Suspension:
Again here in this sector 'the suspension' Honda Atlas did follow what is available internationally. Suspension was a major concern for Pakistani buyers as it was not up to mark in 9th Generation PKDM Civic. 1.5T is equipped with MacPherson Strut Front Suspension and Multi-Link Rear Suspension. That is the standard suspension system for all variants and has been seen on the 10th Gen Civic on all international markets. Mult-Link rear suspension was in the 9th generation Civic in the global market already while PKDM 9th generation Civic received "Reactive-Link Double Wishbone Suspension". The new Multi-Link Suspension system is modified & improved over the previous generation. Here are a few things which are entirely exclusive to PKDM Civic. The ground clearance on overseas model is 133mm while PKDM Civic has an increased ground clearance of 153mm. Also Pakistani 1.5T is the only Civic in the globe which is offered with 16″ alloy wheels [Tire size 215/55 R16]. Everywhere the turbo model gets 17″ rims standard from factory.
There is another connected fact as far as suspension on the 1.5T is concerned. Although its new multi-link , the major development and improvement is the availability of hydraulic fluid-filled rear bushing. Yes this is something you see on high end cars and Honda provided this to 1.5T only. The 2.0L USDM Civic with 16″ rims don't have these busing in the rear suspension. The fluid-filed busing gives much better control on the noise, vibration, handling and agility. Honda Atlas website or brochure don't mention anything under suspension heading for 1.5T. I spoke with a Honda expert in New York and I came to know that 1.5T 17″ wheel size is also related to the tweaked suspension on 1.5T . Overseas 1.5T also gets front and rear stabilizer bars and this is something also not clear from Honda Atlas.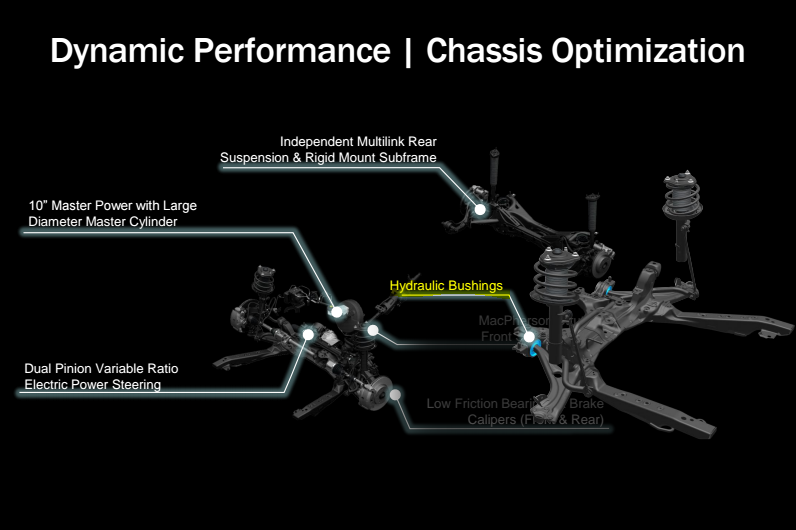 I tried to contact Honda Indonesia and Thailand but didn't hear back from them at the time of this article so I am not sure if other markets are having these Hydraulic bushing on 1.5T. I did reach out to a few Honda dealers directly and I have been told that on PKDM Civic, the Hydraulic Fluid-Filled Bushings are not provided/ its not available.  If this is true and Honda Atlas really didn't provide these suspension updates, as we have seen on overseas turbo model, I will put my doubt on the same handling/control and I can easily state that PKDM Civic will lack those handling characteristics that have been experienced by drivers overseas. As I mentioned PKDM Civic is already raised and has smaller wheel size on 1.5T as compared to the international model. I am sure we all have seen many videos and reviews about turbo Civic handling in which it is very well praised and one key reason for better handling than 1.8L [Asian market] or [2.0L USDM] is the availability of these rear suspension updates for 1.5T.
Exterior:
Civic X is based on global architecture, means that materials and components will remain the same regardless of region as well as the manufacturing process. So on exterior the design, body panels, cuts and lines are same as anywhere else. Yes the most wanted LED headlights are missing on PKDM fully loaded Civic. Although these are available on top of the line trim level on the international model. So Pakistani Civic didn't follow like that for its top-of-the-line Civic and kept regular projector headlights which are available as standard headlights on turbo Civics elsewhere. I have spoken to many Civic potential buyers and the LED headlight will be the first modification they will be planning to go for, which are available from Thailand at cost of around $1100 plus shipping and handling.  I Wish Honda Atlas did provided these headlights on its top tier model to make it stand out from rest of the Civic line-up. I hope in upcoming models Honda Atlas thinks about this upgrade and provides LED headlights standard on 1.5T. We still thank them for providing LED Daytime running lights [DRL] standard.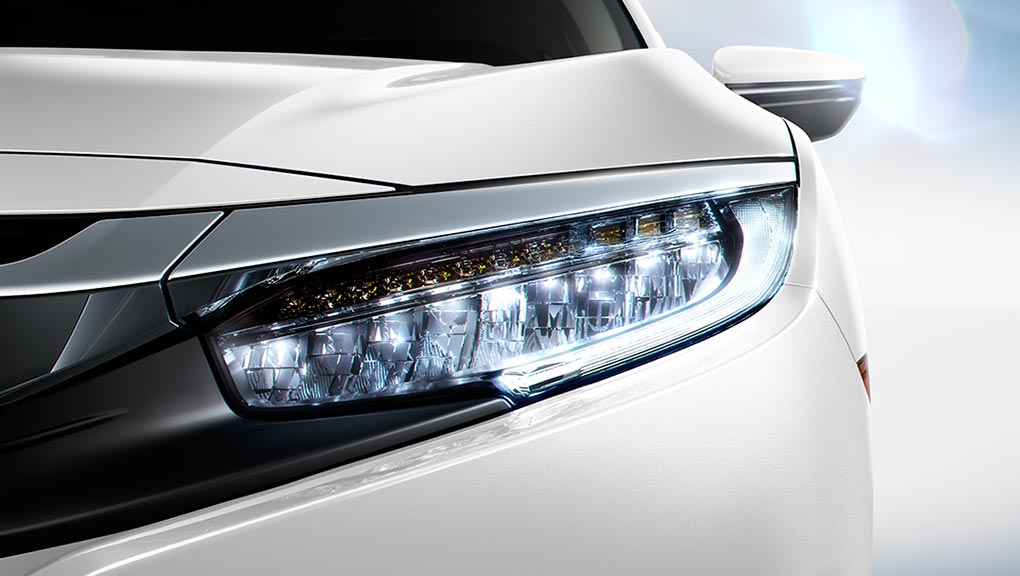 Trunk:
So when I saw the first pictures from the release day, I was shocked that HAPL skipped a cheap carpet liner from the trunk, which is a standard item everywhere. Even base model Civic is having a liner on inner face of trunk.  I pointed out this matter immediately and made a social media post about it as it was easy for me to compare it with the USDM Civic I saw. The post went viral like anything and every other reader could not understand that how come Honda Atlas could think of skipping such a small item on a 3 Million worth car. The trunk has all the holes to fix a liner but its not there. It looks like a very cheap cost cutting action.  I checked with local Honda dealer here in the US and came to know that liner cost $65 if you buy. Obviously the cost at the time of car assembly will be far cheaper than this. Honda Atlas sources many of its parts from local vendors.
I wish they could source this small piece of carpet locally and saved themselves from this embarrassment. I was told by one of the close friends who went to see the car at the dealer and he raised up this issue with the Honda representatives at showroom. The answer was as shocking as the unavailability of the liner " Sir Aap 3o lakh ki gari lay rahain hain, 300 ka carpet khudh lagva lain".  I will recommend and Advice Honda Atlas to look into this matter seriously and contact local vendors and do provide this liner in this as well as the next model.
Interior:
Civic grabbed many awards ever since its launch. Among all these awards and accolades, which are given on the overall performance, quality, design and features; there are different international organizations who award on the individual qualities. Among all, WARD's is a famous international organization covering automotive industry for more than 80 years. Every year, the organization awards 10 best engines, 10 best interiors, and new technologies. After intensive test drives of dozens of new cars and in-depth interaction with the interior, experiencing the design, efficiency, space, material and many other factors, Wards declared 2016 Honda Civic's interior as one of the top 10 best car interiors.
Read: 2016 Honda Civic Bags Wards Auto Award For Best Interior
Interior of Civic X is all new and PKDM followed the same design. As I said I will not discuss the quality but in one line I really would like to say here that " it is an issue". Interior of the car is something which as an owner/driver you will interact with, every time you get into the car. You can scan through PakWheels.com blog section and you will find a few articles on this matter. The quality, fit, finish of materials is not up to mark. Anyways besides quality, Honda Atlas did cut corners in features as compared to the international Civic. Even some basic standard features are not available in the fully loaded flagship 1.5T.  I will go over it one by one.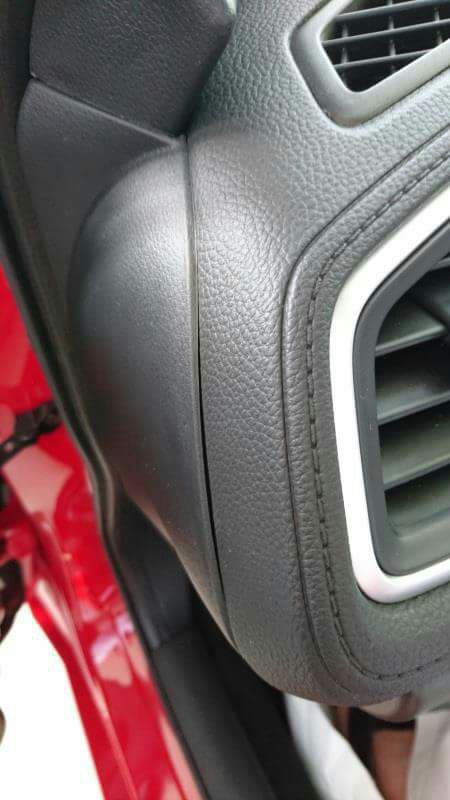 When Civic was about to launch in Pakistan, people were speculating and that the most wanted item as far as interior was  full digital cluster which Honda calls "Driver Information Interface/ DII". Elsewhere all turbo variants gets this full digital cluster/ DII. PKDM 1.5T gets the simpler version of this cluster which technically is knows as "Driver Information Display /DID". Thailand, Malaysia, Philippines as well as Australia has DII on all turbo variants. After research it was found that Honda Atlas followed Indonesian Civic as far as cluster and head-unit and in Indonesia the DII is not available so as in Pakistan. I had an argument with a few Honda fans and they said its not in Indonesia, my answer was and still is, Indonesian Civic gets a lot of other items standard as well which are missing in PKDM 1.5T, like for example LED headlights which are a standard there.
Also Read: 2016 Honda Civic Disappointing Interior Finish and Quality
DII works in conjunction with the standard stock Honda head-unit [ Advanced Display Audio (7" touchscreen) ] which is available in all other markets [e[except Indonesia]The head unit is even capable for voice recognition and a driver can dictate / compose a text message, ask for navigation as well dial a phone number by saying the name of the contact after pressing a button. The head-unit can also play you the text messages  making a complete cell phone connectivity. Many compatible apps can be downloaded to head-unit as The head-unit is also Apple car-play/ Android Auto compatible. The head-unit also and have functional connectivity with the DII. A driver can change many settings for the DII via the head-unit and can customize it for his/her own needs and liking. DII also reflect data from Head-unit like what music or radio is currently being played, also can show you the phone call log, phone contact list. Turn by turn navigation instructions are also displayed in the cluster when using navigation and this helps driver keep a straight eye rather than looking at the head-unit. Overall its completely full of driver convenience and ease of use.
PKDM Civic is equipped with some Chinese android based head-unit same as Indonesia, which has been tweaked to carry Tracking World navigation system. So if the same head-unit is not there the DII will not be there and this is what happened with PKDM Civic as well as Indonesian Civic . Anyways unavailability of DII is a let down but I am sure people will now live with the driver information display/ DID.  I hope Honda Atlas in future does look into this but. I am not too optimistic because the entire head-unit needs to be replaced to the Honda stock unit as overseas and I am not sure if the local navigation company in Pakistan will be able to root navigation system on to it. On the side note, it has been found that head-unit in the PKDM 1.5T is slow, laggy and touch sensitivity is also not up to the mark.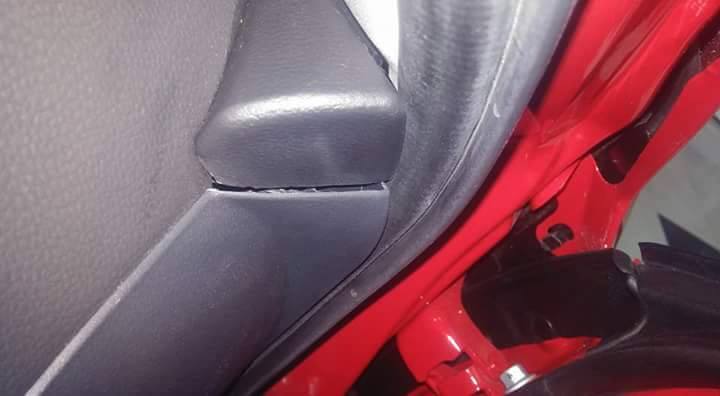 Additionally Honda website and brochure still reflect an image from the international  Thailand Civic which shows the Driver Information Interface as cluster as well as the head-unit which is not available for Pakistani market Civic. I hope Atlas will relay the correct information and the right features they are providing to customers and remove this picture and post an actual one.
Now lets look into some minor things. Honda Atlas skipped the vanity mirror  lights which is almost standard on all trims of Civic overseas. At least on Turbo models. A car worth 3 million in Pakistan is not equipped with these tiny little lights.
Power adjustable seats which is available on base model turbo else where are missing on PKDM 1.5T Civic. Yes you need to use handles to move your seat up down, front and back that too on a fully loaded car worth 3 Million. Top tier models overseas get 8 way driver as well as  4 way passenger power seats while our top tier don't even match a base model turbo. If you go to backseats you will come to know that a standard feature on Civic model overseas is the availability of folding 60/40 split seats. I am sorry its not available to us on the flagship model. There is a solid steel section behind the rear seat.
Honda did well overseas as far as listening to music in the car, all turbo models gets 160 watt 4 speakers plus 4 tweeters  as standard elsewhere even on base model turbo with  "Speed-sensitive Volume Compensation (SVC)" feature which if activated increases volume with increase of speed. Upper tier models on turbo overseas get 452 watt 10 speakers plus a sub woofer system. Its PKDM 1.5T exclusivity which comes with 4 cheap speakers only and no tweeters.  Unfortunately we can only dream for it.
Apart from this all turbo models gets dual zone automatic climate control [e[except Indonesia]s well as automatic wipers and auto dimming rear view mirror. All these features are completely not available at all on PKDM 1.5 T Civic. So far and so Atlas even removed the intermittent wiper sensitivity feature from the wiper stalk which is also a very basic standard feature elsewhere. You will find just high and low wiper options on PKDM Civic.  One other big disappointment is unavailability of leather stitched steering wheel which should have been there at least on PKDM 1.5T although its available in other markets. The visual appearance and feel of steering wheel do matter a lot and tells a lot about the car and its quality. Unfortunate we are getting a simple urethane steering wheel and its a big turn down or a negative.
PKDM Honda Civic 2016

Civic is available with standard "Auto On/Off" headlights. Means there is a sensor on edge dashboard close to front wind screen/ glass which detects the ambient light and automatically switch on headlights when it gets dark. It shut offs headlights as soon as the light improves. For this "Auto" function to work, you move the light stalk to "AUTO" . Else you can over ride this feature by manually switching On and Off. Yes PKDM Civic lacks this basic standard feature available everywhere. 
Now lets discuss the center console which is very well ruined by Honda Atlas. Honda is praised for the clever and beautiful and versatile center console between two front seats. So much and so Honda was award for being into top ten interior designs for 2016 and one interior feature was this console. Many people realize the utility of the center console very later after the ownership of the car. This civic console has huge space to offer for storage and organization. There is reconfigurable try with two medium to small size cup holders which slides on rails and then there is cup holder for larger size beverage/ cup as well. If  you remove the cup holder tray,, you can even storage a decent size tablet in side. This can give you an idea for the depth of console which has total capacity of 7.2 liters which is very impressive for the car size of Civic. Civic has the largest space as far as the central arm/rest console on the market. Due to elimination of conventional handbrake, Honda really did very well how to utilize the space.
Honda Atlas, instead of giving a fully functional console installed a cheap LCD screen and  just made this well designed console completely useless. Honda Atlas went so far and so, that a small plastic bin tray which goes inside the console is also not there on 1.5T model. When you open the console you will  see two screws right there. Such small items do matter to the overall finish aspects of the car and the 1.5T lack these. Even Honda Atlas website show an inside image of the console and I am not sure how and why they could just miss this small little piece of plastic which will cost nothing.
If they really wanted to provide the so called rear entertainment system, they should have provided two screen each on either head rests for the rear passenger but should not have touched the beautiful console. The fit and finish can also be judged from the the shrink wrapped cable coming out of console via rectangular cut out to the LCD screen. a plug on connect would have been better option. They also skipped a second USB connection from within the console which is standard everywhere else. Sometime little ordinary things can make things extraordinary and Honda Atlas lacks this. Please keep in mind we are still talking about 1.5T.
Additionally it should be noted that "Rear Entertainment System " comes as standard no matter you need one or not. You have to live with it if you opt for 1.5T.
Overseas Model
PKDM Civic
Beside the disaster as the central console, Honda Atlas also didn't fully utilize the well designed two level bin behind the gear lever. Rather running the USB to the dashboard compartment, it should have been provided behind the gear level like everywhere else. It would have made phone charging, ipod, USB connectivity much easier and more convenient for the driver. I hope Honda Atlas will look into this suggestion and move this USB option to the space behind the gear level for easy access and clutter free connection.
Now I would like to focus on something more important. Car companies are making cell phone connectivity inside the car a top priority. For safety and convenience phones are now fully integrated in cars. Car Bluetooth connectivity is not only for convenience but also for reducing distraction.. So that driver can keep hands on the wheel. Driver can take a call by pressing a button on steering wheel. The phone control button which is a standard control on steering wheel everywhere else is not present on PKDM Civic even on a 1.5T worth millions.
Read about initially reported 2016 Honda Civic build quality issues here!
It would have been much better if Honda Atlas provided this feature by placing a button on the steering wheel like everywhere else. In current scenario you need to pick up phone and press answer call on your phone or on the head unit if your phone is connected via Bluetooth to head-unit. Remember there are no physical buttons on head-units.. so while driving you will be fiddling with the screen to touch a button to answer. In a nutshell the phone connectivity on new PKDM Civic is useless  as the driver still need to interact with the phone while on the wheel. Apart from this the quality, feel, fit and finish of even the available buttons is very low-key and hard to press. Many users have made their particular reservation as far these available buttons and shown extreme disappointment. A car worth this much must have better quality controls.
I just presented some of the features/ items which I could research and compare. I am sure owners of new Civic will be able to tell more. Overall the new Civic is a nice addition to Pakistani market but it still lacks a "WOW" factor as far as the availability of some of very basic features is concerned 'you just read above'. The primary objective of this article is to enlighten people about what they are missing out of a flagship car and whether or not they are getting value for money. All the items discussed here are very minor things but do matter a lot on the overall appearance, versatility and utility of a car. Buyers are paying hefty amounts for cars which lack many basic features. We had a lot of expectations from the new Civic. We know assemblers have a lot of things on their mind when giving out a product. Actually they know a lot more than all of us. But this does not mean that they don't make blunders, or there can never be shortcomings right from the day one of launch. There had been many minor things which could have been avoided or could have been done better. I hope Honda Atlas will listen to its customers' feedback and will improve and will give value of money in form of better and updates features in their cars.