Porsche Pakistan Reduces Boxster Price By PKR 1.2 Million
Automobiles are one of the major producers of greenhouse gases which lead to Global Warming. As a result, many governments around the globe are making laws to slow down the process of global warming by charging penalty taxes for big engines with high emissions (unit of measuring: CO2 produced per km) and also by giving incentives for hybrid and electric cars.
Many experts believe that Hydrogen and Electric vehicles are the future of automobile industry, with high mileage, fast charging already possible (Tesla being an example) and battery technology is going further, and further it certainly seems a matter of time when alternate energy powered cars will be as common as ICE cars are today.
Also Read: Audi Pakistan Will Start Delivering Its 2016 Audi A4 From February 2016 Onwards
However, the auto industry establishment won't just jump from internal combustion engine to electric cars; the change would be gradual. These days the midway point for the auto industry, before the final switchover to the new technology, seems like is engine downsizing and making hybrid cars. Funnily enough, this can turn out to be a win-win situation for us Pakistanis as well because such cars are light on fuel and have low customs duty charges and taxes.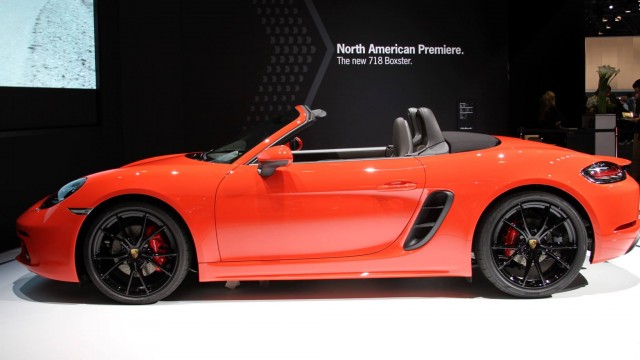 Porsche cars which are imported here as CBU's (completely built units) have also opted for engine downsizing and hybrid power units. Hybrid models of Porsche which are available in Pakistan are Panamera and Cayenne. Engine downsizing and Turbocharging has been done with the Models of Porsche 911 and Boxster. Boxster engine has gone down from 2700cc to 2000cc but as a result of turbocharging it produces more horsepower with the total of 300hp and also giving better fuel mileage. Lower engine capacity leads to lower duties and as result price has gone down as well.
Pictures from NY Auto Show by Fazal Wahab:
The new prices are communicated in US dollars by Porsche Pakistan. Probably to avoid confusion because US $ and Pakistani Rupee parity is quite slippery and changes ever so often, so they use USD instead of PKR. The new price of 718 Boxster is US $ 156,400. Converted to Pak Rupee at today's rates, it is around PKR 16,372,000. That is a decrease of around whopping PKR 1.2 million. The Boxter S was for PKR 20,837,400. You can expect it price to drop like this as well.