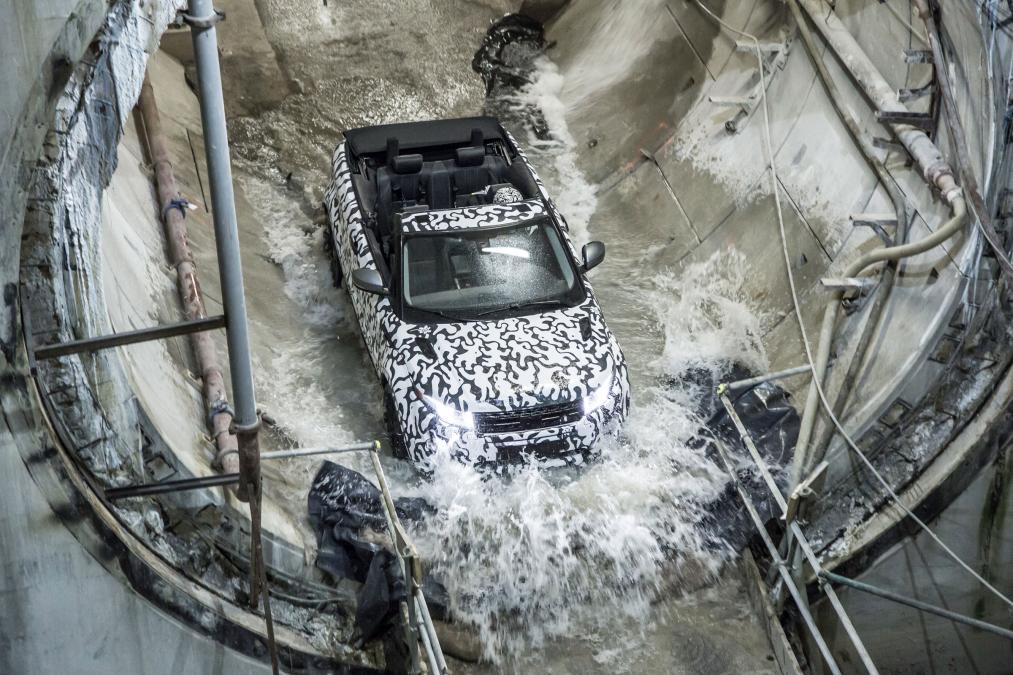 Range Rover Evoque Convertible Goes Offroading
The term convertible SUV is almost completely unheard of in the real world, car manufacturers have always found convertible SUVs to be to expensive to engineer and build, and overall the sacrifices you have to make to have a convertible top isn't really worth it in their opinion. Though none of that has stopped Land Rover who have been working hard to release a convertible version of their popular Evoque ever since 2012. It seems that the Evoque convertible is very nearly ready to head to the production line while it currently undergoes some final testing before it's full unveil in November at the 2016 Los Angleas Auto Show.
Also Read: Tesla Model X Unveiling
But before the big unveil Land Rover has been occasionally teasing us with images and videos of a camouflaged Evoque convertible undergoing testing in various condition. The latest teaser though is quite different, as we're sure most of you will know its not really a Range Rover unless it can hold its own through the rough stuff and to prove that it can, Land Rover recently released a video of their convertible SUV going off road on the testing tracks located in the grounds of Eastnor Castle in Herefordshire, UK. And to make sure that the Evoque Convertible is ready for everything mother nature can throw at it, it will come fully loaded with all the toys and features found on the bigger proper Ranger Rover such as its four wheel drive system, hill decent control, active terrain response, wade sensing etc so you can go off roading in style while having the sun shinning over you at the same time.
The biggest drawback that car manufacturers find with convertibles is that if you take the roof off of a car, you lose quite a significant amount of structural rigidity, but when you take the roof off an SUV that loss in structural rigidity is magnified, but Land Rover claims they have worked around that with some very clever engineering fitted into the Evoque Convertibles unique bodyshell and they claim its just as stiff, strong and fun to drive as the hardtop Evoque, we'll know all that for sure when it eventually hits the streets of UK early next year. Even though most of the people who buy the Evoque will never really take it off road, Land Rover still wants to reassure them that they still can while they're driving to their kids to sports day.
If you want to see some Pakistani 4x4s, click here!
Story: C&D