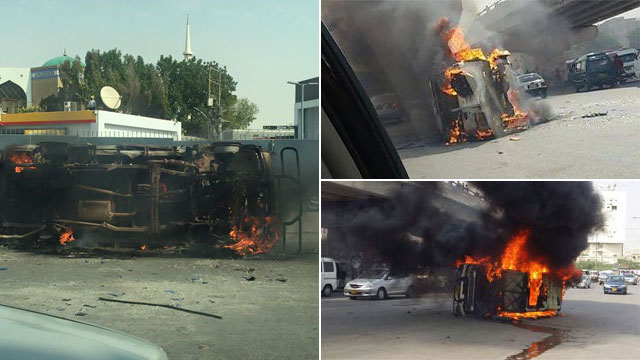 Road Rage Turns To Street Justice In Pakistan: A Frightening New Trend That Needs To Stop!
There once was a time when Karachi was known as 'Mini Pakistan' because of the unity and colorfulness of its people. Then God knows what happened; sectarianism then replaced the unity. People forgot to smile, and the newspaper was filled with reports of anarchy. Guns and bombs replaced batons and other handheld nonlethal weapons. People responsible for the city kept on snoring on their job, and the residents of the city went into long and torturous mental torture. If a bomb goes in any other town in the country, or some political personality dies, or anything similar happens anywhere else, the city of Karachi pays the price. Everyday riots, boycotts, terrorism, and political protests and setting fire to cars, damaging properties of others and hurting business hubs in response to such activities has become a norm.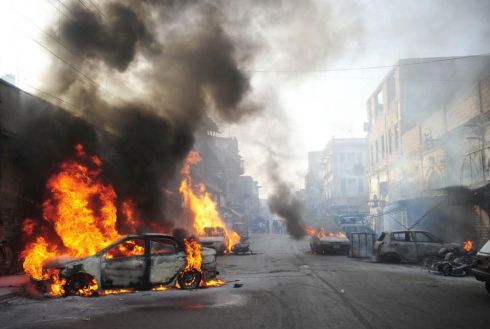 In the cities affected by terrorism incidents, the city of Karachi was at number four spot in Pakistan. An operation was initiated to get rid of the criminal that improved the situation to some extent. But that didn't make the residents start trusting law enforcement departments. And that is the reason residents of Karachi don't consider themselves safe even after such extensive security operation.
Watch: Fight Breaks Out Between Traffic Police And Citizens
Yesterday we saw this mentality playing its role in real time. A traffic accident occurred on Rashid Minhas Road in Gulshan-e-Iqbal where a Toyota Land Cruiser had hit a motorcycle and injured a 6-year old girl riding the bike. Onlookers tried to stop the Land Cruiser, but the driver understood the intentions of the crowd and attempted to escape. But unfortunately for him, he couldn't escape due to an extreme traffic jam in front of Millennium Mall. That when the angry mob got hold of the SUV. They dragged the driver out and tortured him. And when that didn't satisfy them, they set the Land Cruiser on fire.
It is not like this happened in an instance. It took quite some time; from the accident to running away to getting caught again and when the vehicle was set alight. And through all this time, the police had no clue and neither did anyone bothered to report the incident to them. After the report of the incident, Mohammad Khan Lodhi, SHO Shara-e-Faisal, went to the crime scene and arrested the driver of the SUV. By that time, the Land Cruiser had burnt to the ground. And had the police not arrived, one can't say the driver Hammad Ahmed Bukhsh has survived the angry crowd.
And then what happened? TV channels started to transmit this breaking news; people started to share the incident with social media. Rest of the city came to know about the incident through hourly news reports on different radio stations. The story might have made it to in some part of today's paper as well. People will read it, express their thoughts and will turn to the next page.
Such incidents where an angry mob took hold of the situation and tortured the suspect or burnt his property without any sort of investigation or confirmation are not new. Same sort of incident happened last month in the area of Sadar, Karachi. Someone in his Toyota Vigo had hit a motorcycle rider and the angry people surrounded the vehicle and started to hit it.
Language warning.
These incidents are proof that people are increasingly become impatient and turning towards extremism mentally. It is hard to digest how can someone damage someone else property in anger and it is not like anything was achieved like this. It will only make people think twice before taking their vehicles, expensive or otherwise, on the roads.
Pakistani auto sector has been on the rise lately but such indents were an angry individual would burn someone's car, or the increasing threat of car theft is going to hurt this growth. It is possible that such incidents would discourage people from spending on new vehicles due to the fear of losing it.
Check Out: Best Car Insurance Plan For Your Vehicle
Civil society and law enforcement agencies need to join hands to curb such incidents. We need to educate people that setting cars and other properties alike are not going to solve anything, and neither is it fair. Neither are we helping the affected party nor can this assist them to recover their loss. And especially when you already have the culprit, damaging property is not the answer.
Law enforcing agencies need to make sure to protect lives and properties of the residents of the city and bring those who intentionally damage them to the court of law. Those who were involved in yesterday's incident can be identified through street cameras. Bring such people to justice can prevent future such incidents.