In an impressive move, Punjab CM's Strategic Reform Unit has launched the phase II of its Woman on Wheels project named 'Women on Wheels: Motorbike Subsidy Scheme'. With the collaboration of Bank of Punjab and transport department, women bike riders would be able to get bikes on subsidised rates.
Also Read: Uber and Careem To Recruit Women Drivers in Saudi Arabia
Under this phase, over 3000 bikes will be distributed among women of Punjab at a subsidised rates through the balloting process. In my opinion, the step is indeed significant as it will undoubtedly empower our women drivers. The last date to apply for this scheme is 25th February 2018.
Eligibility criteria:
The age of the women should be between 18 to 40.
Original Identification card with driving license.
Should hold a domicile of Punjab province.
Monthly income doesn't exceed PKR 30,000.
The certificate of matriculation is a must.
The fee of PKR 3000 should be submitted to the branch of Bank of Punjab which is non-refundable.
The Government of Punjab will give an equity subsidy of PKR 24,975 on the bike. Moreover, the one who is applying for the scheme should pay a down payment of PKR 27,000 and after that would pay PKR 1,856 in 12 instalments. According to the information available to us, the subsidy is being given on customised Honda CD70 Dream motorcycles.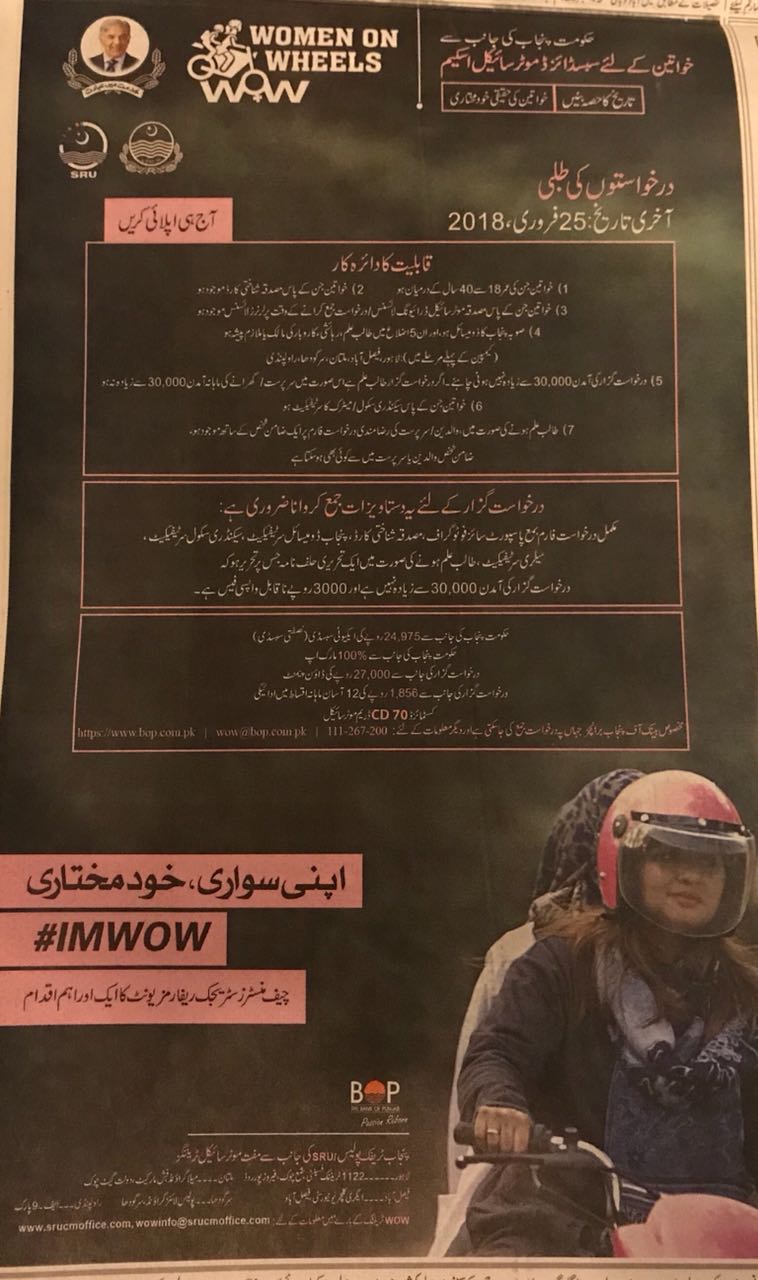 In the first phase, the domicile holders of Lahore, Faisalabad, Multan, Sargodha, and Rawalpindi will be eligible for this scheme. The Women on Wheels initiative started back in November 2015, and at that time the authorities gave training to the women drivers to be able to driver bike on roads without any hassle and awkwardness.
That is it from our side, drop your thoughts in the comments section below.
Also Check Out: Used Honda Heavy Bikes