In an impressive move, Supreme Court of Pakistan has directed the Federal Board of Revenue (FBR) that all vehicles used by the FBR officials or the officials of its concerned departments such as Inland Revenue and Pakistan Customs should be returned back. The Federal Board of Revenue has issued a letter on 26th April 2018 in this regard and has asked the officials of the concerned department to return their vehicles by 30th April 2018. After the date has passed and if any of the officials found using vehicles after the last date, he/she will face the penalty.
According to the Court's order, all such Jeeps including Land Cruisers, Prados, Pajeros, SUVs, etc. except double cabin exclusively for operational purposes shall immediately be handed over to FBR/ respective customs warehouses.
Read Also: Tesla Custom Duty Fiasco – Customs officials demand clarification from FBR
The Supreme Court, in a hearing, expressed its displeasure and concern over the usage of luxury vehicles by the officers of FBR (PCS, RS), which are either purchased/ confiscated (tampered) and are beyond the entitlement of the officers. And that is why the court has issued the order.
The order is indeed a great step as we have seen and it has also been reported many times that FBR or Customs officers use vehicles, which have been confiscated from the people. FBR doesn't allow people to drive non-custom paid car; however, on the other hand, their officers use non-custom paid cars and sometimes many officials of FBR and Customs use same registration number/ number plate on various vehicles. These actions by the FBR officials were causing harm to the revenue of the country.
The argument they give while confiscating vehicles is that these are the non-custom paid cars and will harm the economy of the country; however, they use the non-custom paid cars. This was a total abuse of power and authority, and indeed the court's order must be appreciated.
Furthermore, it was also reported that some FBR and Customs official tamper the confiscated car they like so that they can use it for their purposes. Additionally, many cases have been unearthed where officers of concerned departments were involved in the selling of vehicles' parts which were confiscated, not only parts but also the vehicles have been sold into the market.
Read the concerned documents below: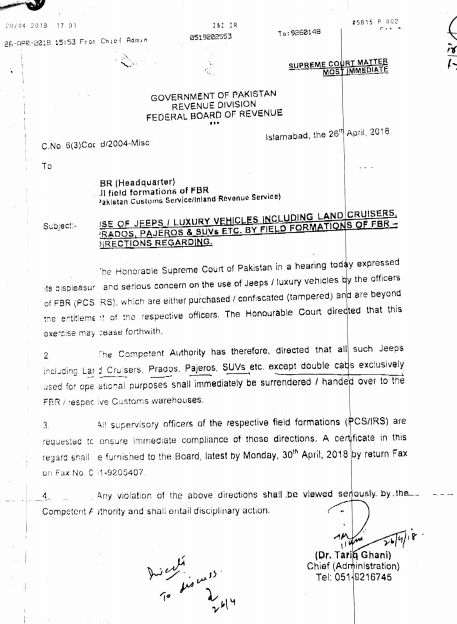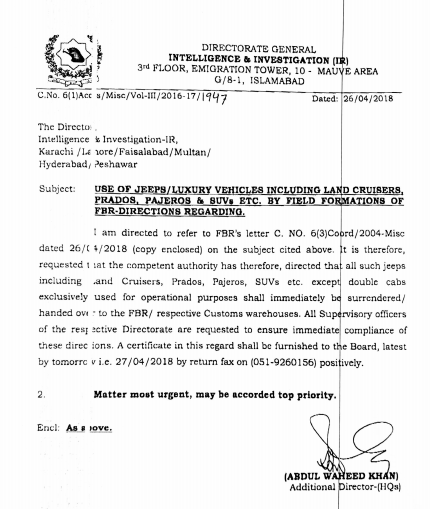 Drop your thoughts in the comments section below.