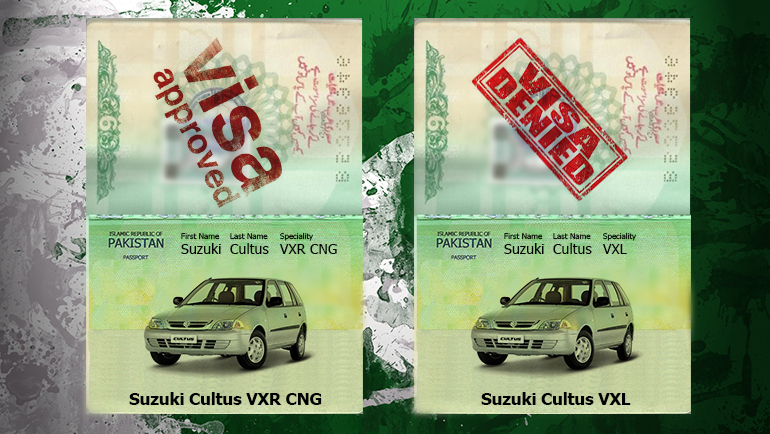 Suzuki Cultus And Mehran Are Back With CNG In The Trunk As Cultus VXL Departed!
Pak Suzuki is confused, and so are we. The globally declining prices of oil are pushing fuel prices to some of the lowest level ever recorded, although you can argue in Pakistan, prices are not decreasing as much as globally, yet fuel is cheaper now and many people have moved off over from CNG to petrol and why not?!
High fuel prices before this fall did give a unwarranted boost to the Suzuki vehicles equipped with CNG from the factory, but government's shift in policy to root out the use of Natural Gas at least in the private vehicles thus, having the ability to provide to the industry and energy production. This massive shift in government's policy sent a ban to the import of CNG cylinders and made the manufacturers stop producing factory equipped CNG vehicles; meaning, Pak Suzuki sales took a nose-dive.
On 11th September 2015, Pak Suzuki reintroduced factory equipped CNG Cultus and Mehran. That comes after Landi Renzo, the Italian manufacturer of CNG Kits who had set up a plant for production of cylinders and kits had urged the government to allow use of CNG kits in locally assembled cars, in addition to the demand of waving off 20% duty implemented on import of parts.
Landi Renzo had been exporting CNG kits worth Euro 3.7 Million to Brazil, China, Iran and Italy and was finally allowed to provide the kits to the local automotive manufacturers as well, notably, Pak Suzuki.
The price for Cultus VXR CNG is PKR 1,109,000/= while the price for Mehran VXR CNG is PKR 748,000/=.
What's worth mentioning here is that Pak Suzuki has discontinued the Cultus VXL, so we're all back to winding the windows back up like we're in the early 80s. Our inquisition to know what prompted Pak Suzuki to discontinue the VXL Cultus did not receive any official response however, from unofficial sources, the reason was 'unreasonable costs which no one was willing to pay for'.
Even today, the difference between Cultus VXR CNG and Cultus VXR without one is 75,000 rupees (70,000 rupees difference between CNG Mehran and Non-CNG one), and it was a similar difference between VXL and VXR and it was just ridiculous to pay 11 lac rupees for a Cultus with power windows and crappy power steering, and now, you don't even get that, you just get CNG. I mean, I'd rather go and buy a used Suzuki Swift which has done under 50K kms.