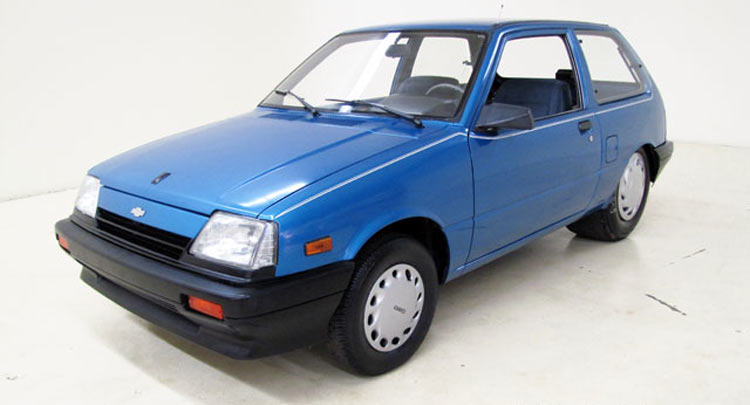 This V8-Powered American Suzuki Khyber [Chevy Sprint] Can Be Yours For $44,995 Only
The other day one of my respected fellow bloggers Mr. Aref Ali shared a very detailed article about buying a Suzuki Khyber. There is no doubt that the Khyber is an evergreen car in the Pakistani market, and one can still find a well kept Suzuki Khyber even after so many years. It is also one of the cars which is preferred by automotive enthusiast because of its lowered stance and a very good handling. It came to Pakistani market as Swift as an imported model and was rebranded as Khyber when Pak Suzuki started to assemble it locally back in the late 80s early 90s.
Also Read: Used Car Buying Guide: Suzuki Khyber
Swift or Khyber you may call it was also introduced in the United States under Chevrolet badge and known as Sprint and was a very famous car back in 1984 although it was a tiny little car compared to the huge gas guzzlers available on the market at that time. Fuel prices were low, and people never bothered about fuel economy, so sales of such small cars were also quite low. It is interesting to note that Sprint is the 3rd most fuel efficient car in the United States since 1984 with 44-city and 53-highway miles per gallon that too without any hybrid technology. It used to come with same the 1.0-liter, 3-cylinder engine what we know from our Khyber. The car was light but not very fast, and it took 15 seconds minimum to reach 100 km/h. But it was a superb city car and perfect for going from point A to B within a city. Chevrolet and Suzuki later ended their partnership and various of Suzuki rebadged models under GM and Chevy vanished. In the States, you will hardly see a Sprint on the roads. I once spotted a Geo Metro [rebadge version of Suzuki Cultus] and it was in a terrible shape. I can easily say that you will only find these cars as collectors' items and in very good conditions only, and no one wants to sell these if someone has one.
Also Read: Suzuki Cultus Was Known By As Many As 14 Names Around The World
Now recently a heavily modified two-door Sprint [Khyber] has surfaced on the internet and were for sale. Well, it looks like an ordinary Sprint, and everything is stock on exterior until you see the size of rear wheels. Open the hood and you will find a huge engine inside. The engine is an all aluminum 945HP twin-turbo 6.6L V8 with forged crank and rods, CP pistons, twin Precision Turbos and lot of other things which makes this a true sleeper. As per the seller, this 'Khyber' is street legal as well. According to the seller, it is truly an engineering marvel, and I think it is as we all know how small the car is which is now holding such a monstrous motor. The car is for sale at a hefty price of $44,995, and I think some enthusiasts will buy it for weekend track day fun. I believe we have very decent and professional mechanics, and car owners in Pakistan who can build such cars provided they get parts easily in local markets.