Something strange happened a few days ago. My friend and I stumbled across a traffic police constable while taking a turn to Tipu Sultan Road from Shara-e-Faisal. I was a bit surprised since we didn't break any signal or traffic law. Anyhow, my friend stopped the car and got out.
The cop asked for the driving license and registration paper of the car from my friend in a usual rude manner. Although such behavior has become a norm these days for us Karachiites, it still made me angry. My friend, however, didn't protest and quietly handed the papers over to the constable.
After briefly examining the license, the police officer turned to his fellows. My friend followed. Since I was sitting in the car, I didn't know what was happening there. My friend argued with the cop for some 15 minutes. When he returned, he wore a long face. "They are saying my driving license is fake. There will be a hefty fine," he told me.
My friend tried his best to tell the cop that he got his license from the Nazimabad Branch of traffic police and that too after a long struggle. But they didn't listen and insisted on a fine. However, they later let us go after taking Rs1,000 and warned my friend to get the valid license as soon as possible. When I asked my friend for the receipt of the fine, he said he had forgotten to ask for it in panic.
Also Read: 90pc Of Drivers In Karachi Don't Have A Valid Driving License
We shared this incident with our office colleagues, one of whom said he had suffered the same fate near the National Stadium Road. This made us quite puzzled and, of course, frustrated. After some online searching and asking people around, we came across a mobile app that can check whether your license is original.
The Android app, 'Driving License Sindh', can be downloaded from Play Store for free. The app confirms your license details by searching the traffic police database. Therefore, you will need Internet access via Wi-Fi or mobile data.
The process is quite straightforward. You enter your national identity card or driving license number. If your license is valid, the app will show you details like the name of the license holder, type of license, dates of issue and expiry, etc. But if isn't authentic, you won't see any details on the screen.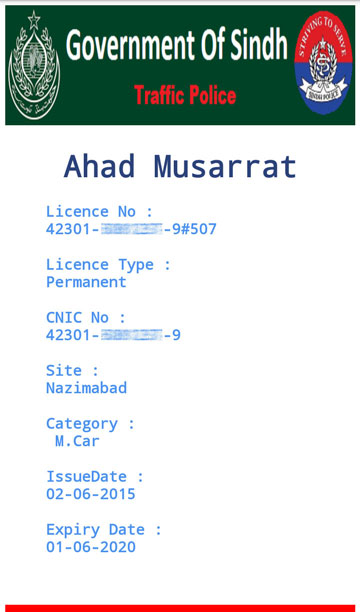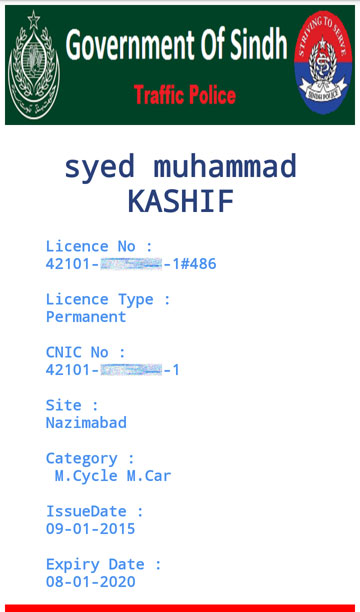 However, if your license is original and you still don't see any details, you should visit the nearest traffic police office as soon as possible.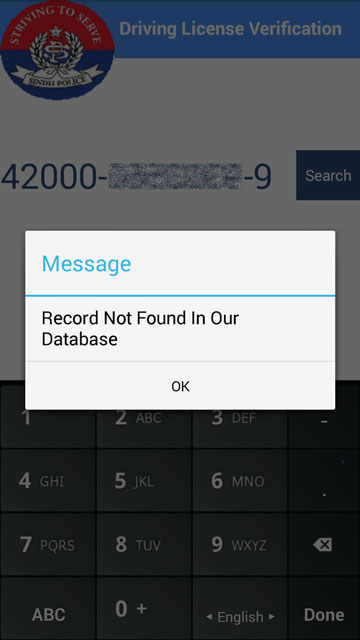 Although we don't know the legal standing of this app, for now, it is surely the best way to counter someone who starts to question your license's authenticity in the middle of the road.
Also Read: Rage Against VIP Culture In Karachi, And Now's The Time To Get Yourself A Dashcam!
Like any other ordinary citizen, I can only hope (against hope) that when the police system is made efficient and police officials are made answerable to public representatives, only then will we be able to verify driving licenses and register cars through an SMS or other such means. And that will indeed save us from the everyday headache people like my friend have to face every day.