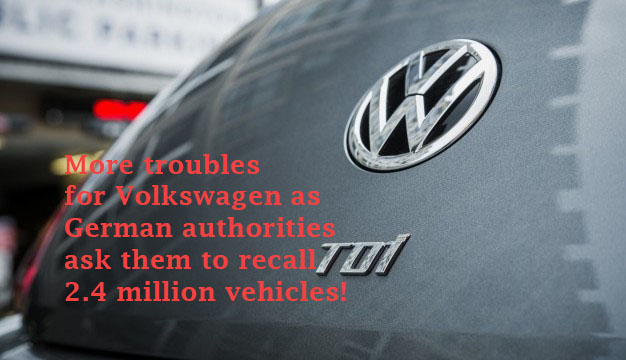 Volkswagen Forced To Recall 2.4 Million Vehicles In Germany
Volkswagen just can't catch a break these days, the reputation of the company has plunged to an all time low in just a couple of weeks and it seems the same is going to happen to Volkswagen's already declining share prices. It was already feared the automaker might face a ban on sales in its home country. Authorities from Volkswagen's home country Germany are forcing VW to recall over 2.4 million vehicles that are equipped with the infamous cheating software used to trick emissions tests.
VW originally requested for a voluntary recall in which customers could bring their car in to be stripped of the software if they want to. The German authorities denied that request and told VW to present a proposed fix for the millions of vehicles affected by November, a plan that will start being implemented in early 2016 and be completed near the end of 2016. This decision by the German authorities is obviously going to cost VW a lot more money than anticipated. It includes all the cars made under VW umbrella, like Audi and SEAT, running on the said software.
You Can Read about how VW got caught, here!
Volkswagen still hasn't released word on how it plans to fix the 11 million vehicles that have been affected globally. Many may be fixed by a simple software update but others may require mechanical alteration. VW has been given until the 20th of November to outline a solution and this is just the tip of the iceberg. It may be few years or potentially a decade or so before this issue is ultimately resolved, that is if VW manages to stay alive through this catastrophe.