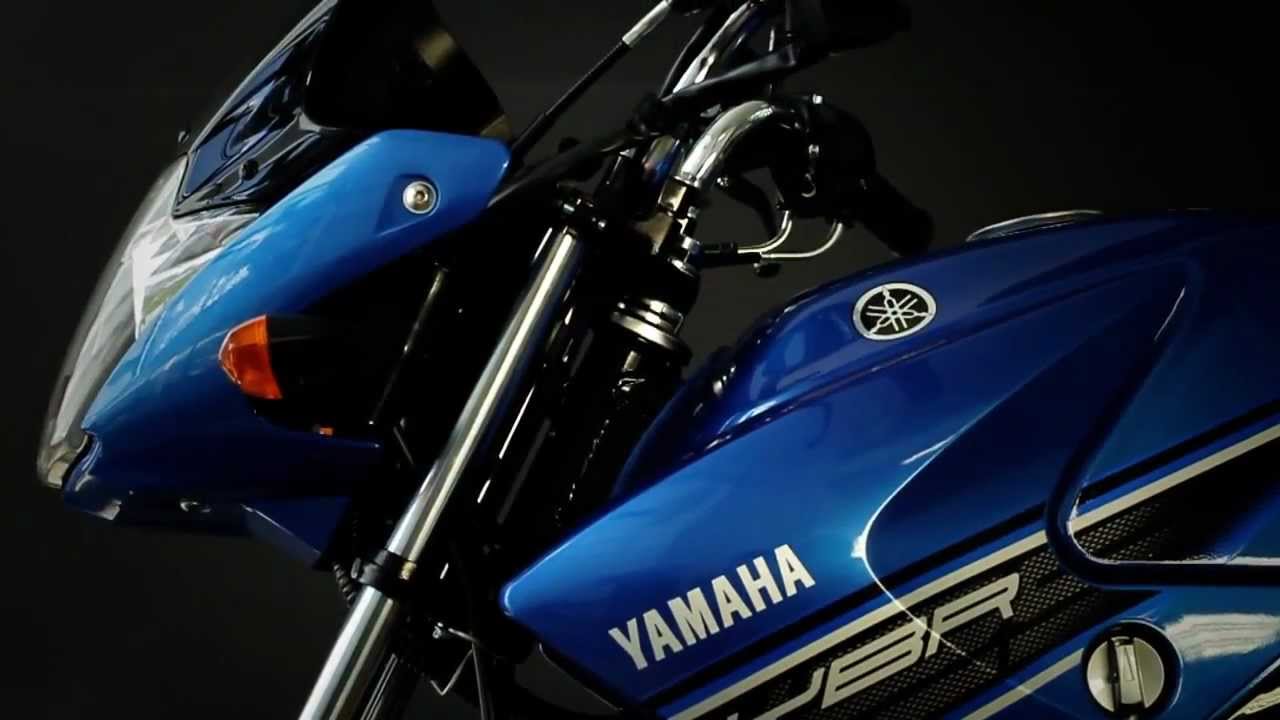 Will Yamaha Turn Into Another Honda/Suzuki, Or Remain A Real Option For Pakistani Buyers?
..Yamaha Japan launched their new YBR 125 bike last year, and it was received quite well for a new entrant. Yamaha had been trying to tap into the market for a long time but was unable to get clearance until Finance Minister Ishaq Dar stepped in and made sure Yamaha starts the production as soon as possible.
The YBR125 was so successful that it was being sold on 'on' for few months after its release. Company's original price of Yamaha YBR 125 was Rs 129,400 and some dealers in Karachi set the spot buying price to Rs 135,000. And on top of that dealers were demanding 4000 rupees for the registration of the bike. At the end of the day, a 125cc bike was costing a common buyer for around PKR 140,000. Things have changed now a bit since the initial demand of new customers has settled down. Suffice to say, Yamaha saw some healthy growth after its launch.
But it wasn't as easy as it seems now. It was tough for Yamaha in the start. Yamaha was willing to invest something like USD 150 million and were eager to start their operation here. Ito Yasushi, General Manager Yamaha Japan, showed company's interest to make Pakistan the hub of export. The launch plan had three stages:
Injection of 4.3 billion yen (training of personnel and production)
Injection of 7.4 billion yen
Injection of 3.3 billion yen (aim was 90 percent localization of their manufacturing)
Also Read: Honda CG-125 v. Yamaha Ybr-125: Comparing The Two Most Popular 125cc Bikes Of Pakistan
The investment was forced into a blockage by the Pakistan Automotive Manufacturers' Association (PAMA) as well. Their objection was that Yamaha was given special consideration that were hurting the existing motorcycle manufacturers (Atlas Honda, Suzuki and several 70cc bike makers). Director General PAMA Abdul Waheed Khan wrote to the then Finance Minister Dr. Abdul Hafeez Shaikh to stop Yamaha's investment. He argued the local manufacturers are planning to invest in their infrastructure to increase the yearly production of all bikes to up to 2.5 million units and Yamaha had an unfair advantage. And that did hurt Yamaha's plan quite a bit, and they couldn't move forward until the government changed, and new Finance Minister took the position.
It is my personal opinion that the DG PAMA should have also mentioned in the letter that those 2.5 million bikes were of same 40-year-old technology and design. It was quite obvious that local bike makers were only trying to make Yamaha's life hard. They were selling their bikes like anything and no way were they going to let anyone else join the party. The total number of bikes sold from July 2014 to December 2014 was 414,920 units and from July 2015 to December 2015 was 517,894 units. That is a direct jump of 100,000 units.
Also Read: Atlas Honda US$ 100 Million Investment Doesn't Mean New Exciting Honda Bikes For Pakistan
Yamaha being a famous and reliable brand was going to take a nice big chunk of the bike market home. What those assemblers quite comfortably chose to forget was that not letting a new company invest in the country was going to hurt the nation and country's economy as well. They were simply blocking an influx of a healthy amount of cash for their own benefit.
Well, one thing is for sure, we must applaud Yamaha and their motivation to invest in Pakistan and make bikes here. I am pretty sure if there had been anyone else instead of Yamaha; they would have considered Pakistan a lost cause and moved to another country.
When comparing the sales of these bikes like Honda, Yamaha and Suzuki, Honda is the obvious winner, and there is no denying that. It will take Yamaha a whole lot more to come to the level of Atlas Honda as far annual sales are concerned. So let's just put Atlas on one side for now. Suzuki is the real competitor of Yamaha for now. Following are the sales of last six months of bike sales of these three motorcycle assemblers.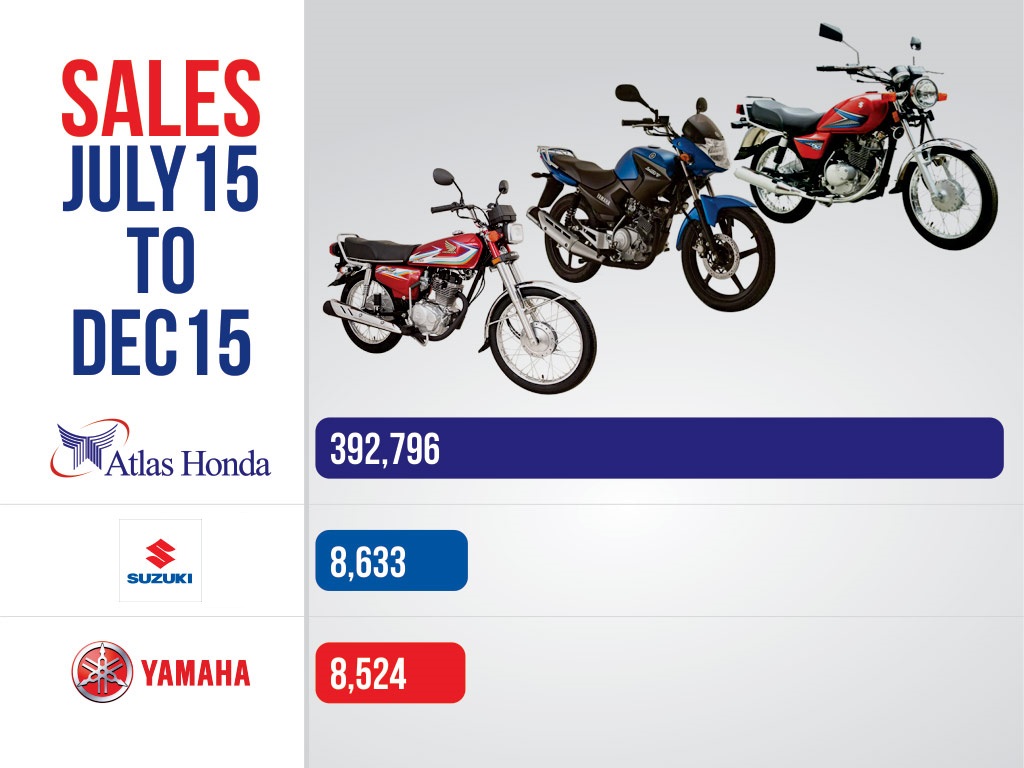 Suzuki has been in the market for such a long time. And Yamaha being just a year old was able to sell almost as many bikes as Suzuki. And yes, the name of Yamaha is not new, and people have fond memories of the brand. But considering it's a new party that is assembling the bike (not DYL), and there are only two types of bikes under their current portfolio (YBR125 and YBR125G), and both not being what is nowadays considered as a 'family bike' (higher/sportier fuel tank position), Yamaha was able to compete with a company that has as many as 5 bikes (not counting three heavy bikes) and has been selling bikes in Pakistan for ages now.
But what actually concerns bike enthusiasts such as me and many others, is how Yamaha is going to continue with their products in future? There is no doubt in my mind that their sales will increase more and more in coming years and sooner or later, they will be competing with a giant like Atlas Honda. But what are the chances they will remain true to their roots and offer something different than others? It's not news anymore that Yamaha will be launching a so-called 'family bike' under the name of YBR125-Z to compete directly with Honda CG125. The bike is supposed to be a regular street bike on which a common man can haul a small family of four easily.
Bikes like YBR and YBR-G have way too much plastic and fancy bodywork going on. I doubt they will be well received in rural areas of Pakistan. Compared to rural areas of Pakistan, only a handful of Pakistan's population live in cities. Many find it hard to believe, but a big chunk of automobiles are bought and used in the rural regions throughout the country. And those are the places where you need a bike that won't lose its fancy fairing after going through a couple of big potholes in rural Sindh.
Atlas Honda is milking the market with their same old bikes for decades now. Except new 5-speed Deluxe, all are what we have been saying for years and years now. Yamaha is the true potential threat to Honda's reign. There is no doubt they have an uphill battle, but let's just hope Yamaha doesn't lose the focus, and don't turn into another Honda or Suzuki.