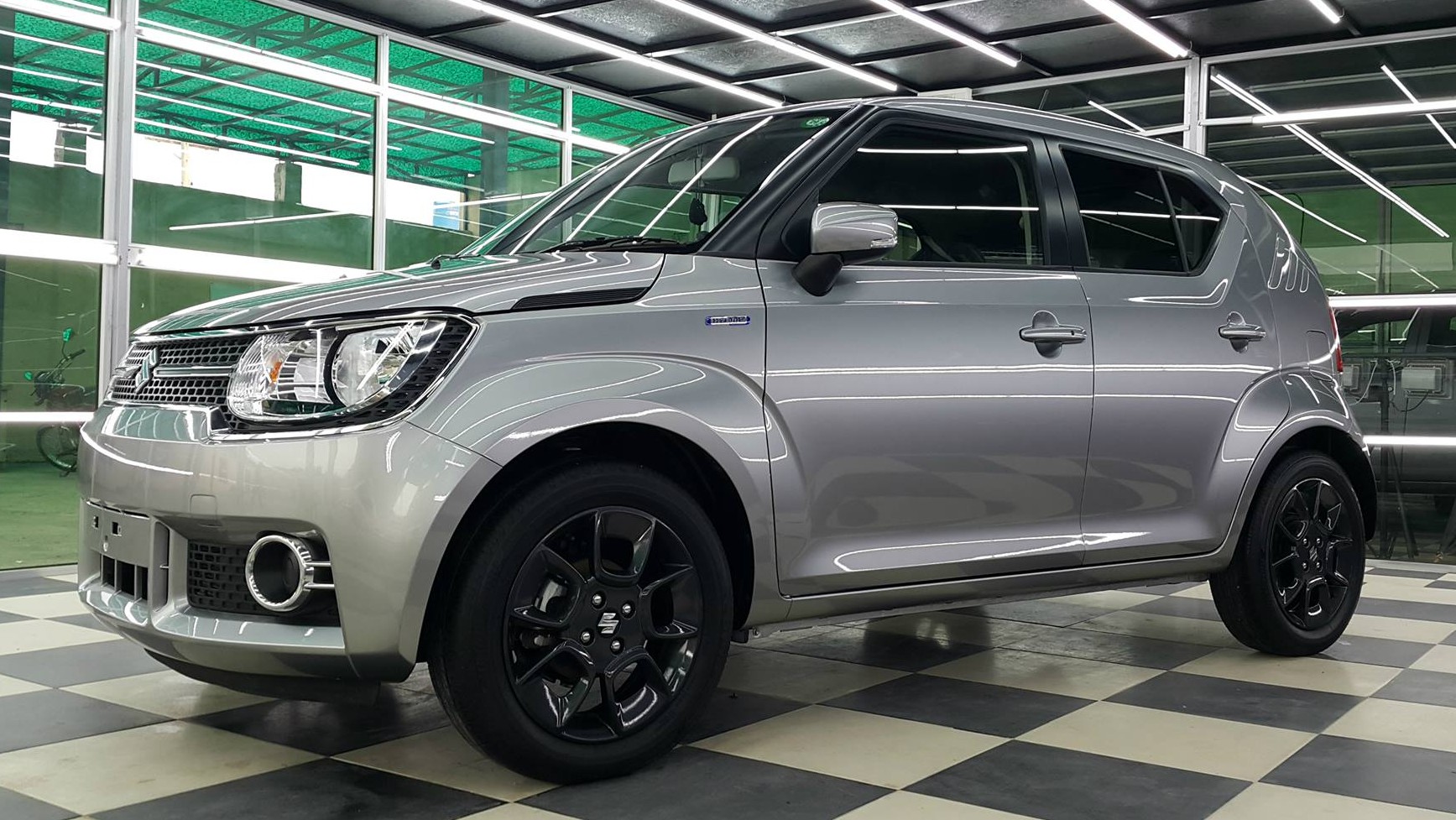 2016 Suzuki Ignis Hybrid Owner's Review
Before beginning the hunt for my next vehicle, I finalized the maximum amount I wanted to spend and the range bracket came out to be 1.8-2.2 million PKR. My certain prerequisites were; it had to be JDM, it had to be 2014 or higher model with no more than 10k on odometer and it had to be Grade 5A or better condition vehicle. After a detailed workup, I shortlisted the following options:
Honda Fit GP5 2013
Suzuki Ignis 2016
Suzuki Swift JDM 1.2L 2014
Toyota Vitz 1.3L 2014
Toyota Auris 2014 1.2 L
Mitsubishi Mirage 1.2L 2016
Mazda Demio 1.3L 2014
Making the right call wasn't easy. Toyota Aqua and Honda Fit are full size hatchbacks and are among best seller hybrids but main deterrents for me were older manufacturing and below average ground clearance for sub-urban drives with passengers on board. Swift, Vitz & Mirage are more compact hatchbacks with duty structure on above 1.0L gasoline vehicles not making them value for money in my opinion. Mazda Demio 1.3L 2014 I really liked but Mazda's presence here is almost non-existent. Suzuki Ignis Hybrid was a recent launch in Japan (Feb, 2016) and caught my eye last year in Tokyo Motor Show. So in reality, it was going to be judgment call and to many, a risk. But after careful workup, my mind and heart were set upon 2016 Suzuki Ignis Hybrid. More than anything else, I guess zero meter hybrid crossover availability in this price bracket with modern tech was the deciding factor for me in the end.
Introduction
Suzuki Japan jumped on the environment friendly bandwagon in 2012 with the introduction of "Suzuki Green Technology" in their selected vehicles. Ene-Charge, Ene-Cool, S-Ene Charge, TECT body structure (more tensile strength but lighter in weight) & Idling Stop encompassed these technologies. The aim was to make environment friendly cars that are enjoyable at the same time.
2013 became the debut year for Suzuki's latest Engine series "Dual Jet" which utilizes 2 injectors per cylinder resulting in higher thermal efficiency. In 2015, Suzuki decided to upgrade their micro/semi hybrid tech to mild hybrid form with the launch of SHVS (Smart Hybrid Vehicle by Suzuki). In Japan, it was introduced in Suzuki Solio/Solio Bandit and in India it was introduced in Suzuki Ciaz, Ertiga followed by Baleno.
Suzuki Ignis was presented as a concept in Tokyo and Geneva Motor shows in 2015. On Feb 18, 2016 its sales started in Japan and the vehicle was given the latest SHVS and 1242cc Dual Jet engine.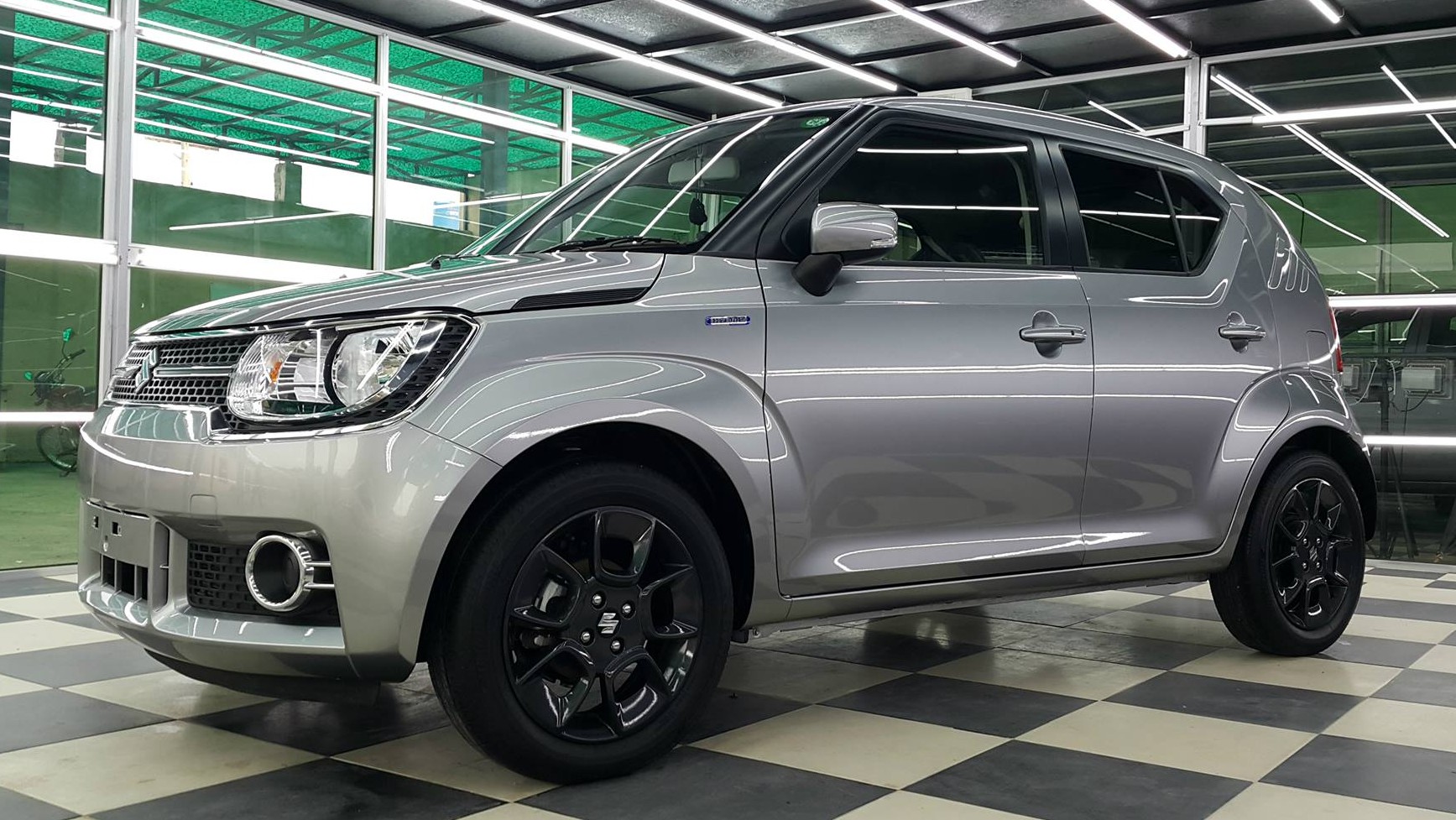 Smart Hybrid Vehicle by Suzuki Japan is categorized into mild hybrid system category (for reference Honda's previous IMA in Insight, Civic and last generation Fit are most familiar examples of mild hybrid system).This system differs from Full hybrids in the sense that the vehicle is unable to run on EV mode alone, primarily there is Motor assist (in engine restart as well as acceleration), Regenerative Braking and Idle Stop functionalities achieved with the help of a separate Li-Ion Battery. Motor assist in Ignis is achieved by a modern Integrated Starter Generator (Motor) which adds 50 N-m torque and 3Bhp (can assist engine up to 100kmph and for a maximum duration of 30sec before recharge). For details please see the video below:
Now thankfully, after having owned and driven 2016 Suzuki Ignis in various conditions for almost a week, here are my detailed personal impressions about this car for all who are or might get interested.
Design
Exterior
Crossover category has recently started seeing sub divisions; Sub-Compact crossovers. The recent worldwide success of Crossovers has been a testament to the acceptance of this design category. Sub-compact crossovers are categorized on vehicle length; these are less than 4m in length as compared to the compact crossovers which are over 4m in length. If we compare the dimensions with Honda Vezel Hybrid, Ignis is 2m shorter in length but has almost the same height, width and ground clearance as that of Vezel Hybrid.
Pros
Call it funky or flippin' ugly depends upon subjective perception, but one can't argue with the bold approach taken by Suzuki to stand out in a crowd. Fusion of modern and retro is evident. The front is beautiful. Chrome lined grill, Exhaust shaped vents at the outskirts of bonnet to give it a sporty look, Fog lamps, LED headlights (only in MZ trim), SUV styled fenders, every inch of designing detail has thought put into it and it shows. The back certainly is inspired by SUV's with LED stop lamps. Fender arches on the rear fenders give a beautiful aggressive look to the exterior. Most of all, as a package, the road presence is there. 16 inch black alloys which come as standard complement the package aesthetically. To say this is one of the best designs Suzuki has come up with in recent years, won't be an overstatement but of course is completely subjective.
Cons
Parallel rear view from a distance is a letdown to me personally with the roof narrowing too much at the top for my liking. LED headlamps are only being offered in top trim (MZ) and should've been standard in at least 2 out of the 3 trims available. Also, full LED back lights like the concept should've made their way to production model.
Interior
Pros
The moment you open Ignis's door and step in, you can't help but feel that you're witnessing a truly refreshing and modern interior room. Dual color tone is standard in top 2 trims. The steering is well designed and very comfortable in daily driving. The climate control panel is a piece of art that resembles a jet cockpit panel. The self-illuminated meter, I-MID and gear lever all beautifully designed. I-MID functionalities are great. Quality of seat fabrics, interior build materials and their finish is top notch for its category. Leg space and overall cabin space is good for its size and although 3 average adults can squeeze easily on the back but in all practicality it is a 4 seater. Magic seat system comes in real handy when one wants even more space for cargo or leg room. Trunk space is more than decent to carry 4 passengers' luggage on the go. All in all, Ignis's interior design fuses together the personal feel of a coupe and the comfort of a minivan at a high level.
Cons
The piano finish around the gear console and In-Car-Entertainment screen is a bit prone to micro scratches and swirls so use and clean with care. Also, like Vezel, rear center seat is not the most comfortable in long drives for the fifth passenger.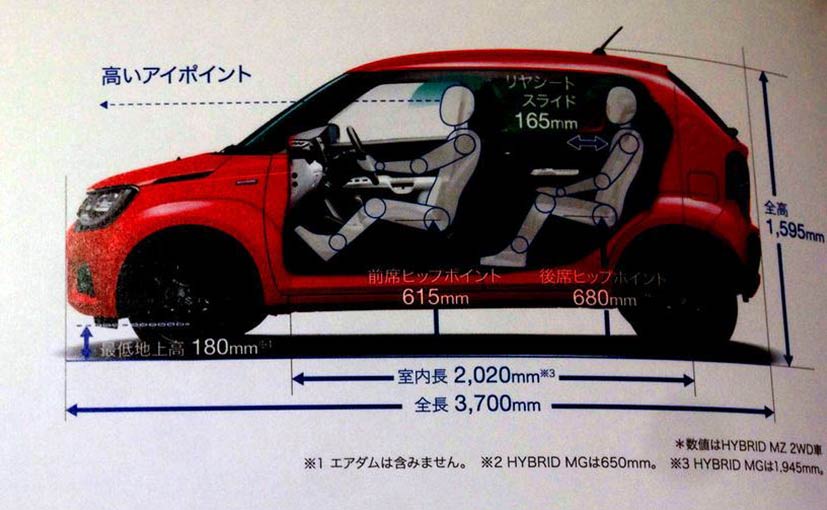 Engine
Suzuki Ignis Hybrid is equipped with a 1242cc DOHC Intake and Exhaust VVT Engine, Suzuki's Dual Jet Technology coupled with Suzuki's SHVS (Smart Hybrid Vehicle System). It has Continuously Variable Transmission with 7-speed paddle shifter option in MZ trim. Mileage figures for MX, MZ trim are rated at 28.0 kmpl as per Japan testing cycle, and personally I am getting 18-24 kmpl with ac in Lahore with ease depending upon how I drive. Total Horsepower with motor assist is 92 Bhp. Few people may be wary of the fact that Ignis could be underpowered, but what we must also take into account is that it only weighs 880 kg (almost 120kg lighter than Suzuki Swift, thanks to the new TECT platform) and therefore you get great weight to power ratio, with 0-100 kmph time of 10.8 seconds. (For reference, 1.8L PKDM Civic prosmetic 9th Gen does 0-100 kmph in 10 seconds). Top speed is 188 km/hr.
Drive
This is arguably, the most important aspect in a driving machine. It could be beautiful and have all the perks, but if it doesn't drive well, then that's a serious drawback. Fortunately, for Suzuki Japan, Ignis passes the drive test with flying colors. Right from standstill, it is smooth as silk in drive and acceleration. Engine sound is almost non-existent at lower RPM and even in throttle very pleasing mild roar is there. Extremely quiet engine restarts after idling (due to Integrated Starter Generator) makes the whole drive experience absolutely sublime. Motor assist surprises you with the added torque. Switch to "Sports Drive Mode" and it's really nimble and swift and comparable to 1.5L gasoline counterparts. Road grip and handling around corners has nothing to complain about, in fact surprisingly good for a sub-compact crossover. Traction control is there but personally I found the drive and handling to be better with it turned off as there was occasional under steer with default mode traction on. High speed stability is comparable to heavier vehicles and ring road test run in Lahore was a joy to experience. It has a very quiet cabin due to excellent sound proofing, again a hallmark of modern JDM's. At 120kmph, I couldn't hear any road or outside noise. Suspension feels ideally tuned for the design it has, though it is softer than Vezel yet slightly stiffer than hatchbacks and sedans which is understandable for its design category. The sleek beams on driver's sides are very well placed and limit the issue of blind spots very efficiently. Rear view visibility is excellent. Anti-Lock Brakes with EBD do their job as they should and make you feel completely in control of the machine. Air con performance is powerful. Safety Package is available as a manufacturer option for all the trims (for extra PKR 150k) and includes extra Airbags, Lane departure warning, City collision assist, Park assist, Dual camera brake support, Emergency stop signal, False start suppression function, the preceding vehicle start notification system and Stagger alarm function.
Cons
Steering could've been a touch shorter in diameter. Paddle shifts should've been standard in all trims. There is occasional under steer with traction on.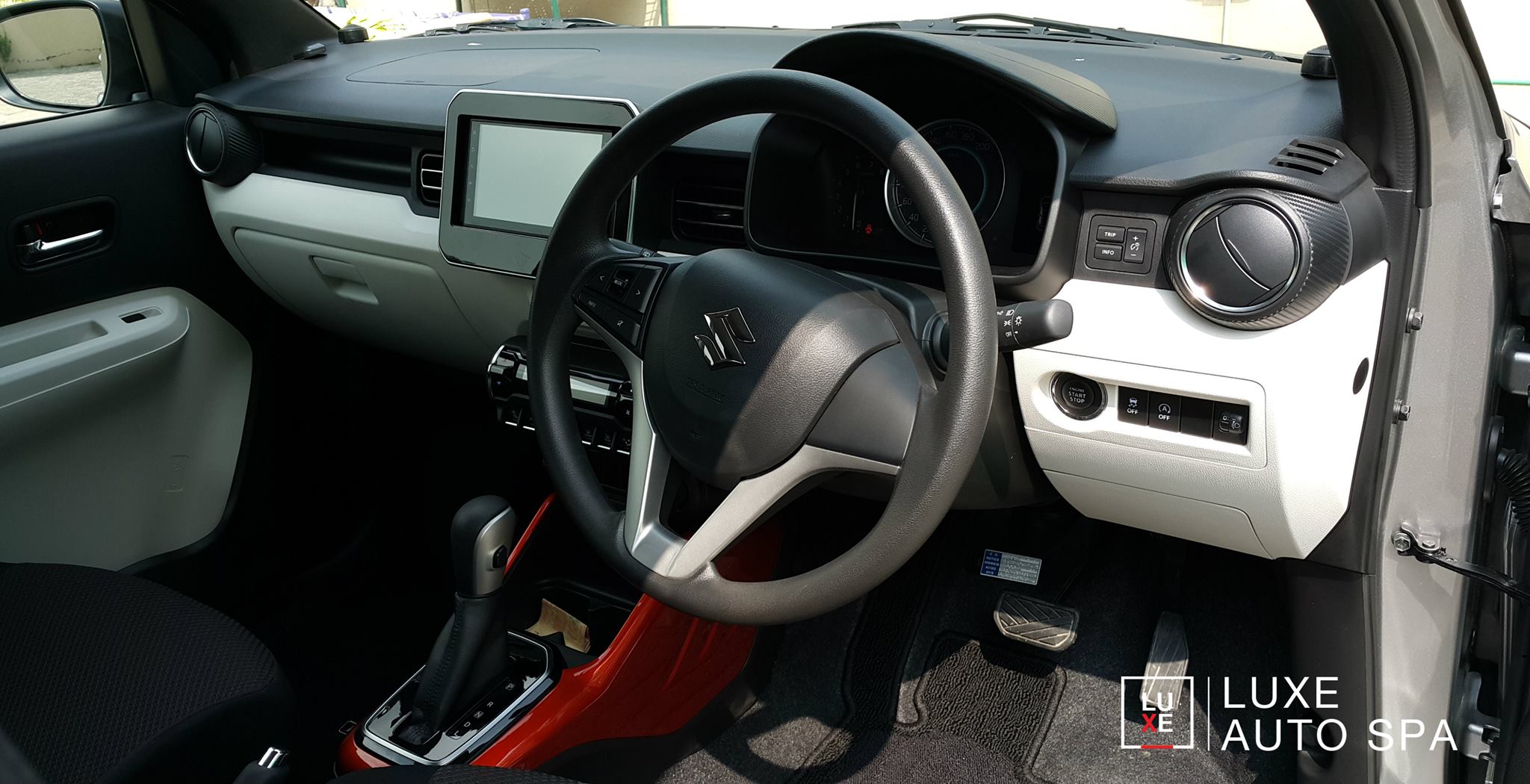 Standout Handy Modern Features
Safety package (Details above: under Drive section)
Vehicle Stability Assist (Traction Control )
Adjustable Head Lamps(MG,MX), LED Auto Head Lamps(MZ)
Push start, Airbags, Climate Control, Multimedia Steering, Cruise Control(MZ)
5:5 split retractable rear seat with slide and reclining mechanism (Magic seats)
Suzuki Smart Keyless Entry System with Immobilizer
Hill Hold Control
Hill Decent Assist and Grip Control for off road safety (AWD only)
Front seat belt shoulder adjuster
Suzuki Eco-Cool tech (keeps ac fan air cooler on idling stop)
Rear heater duct
Heated driver's seat (passenger heated as well in AWD)
Heat absorbing and UV cut function glass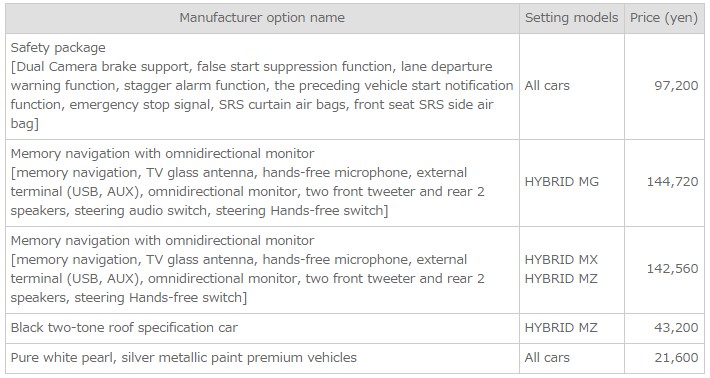 Verdict
The all new 2016 Suzuki Ignis Hybrid is probably Suzuki's boldest effort in some time. Its modern styling makes it evenly attractive to younger generation and its practicality will more than satisfy family people looking for a comfortable daily ride. With ground clearance comparable to Crossovers like Vezel, Ignis can be taken to rural or northern areas with confidence as well if so desired. An access not only to comfy economical urban drives but also to off roading in this price bracket surely has to be appreciated. Availability of spares, as with most foreign vehicles will always be a point of concern but this is the trade for quality and safety one makes. With the JDM options at our disposal in this price range, Ignis Hybrid is surely a welcome addition and a complete standout. Next year with costing falling under 2 million PKR for slightly used Ignis Hybrid, it could make an even better value for money and also since no Hybrid Sub-Compact Crossover competitor is presently faced by her.
Overall 8.5/10
(2016 Suzuki Ignis is available in 3 trims; Hybrid MG, Hybrid MX and Hybrid MZ with option of AWD as well)
(Self-Import Costing estimates for zero meter Ignis Hybrid 2016 as per current yen/dollar Aug 2016;  MG: Approx. PKR 19-20 lac, MX: Approx. PKR 20-22 lac, MZ: Approx. PKR 22-24 lac) (Pearl white & Titanium Silver Metallic the most expensive colors)