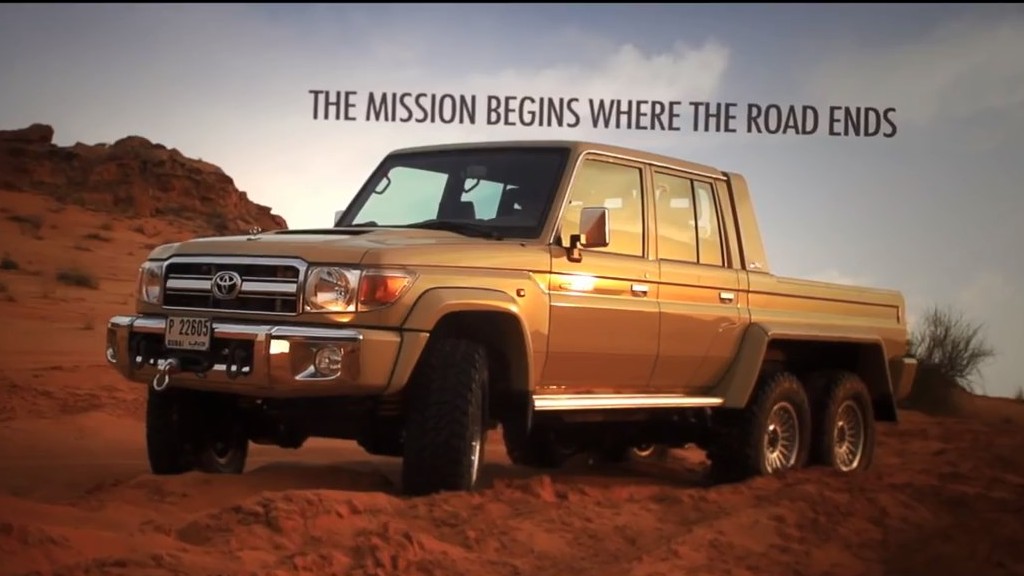 Video: 6×6 Toyota Land Cruiser Is Here To Compete With The Incredible 6×6 Mercedes G63 AMG
When Mercedes came with their 6×6 AMG off roader, it caused quite a buzz. Arabs absolutely loved that thing, and you might remember seeing it on Top Gear UK as well, where Hammond drive it in a pool. Only 100 of those were ever made, so they are super rare. But now, Toyota has brought their ace in the game as well. And it's big and tall and has six wheels, just like the G63 AMG 6×6.
Also Watch: SpaceX – Falcon 9 Rocket Successfully Lands On A Drone Ship In The Ocean For The First Time
But this is where the similarities end between the two. The AMG 6×6 was kind of a luxury vehicle with some serious off-roading capabilities. It had 5.5-liter twin turbo V8 producing 536 horsepower and 561 pound-feet of torque. The power was sent to a seven-speed gearbox that would then transfer it to 3 axles. This Land Cruiser, however, is more basic and kind of bare to the bone. It has a simple 4.0-liter supercharged V6 mated to a 5-speed manual gearbox and makes 398 horsepower and 364 pound-feet of torque. If you fancy a diesel engine, you can get a 4.5-liter V8. There is an option of an automatic gearbox as well. The 6×6 Toyota Land Cruiser is fairly simple compared to the AMG 6×6.
This 6×6 Land Cruiser is a product of a joint venture between Australian Multidrive Technology and Dubai-based NSV. Multidrive Technology specializes in purpose-built specialty vehicles like the military, firefighting, and mining vehicles and vehicle conversions. For now, they have released the following video. Let's wait for more details and some more videos.
Enjoy the video: