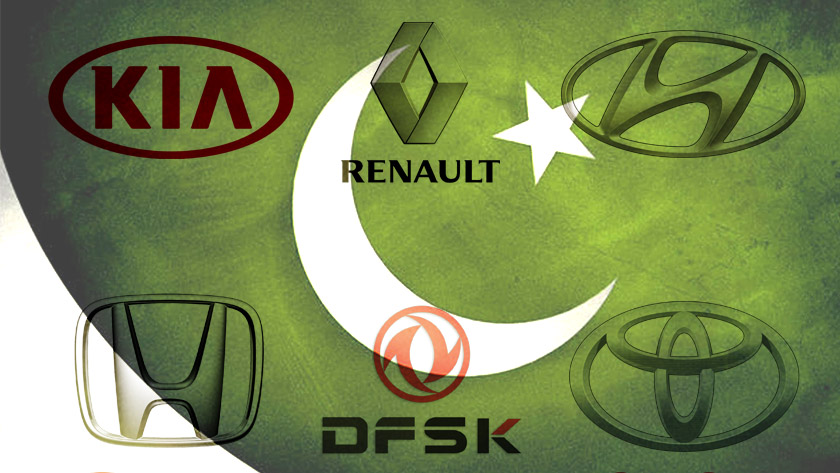 Honda, Suzuki, and IMC gearing up to lock horns with Renault, Kia
Since the news that many new automakers are coming to the country next year, a lot of buzz and commotion have started in the local market. The international automakers which are potentially coming to the country include Renault, Kia, Hyundai and many other Chinese brands in collaboration with local companies. According to the available details, the automakers will be launching cars in the country in next year or so.
With the incoming of foreign automakers, the existing local automakers Honda, Toyota and Suzuki are getting ready to lock horns with them. It would be worth mentioning here that the local popular automotive brands would not only face a challenge from international automakers, but also from many new local automakers which are rising on the scene such as United Motors and collaboration of DFSK and Road Prince.
The first company which sensed the wind of change was Toyota, and the company started changing its techniques to counter the foreign invasion. The steps which the company has taken till now is as below.
Filtering out elements which cause a delay in the delivery time of its vehicles– so that real buyer can get hands on the car in no time.
Planning to increase its production by additional 10,000 units per year by investing $40 million.
It is also expected that the company will discontinue its iconic GLI and XLI models. However, we predict that they will be replaced by either 1300cc 2018 Vios or a 1.0L 2018 Yaris (Vitz).
IMC will also launch new hybrid-Camry soon.
The company is also planning to launch all-new Fortuner with a Diesel engine.
Now coming to Suzuki, the company has introduced five new vehicles this year;
A subcompact sedan Suzuki Ciaz and a pickup Mega Carry
High-end heavy bike GSX-R600 and a 150cc bike GR150.
Moreover, it would be worth mentioning here that it is rumored that the company is planning to launch 660cc Alto in the first quarter of 2019.
And lastly, Honda Pakistan;
The company will re-launch its 1.5L Honda Civic turbo in the first quarter of 2018. The car was discontinued after it was causing a persistent knocking issue.
It is also rumored that the company might also launch a new city in 2018.
The company has also updated its navigation system.
There is a rumor circulating on social sites that Honda Atlas is planning to introduce locally assembled 1,200cc Brio. Let's wait and see how true this rumor is.
These actions show that these existing automakers which are monopolizing the local market for so long now have to take drastic steps to keep the consumers intact with the company as new automaker are coming to the market. The companies are enhancing their capabilities, updating their products to compete with the foreign automakers. Things have started to change people are now looking forward to buying vehicles from coming automakers such as Renault and Kia. The coming of these automakers will surely diversify the local market even further and will push Honda, Suzuki and Toyota Pakistan to give good products to their consumers.
Aside from the foreign automakers, big three, as mentioned above would also face competition from new local automakers such as United Motors and Road Prince.
United Motors is all set to launch two vehicles in 2018,
The company is geared up to launch the 800cc car, which would be a direct competitor of Suzuki Mehran.
Moreover, it is also launching a 1000cc pickup.
It is expected that the company will also launch new bikes in 2018 as well.
Building production plant in the country.
Road Prince another local bike manufacturer has joined hands with DFSK and has launched new vehicles in the country.
So, all in all, the big three are changing their strategies and will have to do more to fight the foreign and local invasion of automakers.
This is our side of the story, share your thoughts in the comment section below. Keep Motoring!