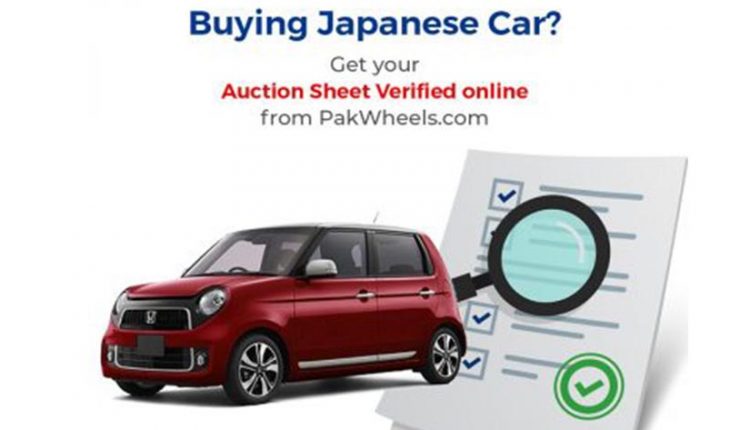 What is PakWheels Auction Sheet Verification Service and How to Read It?
Pakistan is primarily a used car market due to local manufacturers not keeping up with the demand of consumers, and people are not left with any option but to buy a used car or to import a car from other countries.
Most of the vehicles coming to Pakistan are imported from Japan which is known as JDM cars. Along with JDM cars comes an auction sheet.
In Pakistan, some people make an alteration in the auction sheet to omit or change certain things in it to make it look ok or error-less. Many buyers don't know how to decode the auction sheet or don't know where to go to get the auction sheet checked and verified that is why they get defrauded.
No need to worry at all, PakWheels.com is offering Auction Sheet Verification service which will help you to buy the Japanese car with complete peace of mind! In auction sheet verification, PakWheels will provide you the original auction sheet of the imported car. If a person is giving you a forged auction sheet, you can then easily tell it apart.
Also Read: How To Import Vehicles From Japan?
What is an Auction Sheet?
When you import a car from Japan, there are different auction houses in Japan that issue the auction sheet for a car. This auction sheet, much like your medical documents, tells the condition of the car at a particular point in time. Take note here that the auction sheet is a snapshot of the condition of the car before it goes to the Japanese port, then comes to the Pakistani port and finally lands at a dealership in Pakistan. In this entire procedure, the health and condition of the car can change drastically.
Why should you opt for the PakWheels.com Auction sheet verification service?
Get actual auction grade, mileage, and condition
Protection from scam and forged auction sheet
Protection from repaired and accidental vehicles
Protection from tampered/reversed meter vehicles
Helps you avoid fraudulent vehicles
How to opt for PakWheels Auction Sheet Verification Service?
The process is very simple just to go to the PakWheels.com auction sheet verification page enter your chassis number and hit the verify auction sheet button and complete the process. In the end, there will be several options to submit your payment such as Easy Paisa, Jazz Cash, or Debit/Credit card, choose the one which suits you.
The charges for using PakWheels.com Auction Sheet Verification Service is PKR 1500 for all kinds of JDM cars.
Note here that the auction sheet is sent to the user, via SMS and Email, as soon as the user has completed the payment. In case you haven't received the auction sheet just call us at 042 111 943 357 and our customer service agent will guide you through the process.
Also Read:  Here's Why You Should Be Cautious When Buying An Imported JDM Car
Few Things to Remember While Decoding an Auction Sheet:
What are Auction Grades? 
To understand the auction sheet, you need to know that there are two auction grades. These are the exterior grade and the interior grade. In the case of exterior grade, the highest is the "S" grade. It is reserved for new to relatively new cars (under 5,000 km). It then goes numerically from 5 to 1 and then the most inferior category for the exterior is R or A grade. In this grade, the car was in an accident, and parts were replaced or repaired.
In the case of interior grades, the highest one is "A" grade which is reserved for an immaculate interior with no faults. It goes all the way down to "D" grade where the car has a faulty, dirty, and stinky interior. There are different grading criteria for different auction houses. Some are very strict while others are relatively lenient in their grading of cars. However, the terminologies across the board are the same for all these auction houses. The following image shows a detailed exterior and interior grading scale: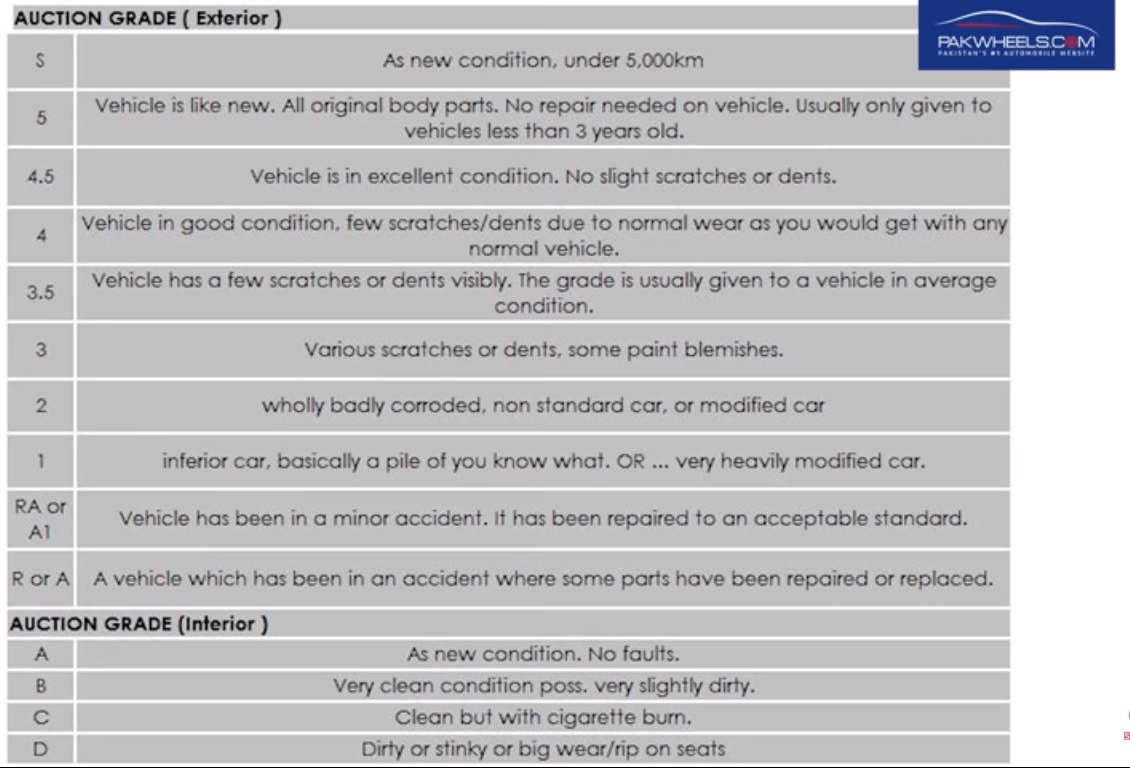 At times, "R" grade imported cars come to Pakistan and get sold here. These cars were in an accident and you can know about the replaced parts from the auction sheet. Parts that are labeled with "XX" on the auction sheet are the ones that have been replaced. It is good to get such a car as long as the replaced part is not being problematic. A single "X" means that the part needs to be replaced.

Read in Detail: What Are Auction Sheet Grades Of Imported Cars?
Read Comments and Options Section!
A lot of people make the mistake of not reading the auction sheet entirely. Mostly, people do not go further than knowing about the auction grade of the car. There are many things written in the comments section of the auction sheet that can tell you important information.
Moreover, look in the options section and you learn about different options and features of the car. These are written in the Japanese language that you can easily translate. For this, you can use Google Translate application on your smartphone.
Frequently Asked Questions:
Is the auction sheet modified by PakWheels?
We deliver auction sheets as it is, without any tampering or customization by PakWheels.
I have made the payment. How will I receive the auction sheet?
Once found and verified against the chassis number you supplied, the auction sheet will soon be shared as a soft copy link through SMS and email.
Also Read: Disadvantages of Buying a Non-Custom Paid (NCP) Car
Stay tuned for more guidance-related content and drop your thoughts in the comments section below.