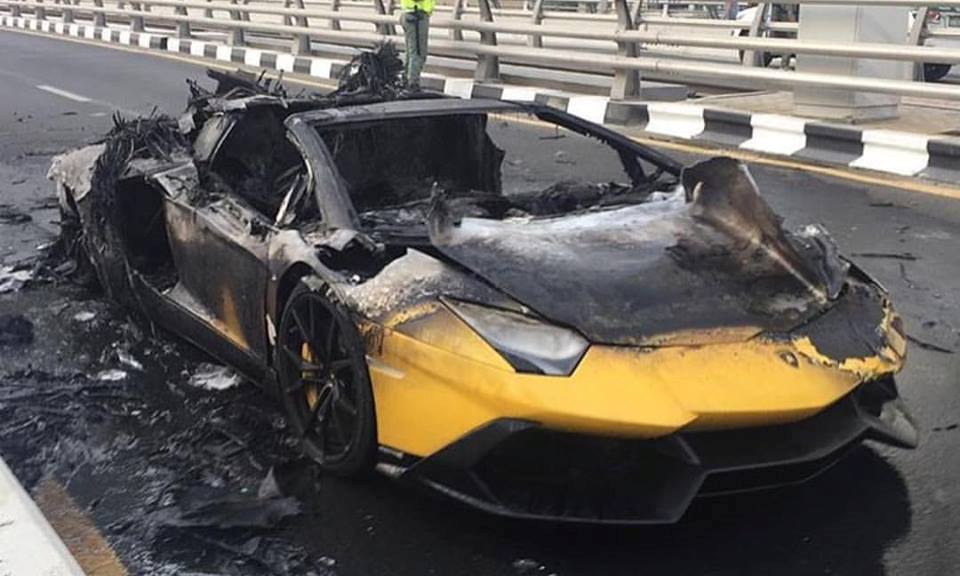 Watch A Lamborghini Catch Fire On Its Own In Dubai
Supercars catching fire isn't anything new, especially to Lamborghini. When the Gallardo first launched nearly a decade ago multiple examples caught on fire even when they were parked and a recall had to be issued by Lamborghini to fix the potential fire hazard that plagued over 1500 Gallardos. After that debacle Lamborghini had to recall another couple thousand Murciélago models over a possible fuel leak hazard. Now years later in 2015 and it seems that Lamborghini still hasn't been completely able to eradicate the problem as it still occasionally pops up in one of their later models. This time around the tragic victim was a Lamborghini Aventador LP 720-4 Anniversario roadster that's had been made to look like an SV roadster.
A lady had rented the Aventador and was driving in the streets of Dubai along with a Ferrari 458 Spyder. While being stationary in a traffic jam the driver decided to show off the Aventador's monstrous 720 bhp 6.5 liter V12 by revving it to the max and that's when the car caught on fire near the engine bay. The driver was completely unaware that her rental was on fire despite the fact that people around her kept honking their horns and screaming "FIRE!", she continued to rev the Aventadors engine as the flames grew bigger.
Eventually while traveling across a bridge the driver figured out that the car was on fire. She stopped the car in the middle of the road and fled to safety. By that time it was too late to save the supercar.
Story: Jalopnik