Honda Atlas Cars Pakistan Limited, a joint venture between Honda Motor Company Limited Japan, and the Atlas Group of Companies Pakistan, was incorporated in November 1992, and their first vehicle rolled off the assembly line in May 1994. Since the beginning, Honda was on par with the other local automobile manufacturers regarding available products, features offered, built quality, and updating their vehicles on time.
After the imports halted and local production of cars started in our country, Honda was the only company to keep introducing newer models on a regular basis. Toyota did not replace the 7th generation Toyota Corolla and kept selling it for nine years (1993-2002). Suzuki's lineup including Suzuki Mehran, Suzuki Bolan and Suzuki Ravi are still unchanged ever since their production started. The models were already a decade old when the production commenced.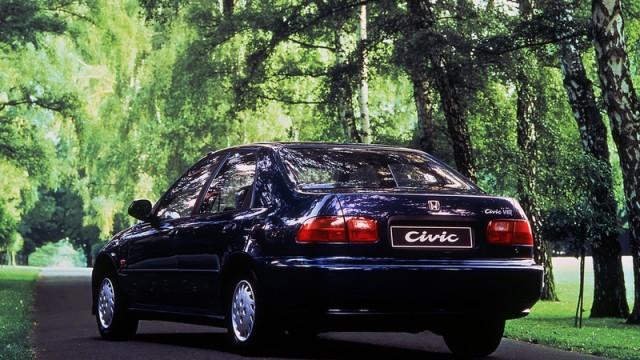 Honda, who began with the 5th generation of Honda Civic 1995 was the first local company to discontinue a model in 1996 and introduced the 6th generation Civic, some two years after its production. Honda was also the first company to introduce an all new Honda City SX8 in the entry level sedan segment in 1997, giving some serious competition to Suzuki Margalla, which was unchanged for about six years back then.
Honda was the first local manufacturer to launch a true facelift in 1998, the 6th gen Honda Civic facelift arrived in the market and was very well received. Honda was also the first local manufacturer to offer Sunroof in their Civic Oriel trims.
Honda had a track record of replacing their models or introducing a facelift every 3rd year. After the production started in 1994, the 5th generation Civic was replaced with the 6th gen in 1996. Almost three years later in January 1999, the Civic facelift was launched. The 7th gen Civic was launched in March 2001 and about three years later, the 7th gen facelift (a.k.a. Eagle Eye) was introduced in 2004. The 8th gen Civic was introduced in July 2006 maintaining the three-year track record of Honda.
The Honda City SX8 that was introduced in January 1997 was updated with a facelift in January 2000. Three years later in August 2003, the new City iDSI was introduced, and it received an update with a facelift in 2006, again maintaining the three-year cycle. While on 31st January 2009 the City iDSI was replaced with the new City iVTEC.
Unfortunately, Honda has not been keeping up with their standard of introducing or updating their vehicles recently. The 8th generation Civic was never offered with a facelift and kept selling for some six years without any significant changes.
The current Honda Civic 2016 was launched in 2012, was to be replaced by its facelift in 2015, but a true facelift never arrived for the Civic 2016. Similarly, the City introduced in 2009 was to be updated with its facelift in 2012 as per Honda standards, but the facelift came in October 2014. In international markets, the 6th generation Honda City 2013 was introduced in late 2013 and is expected to receive a facelift soon.
However, Honda Atlas is still offering the 5th generation City which, on 31st January 2016 has completed 7th year of its product life in our market and has entered in the 8th year of its production, making it the longest selling period for any locally produced model of Honda.
It's not just the delay factor; the City misses out on basic features that were stripped off the car for no reason. Honda was the pioneer to offer a high-mounted brake lamp at the rear windscreen of their cars which was touted as a safety feature by Honda in their earlier models. The 5th gen local City came without one. Honda even removed the trunk light from the Honda City which is something that is present even in the cars from the 80s.
Honda City 2015 price in Pakistan on average is about 1.5 million rupees and yet owners have been found installing a trunk light by themselves even after spending so much on this car. Interior came without center arm-rest too, while the later models didn't have central locking feature in the base trim.
Back in 1997 when Honda launched the SX8 City, even the base model was equipped with central locking and a trunk light, some fundamental features which Honda is reluctant to offer in 2016.
Get The Honda City 2016 Financed And Insured Through PakWheels
Apart from the sluggish automatic transmission and a rather hard drive due to the stiff suspension. The City is a popular car in our market, probably because the 5th gen Honda City remains the only City, which never saw a real competitor. Liana was out of the competition by 2010, and thus, the City remains the only choice in the entry level sedan segment. It's obvious that since there is no competition in the class, Honda seems to be not interested in updating to a newer 6th generation City and is happy to continue selling it.
On the other hand, Honda is losing many potential buyers that are either drifting towards the New Toyota Corolla, or the imported Japanese car. This has hurt Honda so badly that today they are shy to disclose the individual sales figures for Honda City and Honda Civic, instead present them as combined figures. Though on paper, the company boasts to have offered cars like CR-V, CR-Z, HR-V (used imported version being Honda Vezel 2015) and Honda Accord but, in reality, these cars don't even make up 5 percent of the market.
Read the comparison between Honda Vezel and Honda HR-V
It's quite disappointing to see the leading manufacturer of our small automobile industry, a company that always excelled in offering modern, up-to-date and quality products now following the footsteps of Pak Suzuki.
It's about time Honda should work hard to regain its market here, they should offer affordable products that are within the reach of masses such as Honda Jazz or Honda Life. The new Honda Civic X (Read 10th Gen Honda Civic X review) is on the verge of its launch here, and that's a winner that can get Honda Pakistan back on track, but Honda needs to win people's hearts, and should not disappoint them this time.
It's about time for the power of dreams to become power of reality I think.